Neuroendocrine neoplasms are derived from the diffuse endocrine system and represent a spectrum of tumours with a diverse range of molecular abnormalities, functionality and anatomical locations. Here, some key advances in molecular diagnosis, functional imaging and therapeutic strategies that have been published in 2020 are discussed.
This is a preview of subscription content
Access options
Subscribe to Journal
Get full journal access for 1 year
$59.00
only $4.92 per issue
All prices are NET prices.
VAT will be added later in the checkout.
Tax calculation will be finalised during checkout.
Rent or Buy article
Get time limited or full article access on ReadCube.
from$8.99
All prices are NET prices.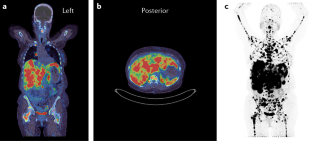 References
1.

Malczewska, A. et al. An assessment of circulating chromogranin A as a biomarker of bronchopulmonary neuroendocrine neoplasia: a systematic review and meta-analysis. Neuroendocrinology 110, 198–216 (2020).

2.

Öberg, K. et al. A meta-analysis of the accuracy of a neuroendocrine tumor mRNA genomic biomarker (NETest) in blood. Ann. Oncol. 31, 202–212 (2020).

3.

Bodei, L. et al. PRRT neuroendocrine tumor response monitored using circulating transcript analysis: the NETest. Eu. J. Nucl. Med. Mol. Imaging 47, 895–906 (2020).

4.

Liu, X. et al. Comparison of Gallium-somatostatin receptor and 18F-fluorodeoxyglucose positron emission tomography in the diagnosis of neuroendocrine tumours: A systematic review and meta-analysis. Hell. J. Nucl. Med. 23, 188–200 (2020).

5.

Saravana-Bawan, B., Bajwa, A., Paterson, J., McEwan, A. J. B. & McMullen, T. P. W. Efficacy of 177Lu peptide receptor radionuclide therapy for the treatment of neuroendocrine tumors a meta-analysis. Clin. Nucl. Med. 44, 719–727 (2019).

6.

Mehnert, J. M. et al. Pembrolizumab for the treatment of programmed death–ligand 1–positive advanced carcinoid or pancreatic neuroendocrine tumors: Results from the KEYNOTE-028 study. Cancer 126, 3021–3030 (2020).

7.

Patel, S. P. et al. A Phase II Basket Trial of Dual Anti–CTLA-4 and Anti–PD-1 Blockade in Rare Tumors (DART SWOG 1609) in Patients with Nonpancreatic Neuroendocrine Tumors. Clin. Cancer Res. 26, 2290–2296 (2020).

8.

Capdevila, J. et al. 1157O A multi-cohort phase II study of durvalumab plus tremelimumab for the treatment of patients (pts) with advanced neuroendocrine neoplasms (NENs) of gastroenteropancreatic or lung origin: The DUNE trial (GETNE 1601). Ann. Oncol. 31, S770–S771 (2020).

9.

Young, K. et al. Immune landscape, evolution, hypoxia-mediated viral mimicry pathways and therapeutic potential in molecular subtypes of pancreatic neuroendocrine tumours. Gut https://doi.org/10.1136/gutjnl-2020-321016 (2020).

10.

Merola, E. et al. Surgery with Radical Intent: Is There an Indication for G3 Neuroendocrine Neoplasms? Ann. Surg. Oncol. 27, 1348–1355 (2020).
Ethics declarations
Competing interests
M.E.C. has received speaker honoraria and research funding from AAA-Novartis, Ipsen and Pfizer. G.M.R. declares no competing interests.
About this article
Cite this article
Caplin, M.E., Ratnayake, G.M. Diagnostic and therapeutic advances in neuroendocrine tumours. Nat Rev Endocrinol 17, 81–82 (2021). https://doi.org/10.1038/s41574-020-00458-x