Pancreatic islets, which are critical for glucose homeostasis, are endocrine microorgans embedded in the exocrine pancreas; their location has often limited studying their function. In 2019, advances in islet biology were achieved with new technologies extending findings from several decades ago and with conceptual advances built on findings from other fields.
This is a preview of subscription content
Access options
Subscribe to Journal
Get full journal access for 1 year
$59.00
only $4.92 per issue
All prices are NET prices.
VAT will be added later in the checkout.
Tax calculation will be finalised during checkout.
Rent or Buy article
Get time limited or full article access on ReadCube.
from$8.99
All prices are NET prices.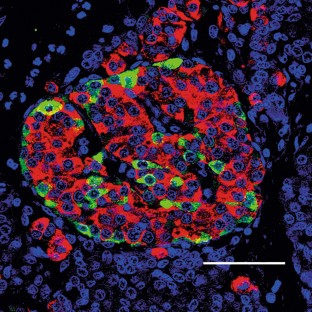 References
1.

Grube, D. et al. Immunohistochemistry and microanatomy of the islets of Langerhans. Biomed. Res. 4 (Suppl.), 25–36 (1983).

2.

Arrojo e Drigo, R. et al. Structural basis for delta cell paracrine regulation in pancreatic islets. Nat. Commun. 10, 3700 (2019).

3.

Wang, Y. J. et al. Multiplexed in situ imaging mass cytometry analysis of the human endocrine pancreas and immune system in type 1diabetes. Cell Metab. 29, 769–783.e4 (2019).

4.

Damond, N. et al. A map of human type 1 diabetes progression by imaging mass cytometry. Cell Metab. 29, 755–768.e5 (2019).

5.

Gepts, W. Pathological anatomy of the pancreas in juvenile diabetes mellitus. Diabetes 14, 619–633 (1965).

6.

Foulis, A. K. & Stewart, J. A. The pancreas in recent-onset type 1 (insulin-dependent) diabetes mellitus insulin content of islets, insulitis and associated changes in the exocrine acinar tissue. Diabetologia 26, 456–461 (1984).

7.

Bottazzo, G. F. et al. In situ characterization of autoimmune phenomena and expression of HLA molecules in the pancreas in diabetic insulitis. N. Engl. J. Med. 313, 353–360 (1985).

8.

Thompson, P. J. et al. Targeted elimination of senescent beta cells prevents type 1 diabetes. Cell Metab. 29, 1045–1060.e10 (2019).

9.

Aguayo-Mazzucato, C. et al. Acceleration of beta cell aging determines diabetes and senolysis improves disease outcomes. Cell Metab. 30, 129–142.e4 (2019).

10.

De Cecco, M. et al. L1 drives IFN in senescent cells and promotes age-associated inflammation. Nature 566, 73–78 (2019).
Ethics declarations
Competing interests
The author declares no competing interests.
About this article
Cite this article
Bonner-Weir, S. The islets of Langerhans continue to reveal their secrets. Nat Rev Endocrinol 16, 73–74 (2020). https://doi.org/10.1038/s41574-019-0296-1