Recent findings on the skeletal rearrangement of polycyclic aromatics under oxidative and acidic conditions are envisioned to help development of these Scholl reactions into a more useful and versatile method for synthesizing polycyclic aromatics on the basis of rational design rather than luck.
Access options
Subscribe to Journal
Get full journal access for 1 year
$99.00
only $8.25 per issue
All prices are NET prices.
VAT will be added later in the checkout.
Tax calculation will be finalised during checkout.
Rent or Buy article
Get time limited or full article access on ReadCube.
from$8.99
All prices are NET prices.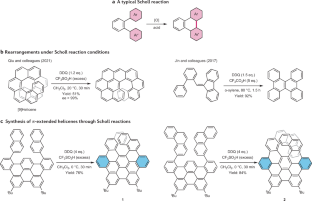 References
1.

Scholl, R., Seer, C. & Weitzenböck, R. Perylen, ein hoch kondensierter aromatischer Kohlenwasserstoff C20H12. Ber. Dtsch. Chem. Ges. 43, 2202–2209 (1910).

2.

Narita, A. et al. Synthesis of structurally well-defined and liquid-phase-processable graphene nanoribbons. Nat. Chem. 6, 126–132 (2014).

3.

Zhai, L., Shukla, R. & Rathore, R. Oxidative C−C bond formation (Scholl reaction) with DDQ as an efficient and easily recyclable oxidant. Org. Lett. 11, 3474–3477 (2009).

4.

Xia, Z., Pun, S. H., Chen, H. & Miao, Q. Synthesis of zigzag carbon nanobelts through Scholl reactions. Angew. Chem. Int. Ed. 60, 10311–10318 (2021).

5.

Grzybowski, M., Sadowski, B., Butenschön, H. & Gryko, D. T. Synthetic applications of oxidative aromatic coupling — from biphenols to nanographenes. Angew. Chem. Int. Ed. 59, 2998–3027 (2020).

6.

Zhai, L., Shukla, R., Wadumethrige, S. H. & Rathore, R. Probing the arenium-ion (protontransfer) versus the cation-radical (electron transfer) mechanism of Scholl reaction using DDQ as oxidant. J. Org. Chem. 75, 4748–4760 (2010).

7.

Rempala, P., Kroulík, J. & King, B. T. Investigation of the mechanism of the intramolecular Scholl reaction of contiguous phenylbenzenes. J. Org. Chem. 71, 5067–5081 (2006).

8.

Shen, C. et al. Oxidative cyclo-rearrangement of helicenes into chiral nanographenes. Nat. Commun. 12, 2786 (2021).

9.

Qiu, Z. et al. Amplification of dissymmetry factors in π‑extended [7]- and [9]helicenes. J. Am. Chem. Soc. 143, 4661–4667 (2021).

10.

Zhang, X. et al. Synthesis of extended polycyclic aromatic hydrocarbons by oxidative tandem spirocyclization and 1,2-aryl migration. Nat. Commun. 8, 15073 (2017).
Ethics declarations
Competing interests
The author declares no competing interests.
About this article
Cite this article
Miao, Q. Rearrangements come to Scholl. Nat Rev Chem (2021). https://doi.org/10.1038/s41570-021-00308-y