An experiment that challenged established dogma opened an entirely new avenue for research in the assembly and control of mechanically interlocked compounds.
Access options
Subscribe to Journal
Get full journal access for 1 year
$99.00
only $8.25 per issue
All prices are NET prices.
VAT will be added later in the checkout.
Tax calculation will be finalised during checkout.
Rent or Buy article
Get time limited or full article access on ReadCube.
from$8.99
All prices are NET prices.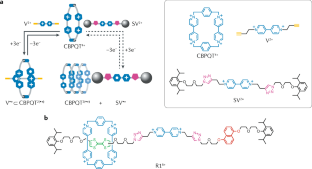 References
1.

Weidel, H. & Russo, M. Studien über das pyridin. Monatshefte für Chemie 3, 850–885 (1882).

2.

Michaelis, L. & Hill, E. S. The viologen indicators. J. Gen. Physiol. 16, 859–873 (1933).

3.

Hünig, S. & Berneth, H. in Organic Chemistry. Topics in Current Chemistry Vol. 92 (Springer, 1980).

4.

Kosower, E. M. & Cotter, J. L. Stable free radicals. II. The reduction of 1-methyl-4-cyanopyridinium ion to methylviologen cation radical. J. Am. Chem. Soc. 86, 5524–5527 (1964).

5.

Trabolsi, A. et al. Radically enhanced molecular recognition. Nat. Chem. 2, 42–49 (2010).
Ethics declarations
Competing interests
The author declares no competing interests.
About this article
Cite this article
Trabolsi, A. A radical departure for supramolecular chemistry. Nat Rev Chem 5, 442–443 (2021). https://doi.org/10.1038/s41570-021-00299-w