LDL cholesterol is an important contributor to the risk of coronary heart disease, and its measurement is central to evaluating the effects of lipid-modifying therapies. Several 'LDL-cholesterol' assays exist but their methodologies differ, leading to between-assay heterogeneity in values of 'LDL cholesterol'. We advocate the need for awareness of the potential implications.
Access options
Subscribe to Journal
Get full journal access for 1 year
$59.00
only $4.92 per issue
All prices are NET prices.
VAT will be added later in the checkout.
Tax calculation will be finalised during checkout.
Rent or Buy article
Get time limited or full article access on ReadCube.
from$8.99
All prices are NET prices.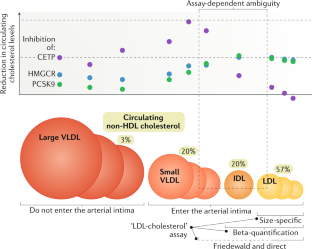 References
1.

HPS3/TIMI55-REVEAL Collaborative Group. Effects of anacetrapib in patients with atherosclerotic vascular disease. N. Engl. J. Med. 377, 1217–1227 (2017).

2.

Boren, J. & Williams, K. J. The central role of arterial retention of cholesterol-rich apolipoprotein-B-containing lipoproteins in the pathogenesis of atherosclerosis: a triumph of simplicity. Curr. Opin. Lipidol. 27, 473–483 (2016).

3.

Kettunen, J. et al. Lipoprotein signatures of cholesteryl ester transfer protein and HMG-CoA reductase inhibition. Preprint at bioRxiv https://doi.org/10.1101/295394 (2018).

4.

Sliz, E. et al. Metabolomic consequences of genetic inhibition of PCSK9 compared with statin treatment. Circulation 138, 2499–2512 (2018).
Acknowledgements
M.V.H. is supported by a British Heart Foundation Intermediate Clinical Research Fellowship (FS/18/23/33512). M.A.-K. is supported by a Senior Research Fellowship from the National Health and Medical Research Council (NHMRC) of Australia (APP1158958) and works in a Unit that is supported by the University of Bristol and UK Medical Research Council (MC_UU_12013/1).
Ethics declarations
Competing interests
The authors declare no competing interests.
About this article
Cite this article
Holmes, M.V., Ala-Korpela, M. What is 'LDL cholesterol'?. Nat Rev Cardiol 16, 197–198 (2019). https://doi.org/10.1038/s41569-019-0157-6