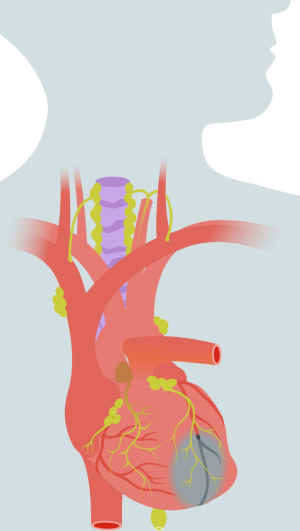 Cardiac lymphatics expand in mouse hearts after myocardial infarction (MI); treatment with vascular endothelial growth factor C (VEGF-C) increases this lymphangiogenic response, which improves cardiac function. According to a new study, the expansion of lymphatic vessels after MI promotes heart repair by increasing immune cell clearance.
A previous study suggested that VEGF-C-induced lymphangiogenesis improves cardiac outcome after MI by restoring interstitial fluid equilibrium. Paul Riley and colleagues hypothesized that lymphatic vessels in the heart might also influence the immune response after injury, a phenomenon already described in peripheral tissues during wound healing. "This is an entirely novel finding that was not previously appreciated in the context of heart injury," says Riley. In mice treated with VEGF-C, the number of immune cells in cardiac tissue was reduced 7 days after MI compared with vehicle-treated mice, but unchanged at earlier time points, when lymphatic sprouting had not yet occurred, suggesting that lymphangiogenesis accelerates the resolution of inflammation after MI.
"the expansion of lymphatic vessels after MI promotes heart repair by increasing immune cell clearance"
The constitutive deletion of lymphatic vessel endothelial hyaluronic acid receptor 1 (LYVE1) did not affect cardiac lymphangiogenesis at day 7 after MI, but Lyve1─/─ mice had an increased number of leukocytes in the heart compared with wild-type mice, whereas the number was reduced in mediastinal lymph nodes. At day 21 after MI, Lyve1─/─ mice showed reduced cardiac function and increased scarring compared with wild-type mice. Together, these results indicate that the clearance of immune cells by the lymphatics is dependent on LYVE1 and regulates cardiac outcome after MI.
"This study highlights the cardiac lymphatics as a potential therapeutic target in ischaemic heart disease, but also demonstrates the need to condition the local inflammatory environment in the context of cardiovascular injury as an essential parallel strategy to cell-based repair or regeneration," explains Riley, adding that future studies include the screening of small-molecule inducers of lymphangiogenesis and immune cell clearance as the first stage of a drug-discovery pipeline.
References
Original article
Vieira, J. M. et al. The cardiac lymphatic system stimulates resolution of inflammation following myocardial infarction. J. Clin. Invest. https://doi.org/10.1172/JCI97192 (2018)
About this article
Cite this article
Le Bras, A. Cardiac lymphatics mediate the resolution of inflammation. Nat Rev Cardiol 15, 583 (2018). https://doi.org/10.1038/s41569-018-0067-z