Colorectal cancer (CRC) incidence among individuals age younger than 50 years continues to rise with etiologies unknown. Synchronously, early-onset CRC disparities have grown more pronounced. As translational research across diverse populations has been limited, we advocate for mechanistic studies that address this challenge to mitigate CRC disparities among young adults.
Access options
Subscribe to Journal
Get full journal access for 1 year
$59.00
only $4.92 per issue
All prices are NET prices.
VAT will be added later in the checkout.
Tax calculation will be finalised during checkout.
Rent or Buy article
Get time limited or full article access on ReadCube.
from$8.99
All prices are NET prices.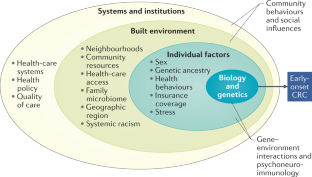 References
1.

Bailey, C. E. et al. Increasing disparities in the age-related incidences of colon and rectal cancers in the United States, 1975-2010. JAMA Surg. 150, 17–22 (2015).

2.

Holowatyj, A. N. et al. Racial/ethnic disparities in survival among patients with young-onset colorectal cancer. J. Clin. Oncol. 34, 2148–2156 (2016).

3.

Holowatyj, A. N. et al. Distinct molecular phenotype of sporadic colorectal cancers among young patients based on multiomics analysis. Gastroenterology 158, 1155–1158 (2020).

4.

Devall, M. et al. Racial disparities in epigenetic aging of the right vs left colon. J. Natl Cancer Inst. https://doi.org/10.1093/jnci/djaa207 (2020).

5.

Paredes, J. et al. Immune-related gene expression and cytokine secretion is reduced among African American colon cancer patients. Front. Oncol. 10, 1498 (2020).

6.

Willauer, A. N. et al. Clinical and molecular characterization of early-onset colorectal cancer. Cancer 125, 2002–2010 (2019).

7.

Saunders, B. P. et al. Why is colonoscopy more difficult in women? Gastrointest. Endosc. 43, 124–126 (1996).

8.

Cai, Y. et al. Sex differences in colon cancer metabolism reveal a novel subphenotype. Sci. Rep. 10, 4905 (2020).

9.

Zhao, L. et al. Effect of chronic psychological stress on liver metastasis of colon cancer in mice. PLoS ONE 10, e0139978 (2015).

10.

Yan, H. H. N. et al. Organoid cultures of early-onset colorectal cancers reveal distinct and rare genetic profiles. Gut 69, 2165–2179 (2020).
Acknowledgements
A.N.H. was supported by the National Institutes of Health (NIH) K12 HD043483 from the Eunice Kennedy Shriver National Institute of Child Health and Human Development. This work was also supported by the American Cancer Society (#IRG-19-139-59) to A.N.H., and NIH/National Cancer Institute R01CA229259 to C.H.L.
Ethics declarations
Competing interests
The authors declare no competing interests.
About this article
Cite this article
Holowatyj, A.N., Perea, J. & Lieu, C.H. Gut instinct: a call to study the biology of early-onset colorectal cancer disparities. Nat Rev Cancer 21, 339–340 (2021). https://doi.org/10.1038/s41568-021-00356-y