Abstract
The organisation of actin filaments into bundles is required for cellular processes such as motility, morphogenesis and cell division. A network of actin-binding proteins, some of which can undergo liquid–liquid phase separation, controls filament bundling. However, it remains unclear how these liquid-like condensates contribute to filament bundling. Here we show that the processive actin polymerase and bundling protein VASP forms liquid-like droplets under physiological conditions. As actin polymerizes within VASP droplets, elongating filaments partition to the edges of the droplet to minimize filament curvature, forming an actin-rich ring within the droplet. The rigidity of this ring is balanced by the droplet's surface tension. However, as the ring grows thicker, its rigidity increases and eventually overcomes the surface tension, deforming into a linear bundle. The fluid nature of the droplets is critical for bundling, as more solid droplets resist deformation and therefore prevent filaments from rearranging into bundles. This droplet-based bundling mechanism may be relevant to the assembly of cellular architectures rich in bundled actin filaments such as filopodia, stress fibres and focal adhesions.
Access options
Access Nature and 54 other Nature Portfolio journals
Get Nature+, our best-value online-access subscription
$29.99 per month
cancel any time
Subscribe to this journal
Receive 12 print issues and online access
$209.00 per year
only $17.42 per issue
Rent or buy this article
Get just this article for as long as you need it
$39.95
Prices may be subject to local taxes which are calculated during checkout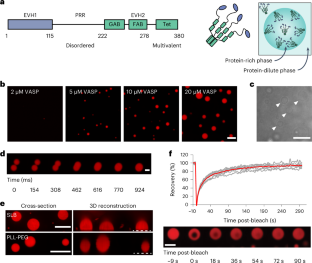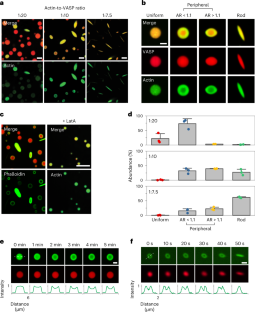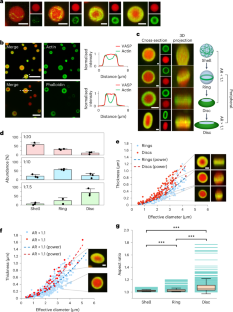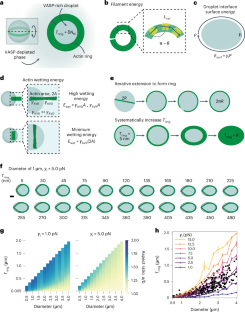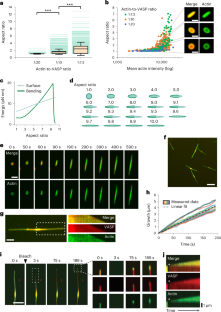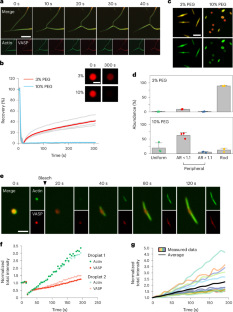 Data availability
Source data are available for this paper. All other data that support the plots within this paper and other findings of this study are available from the corresponding author upon reasonable request.
References
Krause, M., Dent, E. W., Bear, J. E., Loureiro, J. J. & Gertler, F. B. Ena/VASP proteins: regulators of the actin cytoskeleton and cell migration. Annu. Rev. Cell Dev. Biol. 19, 541–564 (2003).

Hansen, S. D. & Mullins, R. D. VASP is a processive actin polymerase that requires monomeric actin for barbed end association. J. Cell Biol. 191, 571–584 (2010).

Kuhnel, K. et al. The VASP tetramerization domain is a right-handed coiled coil based on a 15-residue repeat. Proc. Natl Acad. Sci. USA 101, 17027–17032 (2004).

Bachmann, C., Fischer, L., Walter, U. & Reinhard, M. The EVH2 domain of the vasodilator-stimulated phosphoprotein mediates tetramerization, F-actin binding, and actin bundle formation. J. Biol. Chem. 274, 23549–23557 (1999).

Disanza, A. et al. CDC42 switches IRSp53 from inhibition of actin growth to elongation by clustering of VASP. EMBO J. 32, 2735–2750 (2013).

Cheng, K. W. & Mullins, R. D. Initiation and disassembly of filopodia tip complexes containing VASP and lamellipodin. Mol. Biol. Cell 31, 2021–2034 (2020).

Hansen, S. D. & Mullins, R. D. Lamellipodin promotes actin assembly by clustering Ena/VASP proteins and tethering them to actin filaments. eLife 4, e06585 (2015).

Bruhmann, S. et al. Distinct VASP tetramers synergize in the processive elongation of individual actin filaments from clustered arrays. Proc. Natl Acad. Sci. USA 114, E5815–E5824 (2017).

Breitsprecher, D. et al. Clustering of VASP actively drives processive, WH2 domain-mediated actin filament elongation. EMBO J. 27, 2943–2954 (2008).

Brangwynne, C. P., Tompa, P. & Pappu, R. V. Polymer physics of intracellular phase transitions. Nat. Phys. 11, 899 (2015).

Li, P. et al. Phase transitions in the assembly of multivalent signalling proteins. Nature 483, 336–340 (2012).

Banani, S. F. et al. Compositional control of phase-separated cellular bodies. Cell 166, 651–663 (2016).

Banjade, S. & Rosen, M. K. Phase transitions of multivalent proteins can promote clustering of membrane receptors. eLife 3, e04123 (2014).

Woodruff, J. B. et al. The centrosome is a selective condensate that nucleates microtubules by concentrating tubulin. Cell 169, 1066–1077 e10 (2017).

Lancaster, A. K., Nutter-Upham, A., Lindquist, S. & King, O. D. PLAAC: a web and command-line application to identify proteins with prion-like amino acid composition. Bioinformatics 30, 2501–2502 (2014).

Drozdetskiy, A., Cole, C., Procter, J. & Barton, G. J. JPred4: a protein secondary structure prediction server. Nucleic Acids Res. 43, W389–W394 (2015).

Oates, M. E. et al. D2P2: database of disordered protein predictions. Nucleic Acids Res. 41, D508–D516 (2013).

Ball, L. J., Jarchau, T., Oschkinat, H. & Walter, U. EVH1 domains: structure, function and interactions. FEBS Lett. 513, 45–52 (2002).

Ambadipudi, S., Biernat, J., Riedel, D., Mandelkow, E. & Zweckstetter, M. Liquid–liquid phase separation of the microtubule-binding repeats of the Alzheimer-related protein Tau. Nat. Commun. 8, 1–13 (2017).

Mitrea, D. M. et al. Self-interaction of NPM1 modulates multiple mechanisms of liquid–liquid phase separation. Nat. Commun. 9, 1–13 (2018).

Molliex, A. et al. Phase separation by low complexity domains promotes stress granule assembly and drives pathological fibrillization. Cell 163, 123–133 (2015).

Uversky, V. N. Intrinsically disordered proteins and their environment: effects of strong denaturants, temperature, pH, counter ions, membranes, binding partners, osmolytes, and macromolecular crowding. Protein J. 28, 305–325 (2009).

Alberti, S., Gladfelter, A. & Mittag, T. Considerations and challenges in studying liquid–liquid phase separation and biomolecular condensates. Cell 176, 419–434 (2019).

Nakashima, K. K., Vibhute, M. A. & Spruijt, E. Biomolecular chemistry in liquid phase separated compartments. Front. Mol. Biosci. 6, 21 (2019).

McCall, P. M. et al. Partitioning and enhanced self-assembly of actin in polypeptide coacervates. Biophys. J. 114, 1636–1645 (2018).

Böddeker, T. J. et al. Non-specific adhesive forces between filaments and membraneless organelles. Nat. Phys. 18, 571–578 (2022).

Limozin, L., Bärmann, M. & Sackmann, E. On the organization of self-assembled actin networks in giant vesicles. Eur. Phys. J. E 10, 319–330 (2003).

Miyazaki, M., Chiba, M., Eguchi, H., Ohki, T. & Ishiwata, S. Cell-sized spherical confinement induces the spontaneous formation of contractile actomyosin rings in vitro. Nat. Cell Biol. 17, 480–489 (2015).

Cohen, A. E. & Mahadevan, L. Kinks, rings, and rackets in filamentous structures. Proc. Natl Acad. Sci. USA 100, 12141–12146 (2003).

Limozin, L. & Sackmann, E. Polymorphism of cross-linked actin networks in giant vesicles. Phys. Rev. Lett. 89, 168103 (2002).

Claessens, M. M. A. E., Tharmann, R., Kroy, K. & Bausch, A. R. Microstructure and viscoelasticity of confined semiflexible polymer networks. Nat. Phys. 2, 186–189 (2006).

Mattila, P. K. & Lappalainen, P. Filopodia: molecular architecture and cellular functions. Nat. Rev. Mol. Cell Biol. 9, 446–454 (2008).

Kassianidou, E. & Kumar, S. A biomechanical perspective on stress fiber structure and function. Biochim. Biophys. Acta 1853, 3065–3074 (2015).

Faix, J. & Rottner, K. Ena/VASP proteins in cell edge protrusion, migration and adhesion. J. Cell Sci. 135, jcs259226 (2022).

Vaggi, F. et al. The Eps8/IRSp53/VASP network differentially controls actin capping and bundling in filopodia formation. PLoS Comput. Biol. 7, e1002088 (2011).

Laurent, V. et al. Role of proteins of the Ena/VASP family in actin-based motility of Listeria monocytogenes. J. Cell Biol. 144, 1245–1258 (1999).

Plastino, J., Lelidis, I., Prost, J. & Sykes, C. The effect of diffusion, depolymerization and nucleation promoting factors on actin gel growth. Eur. Biophys. J. 33, 310–320 (2004).

Bornschlogl, T. et al. Filopodial retraction force is generated by cortical actin dynamics and controlled by reversible tethering at the tip. Proc. Natl Acad. Sci. USA 110, 18928–18933 (2013).

Applewhite, D. A. et al. Ena/VASP proteins have an anti-capping independent function in filopodia formation. Mol. Biol. Cell 18, 2579–2591 (2007).

Scheff, D. R. et al. Tuning shape and internal structure of protein droplets via biopolymer filaments. Soft Matter 16, 5659–5668 (2020).

Hernandez-Vega, A. et al. Local nucleation of microtubule bundles through tubulin concentration into a condensed tau phase. Cell Rep. 20, 2304–2312 (2017).

Gittes, F., Mickey, B., Nettleton, J. & Howard, J. Flexural rigidity of microtubules and actin filaments measured from thermal fluctuations in shape. J. Cell Biol. 120, 923–934 (1993).

Blanchoin, L., Boujemaa-Paterski, R., Sykes, C. & Plastino, J. Actin dynamics, architecture, and mechanics in cell motility. Physiol. Rev. 94, 235–263 (2022).

Legerstee, K., Geverts, B., Slotman, J. A. & Houtsmuller, A. B. Dynamics and distribution of paxillin, vinculin, zyxin and VASP depend on focal adhesion location and orientation. Sci. Rep. 9, 10460 (2019).

Haffner, C. et al. Molecular cloning, structural analysis and functional expression of the proline-rich focal adhesion and microfilament-associated protein VASP. EMBO J. 14, 19–27 (1995).

Case, L. B., De Pasquale, M., Henry, L. & Rosen, M. K. Synergistic phase separation of two pathways promotes integrin clustering and nascent adhesion formation. eLife 11, e72588 (2022).

Wang, Y. et al. LIMD1 phase separation contributes to cellular mechanics and durotaxis by regulating focal adhesion dynamics in response to force. Dev. Cell 56, 1313–1325.e7 (2021).

Zeno, W. F. et al. Synergy between intrinsically disordered domains and structured proteins amplifies membrane curvature sensing. Nat. Commun. 9, 4152 (2018).

Mészáros, B., Erdos, G. & Dosztányi, Z. IUPred2A: context-dependent prediction of protein disorder as a function of redox state and protein binding. Nucleic Acids Res. 46, W329–W337 (2018).

Erdős, G. & Dosztányi, Z. Analyzing protein disorder with IUPred2A. Curr. Protoc. Bioinforma. 70, e99 (2020).

Waterhouse, A. M., Procter, J. B., Martin, D. M. A., Clamp, M. & Barton, G. J. Jalview version 2–a multiple sequence alignment editor and analysis workbench. Bioinformatics 25, 1189–1191 (2009).

Carl, U. D. et al. Aromatic and basic residues within the EVH1 domain of VASP specify its interaction with proline-rich ligands. Curr. Biol. 9, 715–718 (1999).
Acknowledgements
This research was supported by grants from the National Institutes of Health to J.C.S. (R35GM139531) and P.R. (R01GM132106), by the National Science Foundation through a modulus grant BIO-1934411 to P.R. and J.C.S. and by the Welch Foundation through grant F-2047 to JCS. We thank S. Parekh and D. Dickinson for their feedback. A.C. thanks A. Ravichandran for thoughtful discussions on the model.
Ethics declarations
Competing interests
The authors declare no competing interests.
Peer review
Peer review information
Nature Physics thanks the anonymous reviewers for their contribution to the peer review of this work.
Additional information
Publisher's note Springer Nature remains neutral with regard to jurisdictional claims in published maps and institutional affiliations.
Supplementary information
Rights and permissions
Springer Nature or its licensor (e.g. a society or other partner) holds exclusive rights to this article under a publishing agreement with the author(s) or other rightsholder(s); author self-archiving of the accepted manuscript version of this article is solely governed by the terms of such publishing agreement and applicable law.
About this article
Cite this article
Graham, K., Chandrasekaran, A., Wang, L. et al. Liquid-like VASP condensates drive actin polymerization and dynamic bundling. Nat. Phys. (2023). https://doi.org/10.1038/s41567-022-01924-1
Received:

Accepted:

Published:

DOI: https://doi.org/10.1038/s41567-022-01924-1