Abstract
Elastic active matter—also called an active solid—consists of self-propelled units embedded in an elastic matrix and it resists deformation. This shape-preserving property and the intrinsic non-equilibrium nature make active solids an attractive potential component for self-driven devices, but their mechanical properties and emergent behaviour remain poorly understood. Here, using a biofilm-based living active solid, we observe self-sustained elastic waves with wave properties not seen in passive solids, such as power-law scaling of wave speed with activity. Under isotropic confinement, the active solid develops two topologically distinct global motion modes that can be selectively excited, with a step-like frequency jump at the transition between the two modes. Our findings reveal spatiotemporal order in elastic active matter and may guide the development of solid-state adaptive or living materials.
Access options
Subscribe to Nature+
Get immediate online access to Nature and 55 other Nature journal
Subscribe to Journal
Get full journal access for 1 year
$99.00
only $8.25 per issue
All prices are NET prices.
VAT will be added later in the checkout.
Tax calculation will be finalised during checkout.
Buy article
Get time limited or full article access on ReadCube.
$32.00
All prices are NET prices.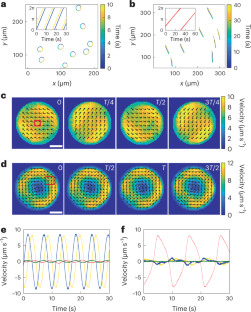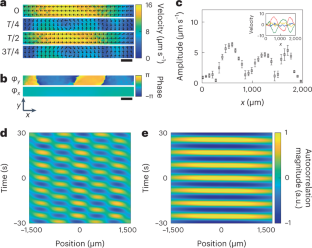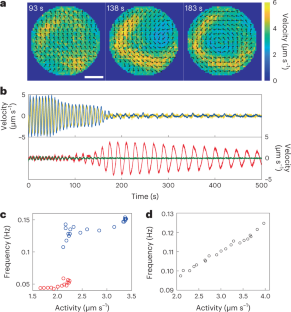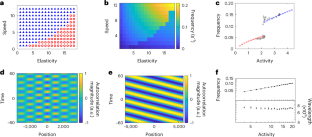 Data availability
The data supporting the findings of this study are included within the paper and its Supplementary Information. All other data that support the plots within this paper and other findings of this study are available from the corresponding author upon reasonable request.
Code availability
The custom codes used in this study are available from the corresponding author upon request.
References
Marchetti, M. C. et al. Hydrodynamics of soft active matter. Rev. Mod. Phys. 85, 1143–1189 (2013).

Vicsek, T. & Zafeiris, A. Collective motion. Phys. Rep. 517, 71–140 (2012).

Bricard, A., Caussin, J.-B., Desreumaux, N., Dauchot, O. & Bartolo, D. Emergence of macroscopic directed motion in populations of motile colloids. Nature 503, 95–98 (2013).

Wu, K.-T. et al. Transition from turbulent to coherent flows in confined three-dimensional active fluids. Science https://doi.org/10.1126/science.aal1979 (2017).

Sumino, Y. et al. Large-scale vortex lattice emerging from collectively moving microtubules. Nature 483, 448–452 (2012).

Palacci, J., Sacanna, S., Steinberg, A. P., Pine, D. J. & Chaikin, P. M. Living crystals of light-activated colloidal surfers. Science 339, 936–940 (2013).

Petroff, A. P., Wu, X.-L. & Libchaber, A. Fast-moving bacteria self-organize into active two-dimensional crystals of rotating cells. Phys. Rev. Lett. 114, 158102 (2015).

Keber, F. C. et al. Topology and dynamics of active nematic vesicles. Science 345, 1135–1139 (2014).

Wioland, H., Woodhouse, F. G., Dunkel, J. & Goldstein, R. E. Ferromagnetic and antiferromagnetic order in bacterial vortex lattices. Nat. Phys. 12, 341–345 (2016).

Chen, C., Liu, S., Shi, X. Q., Chate, H. & Wu, Y. Weak synchronization and large-scale collective oscillation in dense bacterial suspensions. Nature 542, 210–214 (2017).

Han, K. et al. Emergence of self-organized multivortex states in flocks of active rollers. Proc. Natl Acad. Sci. USA 117, 9706–9711 (2020).

Liu, S., Shankar, S., Marchetti, M. C. & Wu, Y. Viscoelastic control of spatiotemporal order in bacterial active matter. Nature 590, 80–84 (2021).

Needleman, D. & Dogic, Z. Active matter at the interface between materials science and cell biology. Nat. Rev. Mater. 2, 17048 (2017).

Zhang, R., Mozaffari, A. & de Pablo, J. J. Autonomous materials systems from active liquid crystals. Nat. Rev. Mater. 6, 437–453 (2021).

Gompper, G. et al. The 2020 motile active matter roadmap. J. Phys. Condens. Matter 32, 193001 (2020).

Wilking, J. N., Angelini, T. E., Seminaraa, A., Brennera, M. P. & Weitz, D. A. Biofilms as complex fluids. MRS Bull. 36, 385–391 (2011).

Wong, G. C. L. et al. Roadmap on emerging concepts in the physical biology of bacterial biofilms: from surface sensing to community formation. Phys. Biol. 18, 051501 (2021).

Ferrante, E., Turgut, A. E., Dorigo, M. & Huepe, C. Elasticity-based mechanism for the collective motion of self-propelled particles with springlike interactions: a model system for natural and artificial swarms. Phys. Rev. Lett. 111, 268302 (2013).

Hawkins, R. J. & Liverpool, T. B. Stress reorganization and response in active solids. Phys. Rev. Lett. 113, 028102 (2014).

Maitra, A. & Ramaswamy, S. Oriented active solids. Phys. Rev. Lett. 123, 238001 (2019).

Scheibner, C. et al. Odd elasticity. Nat. Phys. 16, 475–480 (2020).

Scheibner, C., Irvine, W. T. M. & Vitelli, V. Non-Hermitian band topology and skin modes in active elastic media. Phys. Rev. Lett. 125, 118001 (2020).

Rothemund, P. et al. A soft, bistable valve for autonomous control of soft actuators. Sci. Robot. 3, eaar7986 (2018).

Preston, D. J. et al. Digital logic for soft devices. Proc. Natl Acad. Sci. USA 116, 7750–7759 (2019).

Nitsan, I., Drori, S., Lewis, Y. E., Cohen, S. & Tzlil, S. Mechanical communication in cardiac cell synchronized beating. Nat. Phys. 12, 472–477 (2016).

Park, S.-J. et al. Phototactic guidance of a tissue-engineered soft-robotic ray. Science 353, 158–162 (2016).

Bittihn, P., Din, M. O., Tsimring, L. S. & Hasty, J. Rational engineering of synthetic microbial systems: from single cells to consortia. Curr. Opin. Microbiol. 45, 92–99 (2018).

Duncker, K. E., Holmes, Z. A. & You, L. Engineered microbial consortia: strategies and applications. Microb. Cell Fact. 20, 211 (2021).

Ferrante, E. et al. Self-organized flocking with a mobile robot swarm: a novel motion control method. Adapt. Behav. 20, 460–477 (2012).

Shen, H., Tan, P. & Xu, L. Probing the role of mobility in the collective motion of nonequilibrium systems. Phys. Rev. Lett. 116, 048302 (2016).

Chen, Y., Li, X., Scheibner, C., Vitelli, V. & Huang, G. Realization of active metamaterials with odd micropolar elasticity. Nat. Commun. 12, 5935 (2021).

Zheng, E. et al. Self-oscillation and synchronisation transitions in elasto-active structures. Preprint at https://arxiv.org/abs/2106.05721 (2021).

Baconnier, P. et al. Selective and collective actuation in active solids. Nat. Phys. 18, 1234–1239 (2022).

Zheng, Y., Huepe, C. & Han, Z. Experimental capabilities and limitations of a position-based control algorithm for swarm robotics. Adapt. Behav. 30, 19–35 (2022).

Scavone, P. et al. Fimbriae have distinguishable roles in Proteus mirabilis biofilm formation. Pathog. Dis. https://doi.org/10.1093/femspd/ftw033 (2016).

Berg, H. C. Motile behavior of bacteria. Phys. Today 53, 24–29 (2000).

Ferry, J. D. Viscoelastic Properties of Polymers (Wiley, 1980).

Chattopadhyay, S., Moldovan, R., Yeung, C. & Wu, X. L. Swimming efficiency of bacterium Escherichia coli. Proc. Natl Acad. Sci. USA 103, 13712–13717 (2006).

Taylor, B. L. & Koshland, D. E. Intrinsic and extrinsic light responses of Salmonella typhimurium and Escherichia coli. J. Bacteriol. 123, 557–569 (1975).

Ferrante, E., Turgut, A. E., Dorigo, M. & Huepe, C. Collective motion dynamics of active solids and active crystals. New J. Phys. 15, 095011 (2013).

Woodhouse, F. G., Ronellenfitsch, H. & Dunkel, J. Autonomous actuation of zero modes in mechanical networks far from equilibrium. Phys. Rev. Lett. 121, 178001 (2018).

Landau, L. & Lifshitz, E. Statistical Physics (Pergamon Press, Oxford, 1980).

De Gennes, P.-G. & Gennes, P.-G. Scaling Concepts in Polymer Physics (Cornell Univ. Press, 1979).

Gibbs, K. A., Urbanowski, M. L. & Greenberg, E. P. Genetic determinants of self identity and social recognition in bacteria. Science 321, 256–259 (2008).

Romero, D. & Kolter, R. Functional amyloids in bacteria. Int. Microbiol. 17, 65–73 (2014).

Xu, H., Dauparas, J., Das, D., Lauga, E. & Wu, Y. Self-organization of swimmers drives long-range fluid transport in bacterial colonies. Nat. Commun. 10, 1792 (2019).

Zuo, W. & Wu, Y. Dynamic motility selection drives population segregation in a bacterial swarm. Proc. Natl Acad. Sci. USA 117, 4693–4700 (2020).

Roberts, M. E. & Stewart, P. S. Modeling antibiotic tolerance in biofilms by accounting for nutrient limitation. Antimicrob. Agents Chemother. 48, 48–52 (2004).
Acknowledgements
We thank Y. Li and W. Zuo for building the image acquisition and microscope stage temperature-control systems, K. Gibbs (Harvard University) for providing the bacterial strains, S. Liu for helpful discussions, S. Liu for assistance in experiments and L. Xu (CUHK) for assistance with bulk rheology measurement. Y.H. and R.Z. thank Q. Wang and J. Tian for fruitful discussions. This work was supported by the Research Grants Council of Hong Kong SAR (RGC ref. no. RFS2021-4S04, 14303918, 14306820, to Y.W.; ref. no. 16300221, to R.Z.), the Ministry of Science and Technology Most China (2020YFA0910700, to Y.W.), and CUHK Direct Grants (to Y.W.).
Ethics declarations
Competing interests
The authors declare no competing interests.
Peer review
Peer review information
Nature Physics thanks Jing Yan, Thomas Angelini and Cristian Huepe for their contribution to the peer review of this work.
Additional information
Publisher's note Springer Nature remains neutral with regard to jurisdictional claims in published maps and institutional affiliations.
Supplementary information
Rights and permissions
Springer Nature or its licensor (e.g. a society or other partner) holds exclusive rights to this article under a publishing agreement with the author(s) or other rightsholder(s); author self-archiving of the accepted manuscript version of this article is solely governed by the terms of such publishing agreement and applicable law.
About this article
Cite this article
Xu, H., Huang, Y., Zhang, R. et al. Autonomous waves and global motion modes in living active solids. Nat. Phys. 19, 46–51 (2023). https://doi.org/10.1038/s41567-022-01836-0
Received:

Accepted:

Published:

Issue Date:

DOI: https://doi.org/10.1038/s41567-022-01836-0
This article is cited by
Japinder Nijjer
Tal Cohen
Jing Yan

Nature Physics (2022)