Abstract
The under-attribution of women's contributions to scientific scholarship is well known and well studied. One measure of this under-attribution is the citation gap between men and women: the under-citation of papers authored by women relative to expected rates coupled with an over-citation of papers authored by men relative to expected rates. Here we explore this citation gap in contemporary physics. We find a global bias wherein papers authored by women are significantly under-cited, and papers authored by men are significantly over-cited. Moreover, we find that citation behaviour varies along several dimensions, such that imbalances differ according to who is citing, where they are citing and what they are citing. Specifically, citation imbalance in favour of man-authored papers is highest for papers authored by men, papers published in general physics journals and papers for which citing authors probably have less domain or author familiarity. Our results suggest that although deciding which papers to cite is an individual choice, the cumulative effects of these choices needlessly harm a subset of scholars. We discuss several strategies for the mitigation of these effects, including conscious behavioural changes at the individual, journal and community levels.
Access options
Subscribe to Nature+
Get immediate online access to Nature and 55 other Nature journal
Subscribe to Journal
Get full journal access for 1 year
$99.00
only $8.25 per issue
All prices are NET prices.
VAT will be added later in the checkout.
Tax calculation will be finalised during checkout.
Buy article
Get time limited or full article access on ReadCube.
$32.00
All prices are NET prices.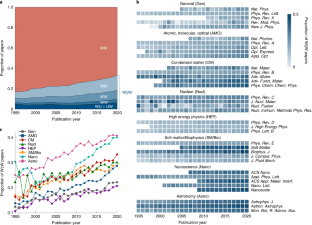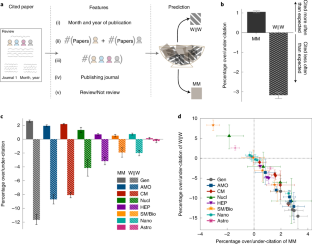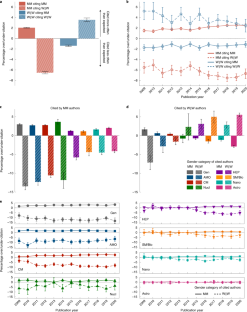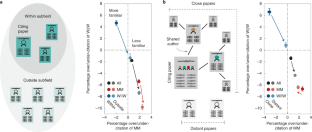 Data availability
The data generated and analysed for this study are available in an Open Science Framework repository and can be accessed at https://osf.io/p5cb7/.
References
Gage, M. J. Woman as Inventor; Issued Under the Auspices of the New York State Woman Suffrage Association (F. A. Darling, 1870).

Rossiter, M. W. The Matthew Matilda effect in science. Soc. Stud. Sci. 23, 325–341 (1993).

Phillips, J. & Hausbeck, K. Just beneath the surface: Rereading geology, rescripting the knowledge-power nexus. Womenas Stud. Q. 28, 181–202 (2000).

Caplar, N., Tacchella, S. & Birrer, S. Quantitative evaluation of gender bias in astronomical publications from citation counts. Nat. Astron. 1, 0141 (2017).

Ross, M. B. et al. Women are credited less in science than are men. Nature 608, 135–145 (2022).

Knobloch-Westerwick, S., Glynn, C. J. & Huge, M. The Matilda effect in science communication: An experiment on gender bias in publication quality perceptions and collaboration interest. Sci. Commun. 35, 603–625 (2013).

Ni, C., Smith, E., Yuan, H., Larivière, V. & Sugimoto, C. R. The gendered nature of authorship. Sci. Adv. 7, eabe4639 (2021).

van den Brink, M. & Benschop, Y. Gender practices in the construction of academic excellence: Sheep with five legs. Organization 19, 507–524 (2012).

Moss-Racusin, C. A., Dovidio, J. F., Brescoll, V. L., Graham, M. J. & Handelsman, J. Science faculty's subtle gender biases favor male students. Proc. Natl Acad. Sci. USA 109, 16474–16479 (2012).

Bloodhart, B., Balgopal, M. M., Casper, A. M. A., Sample, McMeeking. & Fischer, E. V. Outperforming yet undervalued: Undergraduate women in STEM. PLoS ONE 15, e0234685 (2020).

Lincoln, A. E., Pincus, S., Koster, J. B. & Leboy, P. S. The Matilda effect in science: Awards and prizes in the US, 1990s and 2000s. Soc. Stud. Sci. 42, 307–320 (2012).

Lunnemann, P., Jensen, M. H. & Jauffred, L. Gender bias in Nobel prizes. Palgrave Commun. 5, 17–20 (2019).

Hengel, E. Publishing While Female: Are Women Held to Higher Standards? Evidence From Peer Review 80–90 (CEPR, 2020).

Holman, L., Stuart-Fox, D. & Hauser, C. E. The gender gap in science: How long until women are equally represented?. PLoS Biol. 16, e2004956 (2018).

Larivière, V., Ni, C., Gingras, Y., Cronin, B. & Sugimoto, C. R. Bibliometrics: Global gender disparities in science. Nature 504, 211–213 (2013).

Ghiasi, G., Larivière, V. & Sugimoto, C. R. On the compliance of women engineers with a gendered scientific system. PLoS ONE 10, e0145931 (2015).

Dworkin, J. D. et al. The extent and drivers of gender imbalance in neuroscience reference lists. Nat. Neurosci. 23, 918–926 (2020).

Wang, X. et al. Gendered citation practices in the field of communication. Ann. Int. Commun. Assoc. 45, 134–153 (2021).

Dion, M. L., Sumner, J. L. & Mitchell, S. M. L. Gendered Citation patterns across political science and social science methodology fields. Polit. Anal. 26, 312–327 (2018).

Maliniak, D., Powers, R. & Walter, B. F. The gender citation gap in international relations. Int. Organ. 67, 889–922 (2013).

Mitchell, S. M., Lange, S. & Brus, H. Gendered citation patterns in international relations journals. Int. Stud. Perspect. 14, 485–492 (2013).

Fulvio, J. M., Akinnola, I. & Postle, B. R. Gender (im)balance in citation practices in cognitive neuroscience. J. Cogn. Neurosci. 33, 3–7 (2020).

Huang, J., Gates, A. J., Sinatra, R. & Barabási, A. L. Historical comparison of gender inequality in scientific careers across countries and disciplines. Proc. Natl Acad. Sci. USA 117, 4609–4616 (2020).

Chatterjee, P. & Werner, R. M. Gender disparity in citations in high-impact journal articles. JAMA Netw. Open 4, e2114509 (2021).

Damschen, E. I. et al. Visibility matters: Increasing knowledge of women's contributions to ecology. Front. Ecol. Environ. 3, 212–219 (2005).

Wood, S. et al. A scientist like me: Demographic analysis of biology textbooks reveals both progress and long-term lags. Proc. R. Soc. B 287, 20200877 (2020).

Simpson, D. Y., Beatty, A. E. & Ballen, C. J. Teaching between the lines: Representation in science textbooks. Trends Ecol. Evol. 36, 4–8 (2021).

Carli, L. L., Alawa, L., Lee, Y. A., Zhao, B. & Kim, E. Stereotypes about gender and science: Women ≠ scientists. Psychol. Women Q. 40, 244–260 (2016).

McKinnon, M. & O'Connell, C. Perceptions of stereotypes applied to women who publicly communicate their STEM work. Human. Soc. Sci. Commun. 7, 160 (2020).

Good, J. J., Woodzicka, J. A. & Wingfield, L. C. The effects of gender stereotypic and counter-stereotypic textbook images on science performance. J. Soc. Psychol. 150, 132–147 (2010).

Schinske, J. N., Perkins, H., Snyder, A. & Wyer, M. Scientist spotlight homework assignments shift students' stereotypes of scientists and enhance science identity in a diverse introductory science class. CBE Life Sci. Educ. https://doi.org/10.1187/cbe.16-01-0002 (2016).

Cheryan, S., Master, A. & Meltzoff, A. N. Cultural stereotypes as gatekeepers: Increasing girls' interest in computer science and engineering by diversifying stereotypes. Front. Psychol. https://doi.org/10.3389/fpsyg.2015.00049 (2015)..

Sue, D. W. (ed.) Microaggressions and Marginality: Manifestation, Dynamics, and Impact (John Wiley & Sons, 2010).

Perry, I. Post-intent racism: A new framework for an old problem. Natl Black Law J. 19, 113–148 (2006).

Kendi, I. X. How to Be an Antiracist (One World, 2019).

Friedlaender, C. On microaggressions: Cumulative harm and individual responsibility. Hypatia 33, 5–21 (2018).

Editors, N. N. Widening the scope of diversity. Nat. Neurosci. 23, 903–903 (2020).

Kullmann, D. M. Editorial. Brain 143, 715–715 (2020).

Fairhall, A. L. & Marder, E. Acknowledging female voices. Nat. Neurosci. 23, 904–905 (2020).

Postle, B. R. Statement from the incoming editor-in-chief. J. Cogn. Neurosci. 33, 1–2 (2020).

Rowson, B. et al. Citation diversity statement in BMES journals. Ann. Biomed. Eng. 49, 947–949 (2021).

Sweet, D. J. New at cell press: The inclusion and diversity statement. Cell 184, 1–2 (2021).

Zurn, P., Bassett, D. S. & Rust, N. C. The citation diversity statement: A practice of transparency, a way of life. Trends Cogn. Sci. 24, 669–672 (2020).

Davies, S. W. et al. Promoting inclusive metrics of success and impact to dismantle a discriminatory reward system in science. PLoS Biol. 19, e3001282 (2021).

Pierce, S. K., Schwartzberg, P. L., Shah, N. N. & Taylor, N. Women in immunology: 2020 and beyond. Nat. Immunol. 21, 254–258 (2020).

Llorens, A. et al. Gender bias in academia: A lifetime problem that needs solutions. Neuron 109, 2047–2074 (2021).

Porter, A. M. & Ivie, R. Women in Physics and Astronomy (American Institute of Physics Statistical Research Center, 2019).

Skibba, R. Women in physics. Nat. Rev. Phys. 1, 298–300 (2019).

Pilcher, J. Names and 'doing gender': How forenames and surnames contribute to gender identities, difference, and inequalities. Sex Roles 77, 812–822 (2017).

Zurn, P., Teich, E. G., Simon, S. C., Kim, J. Z. & Bassett, D. S. Supporting academic equity in physics through citation diversity. Commun. Phys. https://doi.org/10.1038/s42005-022-00999-9 (in the press).

Cislak, A., Formanowicz, M. & Saguy, T. Bias against research on gender bias. Scientometrics 115, 189–200 (2018).

Handley, I. M., Brown, E. R., Moss-Racusin, C. A. & Smith, J. L. Quality of evidence revealing subtle gender biases in science is in the eye of the beholder. Proc. Natl Acad. Sci. USA 112, 13201–6 (2015).

Begeny, C. T., Ryan, M. K., Moss-Racusin, C. A. & Ravetz, G. In some professions, women have become well represented, yet gender bias persists-perpetuated by those who think it is not happening. Sci. Adv. 6, eaba7814 (2020).

Oudyk, K. et al. Cleanbibimpact: Do papers with citation diversity statements have more gender-balanced reference lists? Brainhack Global 2020 (15 February 2021); https://brainhack.org/global2020/project/project_124/

Postle, B. & Fulvio, J. One-year update from the Editor-in-Chief. J. Cogn. Neurosci. https://doi.org/10.1162/jocn_e_01799 (2021).

Zhou, D. et al. dalejn/cleanbib: v1.1.1. Zenodo https://doi.org/10.5281/zenodo.4104748 (2020).

Krawczyk, M. & Smyk, M. Author's gender affects rating of academic articles: Evidence from an incentivized, deception-free laboratory experiment. Eur. Econ. Rev. 90, 326–335 (2016).

McPherson, M., Smith-Lovin, L. & Cook, J. M. Birds of a feather: Homophily in social networks. Annu. Rev. Sociol. 27, 415–444 (2001).

Wang, Y. S., Lee, C. J., West, J. D., Bergstrom, C. T. & Erosheva, E. A.Gender-based homophily in collaborations across a heterogeneous scholarly landscape. Preprint at https://arxiv.org/abs/1909.01284 (2019).

Holman, L. & Morandin, C. Researchers collaborate with same-gendered colleagues more often than expected across the life sciences. PLoS ONE 14, 26–29 (2019).

Kwiek, M. & Roszka, W. Gender-based homophily in research: A large-scale study of man-woman collaboration. J. Informetr. 15, 101171 (2021).

Ghiasi, G., Mongeon, P., Sugimoto, C. R. & Larivière, V. Gender homophily in citations. In 23rd International Conference on Science and Technology Indicators (eds Costas, R. et al.) 1519–1525 (Centre for Science and Technology Studies (CWTS), 2018); https://hdl.handle.net/1887/65291

Nettasinghe, B., Alipourfard, N., Krishnamurthy, V. & Lerman, K. Emergence of structural inequalities in scientific citation networks. Preprint at https://arxiv.org/abs/2103.10944 (2021).

Isbell, L. A., Young, T. P. & Harcourt, A. H. Stag parties linger: Continued gender bias in a female-rich scientific discipline. PLoS ONE 7, 2–5 (2012).

Nittrouer, C. L. et al. Gender disparities in colloquium speakers at top universities. Proc. Natl Acad. Sci. USA 115, 104–108 (2018).

Belle, D., Smith-Doerr, L. & O'Brien, L. M. Gendered networks: Professional connections of science and engineering faculty. Adv. Gend. Res. 19, 153–175 (2014).

Atzmueller, M. & Lemmerich, F. Homophily at academic conferences. In WWW '18: Companion Proceedings of the The Web Conference 2018 109–110 (ACM Digital Library, 2018).

Gallotti, R. & De Domenico, M. Effects of homophily and academic reputation in the nomination and selection of Nobel laureates. Sci. Rep. 9, 17304 (2019).

Helmer, M., Schottdorf, M., Neef, A. & Battaglia, D. Gender bias in scholarly peer review. eLife https://doi.org/10.7554/eLife.21718 (2017).

Greenberg, J. & Mollick, E. Activist choice homophily and the crowdfunding of female founders. Admin. Sci. Q. 62, 341–374 (2017).

Bertolero, M. A. et al. Racial and ethnic imbalance in neuroscience reference lists and intersections with gender. Preprint at bioRxiv https://doi.org/10.1101/2020.10.12.336230 (2020).

Chakravartty, P., Kuo, R., Grubbs, V. & McIlwain, C. #CommunicationSoWhite. J. Commun. 68, 254–266 (2018).

Sheltzer, J. M. & Smith, J. C. Elite male faculty in the life sciences employ fewer women. Proc. Natl Acad. Sci. USA 111, 10107–10112 (2014).

Clauset, A., Arbesman, S. & Larremore, D. B. Systematic inequality and hierarchy in faculty hiring networks. Sci. Adv. 1, e1400005 (2015).

Way, S. F., Morgan, A. C., Larremore, D. B. & Clauset, A. Productivity, prominence, and the effects of academic environment. Proc. Natl Acad. Sci. USA 116, 10729–10733 (2019).

Cech, E. A. & Waidzunas, T. J. Navigating the heteronormativity of engineering: The experiences of lesbian, gay, and bisexual students. Eng. Stud. https://doi.org/10.1080/19378629.2010.545065 (2011).

Gibney, E. Discrimination drives LGBT+ scientists to think about quitting. Nature 571, 16–17 (2019).

Cech, E. A. & Waidzunas, T. J. Systemic inequalities for LGBTQ professionals in STEM. Sci. Adv. 7, eabe0933 (2021).

Cech, E. A. & Rothwell, W. R. LGBT workplace inequality in the federal workforce: Intersectional processes, organizational contexts, and turnover considerations. Ind. Labor Relat. Rev. 73, 25–60 (2020).

Freeman, J. LGBTQ scientists are still left out. Nature 559, 27–28 (2018).

Langin, K. LGBTQ researchers say they want to be counted. Science 370, 1391 (2020).

Ahmed, S. Making feminist points. feministkilljoys https://feministkilljoys.com/2013/09/11/making-feminist-points (2013).

Ahmed, S. Living a Feminist Life (Duke Univ. Press, 2017).

Ahmed, S. What's the Use? (Duke Univ. Press, 2019).

Mott, C. & Cockayne, D. Citation matters: Mobilizing the politics of citation toward a practice of 'conscientious engagement'. Gend. Place Cult. 24, 954–973 (2017).

Wouters, P. Semiotics and citation. In Theories of Informetrics and Scholarly Communication 72–92 (De Gruyter Saur, 2016).

Egghe, L. & Rousseau, R. Informetrics: Quantitative Methods in Library, Documentation, and Information Science (Elsevier, 1990).

Nakov, P. I., Schwarts, A. S. & Hearst, M. A. Citances: Citation sentences for semantic analysis of bioscience text. In Proc. SIGIR'04 Workshop on Search and Discovery in Bioinformatics (2004); https://citeseerx.ist.psu.edu/viewdoc/summary?doi=10.1.1.59.2666

Yan, E., Chen, Z. & Li, K. The relationship between journal citation impact and citation sentiment: A study of 32 million citances in pubmed central. Quant. Sci. Stud. 1, 664–674 (2020).

Dehdarirad, T. & Yaghtin, M. Gender differences in citation sentiment: A case study in life sciences and biomedicine. J. Inf. Sci. https://doi.org/10.1177/01655515221074327 (2022).

Sugimoto, C. & Larivière, V. Measuring Research: What Everyone Needs to Know (Oxford Univ. Press, 2018).

Nash, J. Citational desires: On black feminismas institutional longings. Diacritics 48, 76–91 (2020).

Sugimoto, C., Work, S., Larivière, V. & Haustein, S. Scholarly use of social media and altmetrics: A review of the literature. J. Assoc. Inf. Sci. 68, 20372062 (2017).

Massen, J. J. M., Bauer, L., Spurny, B., Bugnyar, T. & Kret, M. E. Sharing of science is most likely among male scientists. Sci. Rep. 7, 12927 (2017).

Vásárhelyi, O., Zakhlebin, I., Milojević, S. & Horvát, E.-g Gender inequities in the online dissemination of scholars' work. Proc. Natl Acad. Sci. USA 118, e2102945118 (2021).

Atir, S. & Ferguson, M. J. How gender determines the way we speak about professionals. Proc. Natl Acad. Sci. USA 115, 7278–7283 (2018).
Acknowledgements
We thank S. Loman for helpful discussions. E.G.T, L.C.B. and D.S.B. are supported by the National Science Foundation Materials Research Science and Engineering Center at University of Pennsylvania (NSF grant number DMR-1120901). J.Z.K. is supported by a National Science Foundation Graduate Research Fellowship. C.W.L. is supported by a James S. McDonnell Foundation Postdoctoral Fellowship. S.C.S. acknowledges support from the University Scholars programme at the University of Pennsylvania. P.S. is supported by the Swartz Foundation. P.Z. and D.S.B also acknowledge support from the Center for Curiosity.
Ethics declarations
Competing interests
The authors declare no competing interests.
Peer review
Peer review information
Nature Physics thanks Catherine Hobbs, Cassidy Sugimoto and the other, anonymous, reviewer(s) for their contribution to the peer review of this work.
Additional information
Publisher's note Springer Nature remains neutral with regard to jurisdictional claims in published maps and institutional affiliations.
Supplementary information
Rights and permissions
Springer Nature or its licensor holds exclusive rights to this article under a publishing agreement with the author(s) or other rightsholder(s); author self-archiving of the accepted manuscript version of this article is solely governed by the terms of such publishing agreement and applicable law.
About this article
Cite this article
Teich, E.G., Kim, J.Z., Lynn, C.W. et al. Citation inequity and gendered citation practices in contemporary physics. Nat. Phys. 18, 1161–1170 (2022). https://doi.org/10.1038/s41567-022-01770-1
Received:

Accepted:

Published:

Issue Date:

DOI: https://doi.org/10.1038/s41567-022-01770-1