Abstract
Cell behaviour is affected by the physical forces and mechanical properties of cells and their microenvironment. The viscosity of extracellular fluid—a component of the cellular microenvironment—can vary by orders of magnitude, but its effect on cell behaviour remains largely unexplored. Using biocompatible polymers to increase the viscosity of the culture medium, we characterize how viscosity affects cell behaviour. We find that multiple types of adherent cell respond in an unexpected but similar manner to elevated viscosity. In a highly viscous medium, cells double their spread area, exhibit increased focal adhesion formation and turnover, generate significantly greater traction forces and migrate nearly two times faster. We observe that when cells are immersed in a regular medium, these viscosity-dependent responses require an actively ruffling lamellipodium—a dynamic membrane structure at the front of the cell. We present evidence that cells utilize membrane ruffling to sense changes in extracellular fluid viscosity and to trigger adaptive responses.
Relevant articles
Open Access articles citing this article.
Chao Jiang

,

Hong-Yu Luo

…

Hui Li

Nature Communications Open Access 24 August 2023

Chunyu Cao

,

Zhao Xu

…

Feng Xu

Acta Mechanica Sinica Open Access 22 August 2023

Jakub Janiak

,

Yuyang Li

…

Daniel Ahmed

Nature Communications Open Access 05 August 2023
Access options
Access Nature and 54 other Nature Portfolio journals
Get Nature+, our best-value online-access subscription
$29.99 / 30 days
cancel any time
Subscribe to this journal
Receive 12 print issues and online access
$209.00 per year
only $17.42 per issue
Rent or buy this article
Prices vary by article type
from$1.95
to$39.95
Prices may be subject to local taxes which are calculated during checkout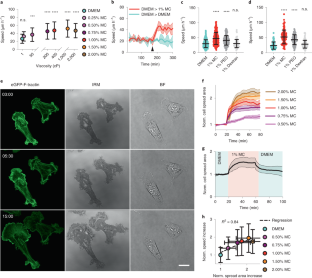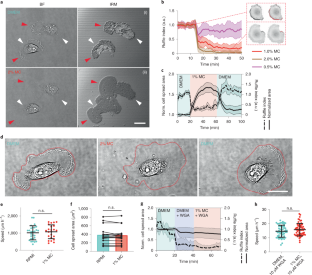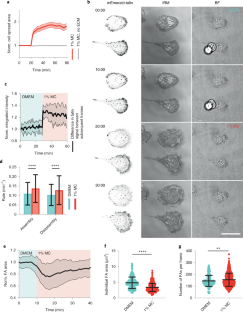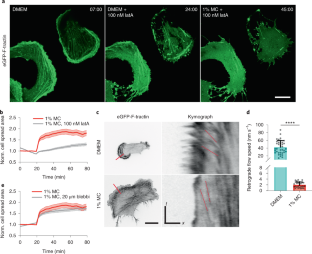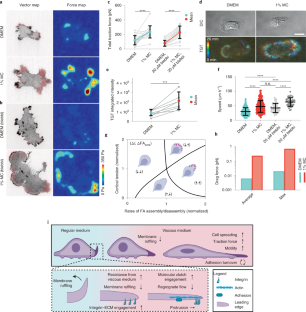 Data availability
Source data are available for this paper. All other data that support the plots within this paper and other findings of this study are available from the corresponding authors upon reasonable request.
References
Park, S., Jung, W.-H., Pittman, M., Chen, J. & Chen, Y. The effects of stiffness, viscosity, and geometry of microenvironment in homeostasis, aging and diseases. J. Biomech. Eng. 142, 100804 (2020).

Engler, A. J., Sen, S., Sweeney, H. L. & Discher, D. E. Matrix elasticity directs stem cell lineage specification. Cell 126, 677–689 (2006).

Paszek, M. J. et al. Tensional homeostasis and the malignant phenotype. Cancer Cell 8, 241–254 (2005).

Bettinger, C. J., Langer, R. & Borenstein, J. T. Engineering substrate topography at the micro- and nanoscale to control cell function. Angew. Chem. Int. Ed. 48, 5406–5415 (2009).

Pieuchot, L. et al. Curvotaxis directs cell migration through cell-scale curvature landscapes. Nat. Commun. 9, 3995 (2018).

Dai, W. et al. Tissue topography steers migrating Drosophila border cells. Science 370, 987–990 (2020).

Chen, Y., Pasapera, A. M., Koretsky, A. P. & Waterman, C. M. Orientation-specific responses to sustained uniaxial stretching in focal adhesion growth and turnover. Proc. Natl Acad. Sci. USA 110, E2352–E2361 (2013).

Tajik, A. et al. Transcription upregulation via force-induced direct stretching of chromatin. Nat. Mater. 15, 1287–1296 (2016).

Min, E. & Schwartz, M. A. Translocating transcription factors in fluid shear stress-mediated vascular remodeling and disease. Exp. Cell. Res. 376, 92–97 (2019).

Malek, A. M. & Izumo, S. Mechanism of endothelial cell shape change and cytoskeletal remodeling in response to fluid shear stress. J. Cell Sci. 109, 713–726 (1996).

Shimolina, L. E. et al. Imaging tumor microscopic viscosity in vivo using molecular rotors. Sci. Rep. 7, 41097 (2017).

Lai, S. K., Wang, Y. Y., Wirtz, D. & Hanes, J. Micro- and macrorheology of mucus. Adv. Drug Deliv. Rev. 61, 86–100 (2009).

Simmonds, M. J., Meiselman, H. J. & Baskurt, O. K. Blood rheology and aging. J. Geriatr. Cardiol. 10, 291–301 (2013).

Burla, F., Sentjabrskaja, T., Pletikapic, G., Van Beugen, J. & Koenderink, G. H. Particle diffusion in extracellular hydrogels. Soft Matter 16, 1366–1376 (2020).

Kufe, D. W. Mucins in cancer: function, prognosis and therapy. Nat. Rev. Cancer 9, 874–885 (2009).

Jain, R. K., Martin, J. D. & Stylianopoulos, T. The role of mechanical forces in tumor growth and therapy. Annu. Rev. Biomed. Eng. 16, 321–346 (2014).

Lokeshwar, V. B., Öbek, C., Soloway, M. S. & Block, N. L. Tumor-associated hyaluronic acid: a new sensitive and specific urine marker for bladder cancer. Cancer Res. 57, 773–777 (1997).

Folger, R., Weiss, L., Glaves, D., Subjeck, J. R. & Harlos, J. P. Translational movements of macrophages through media of different viscosities. J. Cell Sci. 31, 245–257 (1978).

Matsui, H. et al. Reduced three-dimensional motility in dehydrated airway mucus prevents neutrophil capture and killing bacteria on airway epithelial surfaces. J. Immunol. 175, 1090–1099 (2005).

Allen, G. M., Mogilner, A. & Theriot, J. A. Electrophoresis of cellular membrane components creates the directional cue guiding keratocyte galvanotaxis. Curr. Biol. 23, 560–568 (2013).

Gonzalez-Molina, J. et al. Extracellular fluid viscosity enhances liver cancer cell mechanosensing and migration. Biomaterials 177, 113–124 (2018).

Jackson, J. T. et al. Hhex regulates hematopoietic stem cell self-renewal and stress hematopoiesis via repression of Cdkn2a. Stem Cells 35, 1948–1957 (2017).

Chen, Y., Guzik, S., Sumner, J. P., Moreland, J. & Koretsky, A. P. Magnetic manipulation of actin orientation, polymerization, and gliding on myosin using superparamagnetic iron oxide particles. Nanotechnology 22, 065101 (2011).

Mai, M. H. & Camley, B. A. Hydrodynamic effects on the motility of crawling eukaryotic cells. Soft Matter 16, 1349–1358 (2020).

Blanchoin, L., Boujemaa-Paterski, R., Sykes, C. & Plastino, J. Actin dynamics, architecture, and mechanics in cell motility. Physiol. Rev. 94, 235–263 (2014).

Cao, Y. et al. Cell motility dependence on adhesive wetting. Soft Matter 15, 2043–2050 (2019).

Innocenti, M. New insights into the formation and the function of lamellipodia and ruffles in mesenchymal cell migration. Cell Adh. Migr. 12, 401–416 (2018).

Kobylkevich, B. M. et al. Reversing the direction of galvanotaxis with controlled increases in boundary layer viscosity. Phys. Biol. 15, 036005 (2018).

Landreth, G. E., Katherine Williams, L. & McCutchen, C. Wheat germ agglutinin blocks the biological effects of nerve growth factor. J. Cell Biol. 101, 1690–1694 (1985).

Hoshiba, T., Yoshikawa, C. & Sakakibara, K. Characterization of initial cell adhesion on charged polymer substrates in serum-containing and serum-free media. Langmuir 34, 4043–4051 (2018).

Borm, B., Requardt, R. P., Herzog, V. & Kirfel, G. Membrane ruffles in cell migration: indicators of inefficient lamellipodia adhesion and compartments of actin filament reorganization. Exp. Cell. Res. 302, 83–95 (2005).

Dimchev, G. et al. Lamellipodin tunes cell migration by stabilizing protrusions and promoting adhesion formation. J. Cell Sci. 133, jcs.239020 (2020).

Gardel, M. L., Schneider, I. C., Aratyn-Schaus, Y. & Waterman, C. M. Mechanical integration of actin and adhesion dynamics in cell migration. Annu. Rev. Cell Dev. Biol. 26, 315–333 (2010).

Ilić, D. et al. Reduced cell motility and enhanced focal adhesion contact formation in cells from FAK-deficient mice. Nature 377, 539–544 (1995).

Schlaepfer, D. D., Mitra, S. K. & Ilic, D. Control of motile and invasive cell phenotypes by focal adhesion kinase. Biochimica Biophys. Acta Mol. Cell Res. 1692, 77–102 (2004).

Kim, D. H. & Wirtz, D. Focal adhesion size uniquely predicts cell migration. FASEB J. 27, 1351–1361 (2013).

Swaminathan, V. & Waterman, C. M. The molecular clutch model for mechanotransduction evolves. Nat. Cell Biol. 18, 459–461 (2016).

Oakes, P. W. et al. Lamellipodium is a myosin-independent mechanosensor. Proc. Natl Acad. Sci. USA 115, 2646–2651 (2018).

Balaban, N. Q. et al. Force and focal adhesion assembly: a close relationship studied using elastic micropatterned substrates. Nat. Cell Biol. 3, 466–472 (2001).

Oria, R. et al. Force loading explains spatial sensing of ligands by cells. Nature 552, 219–224 (2017).

Plotnikov, S. V., Sabass, B., Schwarz, U. S. & Waterman, C. M. High-resolution traction force microscopy. Methods Cell. Biol. 123, 367–394 (2014).

Wang, X. & Ha, T. Defining single molecular forces required to activate integrin and notch signaling. Science 340, 991–994 (2013).

Oakes, P. W., Banerjee, S., Marchetti, M. C. & Gardel, M. L. Geometry regulates traction stresses in adherent cells. Biophys. J. 107, 825–833 (2014).

Burnette, D. T. et al. A contractile and counterbalancing adhesion system controls the 3D shape of crawling cells. J. Cell Biol. 205, 83–96 (2014).

Wu, Z., Plotnikov, S. V., Moalim, A. Y., Waterman, C. M. & Liu, J. Two distinct actin networks mediate traction oscillations to confer focal adhesion mechanosensing. Biophys. J. 112, 780–794 (2017).

Taneja, N. et al. Inhibition of focal adhesion kinase increases myofibril viscosity in cardiac myocytes. Cytoskeleton 77, 342–350 (2020).

Pietuch, A. & Janshoff, A. Mechanics of spreading cells probed by atomic force microscopy. Open Biol. 3, 130084 (2013).

Giannone, G. et al. Lamellipodial actin mechanically links myosin activity with adhesion-site formation. Cell 128, 561–575 (2007).

Pontes, B. et al. Membrane tension controls adhesion positioning at the leading edge of cells. J. Cell Biol. 216, 2959–2977 (2017).

Yang, K., Lu, C., Zhao, X. & Kawamura, R. From bead to rod: comparison of theories by measuring translational drag coefficients of micron-sized magnetic bead-chains in Stokes flow. PLoS ONE 12, e0188015 (2017).

Kovar, D. R. & Pollard, T. D. Insertional assembly of actin filament barbed ends in association with formins produces piconewton forces. Proc. Natl Acad. Sci. USA 101, 14725–14730 (2004).

Heinemann, F., Doschke, H. & Radmacher, M. Keratocyte lamellipodial protrusion is characterized by a concave force-velocity relation. Biophys. J. 100, 1420–1427 (2011).

Labernadie, A. et al. Protrusion force microscopy reveals oscillatory force generation and mechanosensing activity of human macrophage podosomes. Nat. Commun. 5, 5343 (2014).

Powers, T. R. Dynamics of filaments and membranes in a viscous fluid. Rev. Mod. Phys. 82, 1607–1631 (2010).

Lauga, E. & Powers, T. R. The hydrodynamics of swimming microorganisms. Rep. Prog. Phys. 72, 096601 (2009).

Chopin, J., Dasgupta, M. & Kudrolli, A. Dynamic wrinkling and strengthening of an elastic filament in a viscous fluid. Phys. Rev. Lett. 119, 088001 (2017).

Zhang, Y., Zhang, S. & Wang, P. Growth induced buckling of morphoelastic rod in viscous medium. Chinese Phys. B 29, 054501 (2020).

Kirchhausen, T., Macia, E. & Pelish, H. E. Use of dynasore, the small molecule inhibitor of dynamin, in the regulation of endocytosis. Meth. Enzymol. 438, 77–93 (2008).

Cocucci, E., Gaudin, R. & Kirchhausen, T. Dynamin recruitment and membrane scission at the neck of a clathrin-coated pit. Mol. Biol. Cell 25, 3595–3609 (2014).

Gauthier, N. C., Fardin, M. A., Roca-Cusachs, P. & Sheetz, M. P. Temporary increase in plasma membrane tension coordinates the activation of exocytosis and contraction during cell spreading. Proc. Natl Acad. Sci. USA 108, 14467–14472 (2011).

Jung, W. H. et al. Force-dependent extracellular matrix remodeling by early-stage cancer cells alters diffusion and induces carcinoma-associated fibroblasts. Biomaterials 234, 119756 (2020).

Rhee, S. Fibroblasts in three dimensional matrices: cell migration and matrix remodeling. Exp. Mol. Med. 41, 858–865 (2009).

Liu, Y.-J. et al. Confinement and low adhesion induce fast amoeboid migration of slow mesenchymal cells. Cell 160, 659–672 (2015).

Petrie, R. J., Koo, H. & Yamada, K. M. Generation of compartmentalized pressure by a nuclear piston governs cell motility in a 3D matrix. Science 345, 1062–1065 (2014).
Acknowledgements
We thank K. M. Fish and A. Doyle for providing scientific insight. Funding: National Heart, Lung, and Blood Institute F31 HL154709 (M.P.); National Institute of Biomedical Imaging and Bioengineering S10 OD025193 and National Institute of Biomedical Imaging and Bioengineering R21 EB029677 (Y.C. and J.C.); Air Force Office of Scientific Research 21RT0264—FA9550-21-1-0284 (Y.C.); National Cancer Institute F99 CA253759 (W.-H.J.); Canadian Institutes of Health Research (PJT-178272) and Natural Sciences and Engineering Research Council of Canada (RGPIN-2020-05881) (S. Plotikov); Ontario Graduate Scholarship and Natural Sciences and Engineering Research Council of Canada PGS-D (E.I.); National Science Foundation 137959 (J.L.).
Ethics declarations
Competing interests
The authors declare no competing interests.
Peer review
Peer review information
Nature Physics thanks Wanda Strychalski and the other, anonymous, reviewer(s) for their contribution to the peer review of this work.
Additional information
Publisher's note Springer Nature remains neutral with regard to jurisdictional claims in published maps and institutional affiliations.
Supplementary information
About this article
Cite this article
Pittman, M., Iu, E., Li, K. et al. Membrane ruffling is a mechanosensor of extracellular fluid viscosity. Nat. Phys. 18, 1112–1121 (2022). https://doi.org/10.1038/s41567-022-01676-y
Received:

Accepted:

Published:

Issue Date:

DOI: https://doi.org/10.1038/s41567-022-01676-y