Abstract
In correlated electron materials, multiple electronic phases may appear next to each other in their phase diagram, and these can be tuned, for example, by applying static pressure or chemical doping1,2,3. These perturbations modify the subtle balance between the electron transfer energy and Coulomb repulsion between electrons. It is, therefore, tempting to explore whether new states of matter can be accessed through the direct tuning of their order parameters, for example, by driving a collective mode of the emergent phase. Here we demonstrate that the direct excitation of the amplitude mode of a charge density wave (amplitudon) by an intense terahertz pulse in a layered transition metal dichalcogenide compound, namely, 3R-Ta1+xSe2, leads to the appearance of an insulating-like metastable state. The formation dynamics of the metastable phase manifest in the opening of a gap in the optical conductivity spectrum, and we show that they synchronize with an oscillation of the amplitudon. This indicates the intimate interplay between the order parameters of the equilibrium charge density wave and the metastable states.
Access options
Subscribe to Journal
Get full journal access for 1 year
$99.00
only $8.25 per issue
All prices are NET prices.
VAT will be added later in the checkout.
Tax calculation will be finalised during checkout.
Rent or Buy article
Get time limited or full article access on ReadCube.
from$8.99
All prices are NET prices.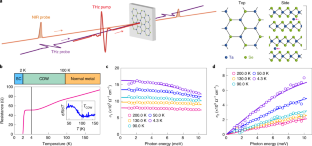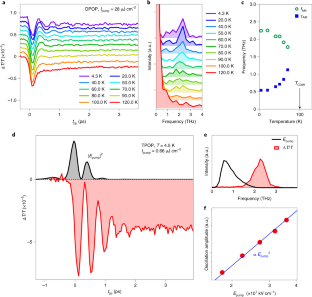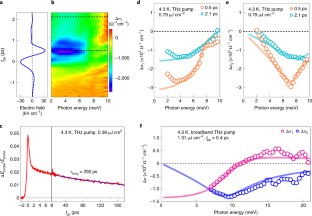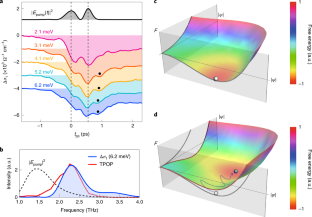 Data availability
Source data are provided with this paper. All other data that support the findings of this paper are available from the corresponding authors upon request.
References
1.

Grüner, G. The dynamics of charge-density waves. Rev. Mod. Phys. 60, 1129–1181 (1988).

2.

Rossnagel, K. On the origin of charge-density waves in select layered transition-metal dichalcogenides. J. Phys. Condens. Matter 23, 213001 (2011).

3.

Keimer, B., Kivelson, S. A., Norman, M. R., Uchida, S. & Zaanen, J. From quantum matter to high-temperature superconductivity in copper oxides. Nature 518, 179–186 (2015).

4.

Liu, M. et al. Terahertz-field-induced insulator-to-metal transition in vanadium dioxide metamaterial. Nature 487, 345–348 (2012).

5.

Zhang, J. et al. Cooperative photoinduced metastable phase control in strained manganite films. Nat. Mater. 15, 956–960 (2016).

6.

Ichikawa, H. et al. Transient photoinduced 'hidden' phase in a manganite. Nat. Mater. 10, 101–105 (2011).

7.

Stojchevska, L. et al. Ultrafast switching to a stable hidden quantum state in an electronic crystal. Science 344, 177–180 (2014).

8.

Han, T.-R. T. et al. Exploration of metastability and hidden phases in correlated electron crystals visualized by femtosecond optical doping and electron crystallography. Sci. Adv. 1, e1400173 (2015).

9.

Yang, X. et al. Terahertz-light quantum tuning of a metastable emergent phase hidden by superconductivity. Nat. Mater. 17, 586–591 (2018).

10.

Kogar, A. et al. Light-induced charge density wave in LaTe3. Nat. Phys. 16, 159–163 (2020).

11.

Chang, J. et al. Direct observation of competition between superconductivity and charge density wave order in YBa2Cu3O6.67. Nat. Phys. 8, 871–876 (2012).

12.

Torchinsky, D. H., Mahmood, F., Bollinger, A. T., Božović, I. & Gedik, N. Fluctuating charge-density waves in a cuprate superconductor. Nat. Mater. 12, 387–391 (2013).

13.

Hinton, J. P. et al. New collective mode in YBa2Cu3O6+x observed by time-domain reflectometry. Phys. Rev. B 88, 060508 (2013).

14.

Fausti, D. et al. Light-induced superconductivity in a stripe-ordered cuprate. Science 331, 189–191 (2011).

15.

Mankowsky, R. et al. Nonlinear lattice dynamics as a basis for enhanced superconductivity in YBa2Cu3O6.5. Nature 516, 71–73 (2014).

16.

Mitrano, M. et al. Possible light-induced superconductivity in K3C60 at high temperature. Nature 530, 461–464 (2016).

17.

Nova, T. F., Disa, A. S., Fechner, M. & Cavalleri, A. Metastable ferroelectricity in optically strained SrTiO3. Science 364, 1075–1079 (2019).

18.

Li, X. et al. Terahertz field–induced ferroelectricity in quantum paraelectric SrTiO3. Science 364, 1079–1082 (2019).

19.

Li, T. et al. Femtosecond switching of magnetism via strongly correlated spin–charge quantum excitations. Nature 496, 69–73 (2013).

20.

Kim, K. W. et al. Ultrafast transient generation of spin-density-wave order in the normal state of BaFe2As2 driven by coherent lattice vibrations. Nat. Mater. 11, 497–501 (2012).

21.

Shimano, R. & Tsuji, N. Higgs mode in superconductors. Annu. Rev. Condens. Matter Phys. 11, 103–124 (2020).

22.

Tanaka, Y. et al. Superconducting 3R-Ta1+xSe2 with giant in-plane upper critical fields. Nano Lett. 20, 1725–1730 (2020).

23.

Moncton, D. E., Axe, J. D. & DiSalvo, F. J. Study of superlattice formation in 2H-NbSe2 and 2H-TaSe2 by neutron scattering. Phys. Rev. Lett. 34, 734–737 (1975).

24.

Sugai, S. & Murase, K. Generalized electronic susceptibility and charge-density waves in 2H-TaSe2 by Raman scattering. Phys. Rev. B 25, 2418–2427 (1982).

25.

Rossnagel, K., Rotenberg, E., Koh, H., Smith, N. V. & Kipp, L. Fermi surface, charge-density-wave gap, and kinks in 2H-TaSe2. Phys. Rev. B 72, 121103 (2005).

26.

Borisenko, S. V. et al. Pseudogap and charge density waves in two dimensions. Phys. Rev. Lett. 100, 196402 (2008).

27.

Wang, C., Giambattista, B., Slough, C. G., Coleman, R. V. & Subramanian, M. A. Energy gaps measured by scanning tunneling microscopy. Phys. Rev. B 42, 8890–8906 (1990).

28.

Dai, Z., Xue, Q., Gong, Y., Slough, C. G. & Coleman, R. V. Scanning-probe-microscopy studies of superlattice structures and density-wave structures in 2H-NbSe2 2H-TaSe2, and 2H-TaS2 induced by Fe doping. Phys. Rev. B 48, 14543–14555 (1993).

29.

Vescoli, V., Degiorgi, L., Berger, H. & Forró, L. Dynamics of correlated two-dimensional materials: the 2H-TaSe2 case. Phys. Rev. Lett. 81, 453–456 (1998).

30.

Demsar, J., Forró, L., Berger, H. & Mihailovic, D. Femtosecond snapshots of gap-forming charge-density-wave correlations in quasi-two-dimensional dichalcogenides 1T-TaS2 and 2H-TaSe2. Phys. Rev. B 66, 041101 (2002).

31.

Rajasekaran, S. et al. Parametric amplification of a superconducting plasma wave. Nat. Phys. 12, 1012–1016 (2016).

32.

Kennes, D. M., Wilner, E. Y., Reichman, D. R. & Millis, A. J. Nonequilibrium optical conductivity: general theory and application to transient phases. Phys. Rev. B 96, 054506 (2017).

33.

Sipos, B. et al. From Mott state to superconductivity in 1T-TaS2. Nat. Mater. 7, 960–965 (2008).

34.

Chen, Y. et al. Strong correlations and orbital texture in single-layer 1T-TaSe2. Nat. Phys. 16, 218–224 (2020).

35.

Dean, N. et al. Polaronic conductivity in the photoinduced phase of 1T-TaS2. Phys. Rev. Lett. 106, 016401 (2011).

36.

Sie, E. J. et al. An ultrafast symmetry switch in a Weyl semimetal. Nature 565, 61–66 (2019).

37.

Shi, J. et al. Terahertz-driven irreversible topological phase transition in two-dimensional MoTe2. Preprint at https://arxiv.org/abs/1910.13609 (2019).

38.

Liang, W. Y. & Beal, A. R. A study of the optical joint density-of-states function. J. Phys. C 9, 2823–2832 (1976).

39.

Mankowsky, R. et al. Dynamical stability limit for the charge density wave in K0.3MoO3. Phys. Rev. Lett. 118, 116402 (2017).

40.

Raines, Z. M., Stanev, V. G. & Galitski, V. M. Hybridization of Higgs modes in a bond-density-wave state in cuprates. Phys. Rev. B 92, 184511 (2015).

41.

Schwarz, L. et al. Classification and characterization of nonequilibrium Higgs modes in unconventional superconductors. Nat. Commun. 11, 287 (2020).

42.

Sun, Z. & Millis, A. J. Transient trapping into metastable states in systems with competing orders. Phys. Rev. X 10, 021028 (2020).
Acknowledgements
This work was supported by JSPS KAKENHI (grant nos. 18H05324, 18H05846, 19H05602, 19H02593 and 19H00653); the A3 Foresight Program; JST CREST grant no. JPMJCR19T3, Japan; JST PRESTO grant no. JPMJPR20AC, Japan; LABEX SEAM grant (ANR-11-IDEX-0005-02); and DIM SIRTEQ grant from Île-de-France region. M.N. was partly supported by the Murata Science Foundation.
Ethics declarations
Competing interests
The authors declare no competing interests.
Additional information
Peer review information Nature Physics thanks the anonymous reviewers for their contribution to the peer review of this work.
Publisher's note Springer Nature remains neutral with regard to jurisdictional claims in published maps and institutional affiliations.
Supplementary information
About this article
Cite this article
Yoshikawa, N., Suganuma, H., Matsuoka, H. et al. Ultrafast switching to an insulating-like metastable state by amplitudon excitation of a charge density wave. Nat. Phys. 17, 909–914 (2021). https://doi.org/10.1038/s41567-021-01267-3
Received:

Accepted:

Published:

Issue Date: