Abstract
Particle knockout scattering experiments1,2 are fundamental for mapping the structure of atomic nuclei2,3,4,5,6, but their interpretation is often complicated by initial- and final-state interactions of the incoming and scattered particles1,2,7,8,9. Such interactions lead to reduction in the scattered particle flux and distort their kinematics. Here we overcome this limitation by measuring the quasi-free scattering of 48 GeV c–1 12C ions from hydrogen. The distribution of single protons is studied by detecting two protons at large angles in coincidence with an intact 11B nucleus. The 11B detection suppresses the otherwise large distortions of reconstructed single-proton distributions induced by initial- and final-state interactions. By further detecting residual 10B and 10Be nuclei, we also identified short-range correlated nucleon–nucleon pairs9,10,11,12,13 and provide direct experimental evidence for separation of the pair wavefunction from that of the residual many-body nuclear system9,14. All measured reactions are well described by theoretical calculations that include no distortions from the initial- and final-state interactions. Our results showcase the ability to study the short-distance structure of short-lived radioactive nuclei at the forthcoming Facility for Antiproton and Ion Research (FAIR)15 and Facility for Rare Isotope Beams (FRIB)16 facilities, which is relevant for understanding the structure and properties of nuclei far from stability and the formation of visible matter in the Universe.
Access options
Access Nature and 54 other Nature Portfolio journals
Get Nature+, our best-value online-access subscription
$29.99 per month
cancel any time
Subscribe to this journal
Receive 12 print issues and online access
$209.00 per year
only $17.42 per issue
Rent or buy this article
Get just this article for as long as you need it
$39.95
Prices may be subject to local taxes which are calculated during checkout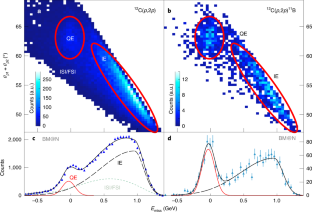 Data availability
Source data are provided with this paper. All other data that support the plots within this paper and other findings of this study are available from the corresponding author upon reasonable request.
References
Jacob, G. & Maris, T. A. J. Quasi-free scattering and nuclear structure. Rev. Mod. Phys. 38, 121–142 (1966).

Kelly, J. J. Nucleon knockout by intermediate energy electrons. Adv. Nucl. Phys. 23, 75–294 (1996).

Gade, A. et al. Reduction of spectroscopic strength: weakly-bound and strongly-bound single-particle states studied using one-nucleon knockout reactions. Phys. Rev. C 77, 044306 (2008).

Kobayashi, T. et al. (p, 2p) reactions on 9–16C at 250 MeV/A. Nucl. Phys. A 805, 431–438 (2008).

Wakasa, T., Ogata, K. & Noro, T. Proton-induced knockout reactions with polarized and unpolarized beams. Prog. Part. Nucl. Phys. 96, 32–87 (2017).

Duer, M. et al. Probing high-momentum protons and neutrons in neutron-rich nuclei. Nature 560, 617–621 (2018).

Hansen, P. G. & Tostevin, J. A. Direct reactions with exotic nuclei. Ann. Rev. Nucl. Part. Sci. 53, 219–261 (2003).

Cosyn, W. & Ryckebusch, J. On the density dependence of single-proton and two-proton knockout reactions under quasifree conditions. Phys. Rev. C 80, 011602 (2009).

Ciofi degli Atti, C. In-medium short-range dynamics of nucleons: recent theoretical and experimental advances. Phys. Rep. 590, 1–85 (2015).

Subedi, R. et al. Probing cold dense nuclear matter. Science 320, 1476–1478 (2008).

Feldmeier, H., Horiuchi, W., Neff, T. & Suzuki, Y. Universality of short-range nucleon-nucleon correlations. Phys. Rev. C 84, 054003 (2011).

Hen, O. et al. Momentum sharing in imbalanced Fermi systems. Science 346, 614–617 (2014).

Hen, O., Miller, G. A., Piasetzky, E. & Weinstein, L. B. Nucleon-nucleon correlations, short-lived excitations, and the quarks within. Rev. Mod. Phys. 89, 045002 (2017).

Cruz-Torres, R. et al. Many-body factorization and position–momentum equivalence of nuclear short-range correlations. Nat. Phys. https://doi.org/10.1038/s41567-020-01053-7 (2020).

Spiller, P. & Franchetti, G. The FAIR accelerator project at GSI. Nucl. Instrum. Meth. A 561, 305–309 (2006).

FRIB400: The Scientific Case for the 400 MeV/u Energy Upgrade of FRIB (FRIB Science Community, 2019); https://frib.msu.edu/_files/pdfs/frib400_final.pdf

Mukherjee, B. et al. Spectral response and contact of the unitary Fermi gas. Phys. Rev. Lett. 122, 203402 (2019).

Bloch, I., Dalibard, J. & Zwerger, W. Many-body physics with ultracold gases. Rev. Mod. Phys. 80, 885–964 (2008).

Schmidt, A. et al. Probing the core of the strong nuclear interaction. Nature 578, 540–544 (2020).

Cruz-Torres, R. et al. Probing few-body nuclear dynamics via 3H and 3He (e, e'p)pn cross-section measurements. Phys. Rev. Lett. 124, 212501 (2020).

Obertelli, A. & Uesaka, T. Hydrogen targets for exotic-nuclei studies developed over the past 10 years. Eur. Phys. J. A 47, 105 (2011).

Atar, L. et al. Quasifree (p, 2p) reactions on oxygen isotopes: observation of isospin independence of the reduced single-particle strength. Phys. Rev. Lett. 120, 052501 (2018).

Chen, J.-W., Detmold, W., Lynn, J. E. & Schwenk, A. Short range correlations and the EMC effect in effective field theory. Phys. Rev. Lett. 119, 262502 (2017).

Panin, V. et al. Exclusive measurements of quasi-free proton scattering reactions in inverse and complete kinematics. Phys. Lett. B 753, 204–210 (2016).

Aumann, T., Bertulani, C. A. & Ryckebusch, J. Quasifree (p, 2p) and (p, pn) reactions with unstable nuclei. Phys. Rev. C 88, 064610 (2013).

Piasetzky, E., Sargsian, M., Frankfurt, L., Strikman, M. & Watson, J. W. Evidence for strong dominance of proton-neutron correlations in nuclei. Phys. Rev. Lett. 97, 162504 (2006).

Duer, M. et al. Direct observation of proton-neutron short-range correlation dominance in heavy nuclei. Phys. Rev. Lett. 122, 172502 (2019).

Cohen, E. O. et al. Center of mass motion of short-range correlated nucleon pairs studied via the A(e, e'pp) reaction. Phys. Rev. Lett. 121, 092501 (2018).

Bobeldijk, I. et al. High-momentum protons in 208Pb. Phys. Rev. Lett. 73, 2684–2687 (1994).

Blomqvist, K. I. et al. Investigation of short-range nucleon-nucleon correlations using the reaction 12C(e, e'pp) in close to 4π geometry. Phys. Lett. B 421, 71–78 (1998).

Benmokhtar, F. et al. Measurement of the 3He(e, e'p)pn reaction at high missing energies and momenta. Phys. Rev. Lett. 94, 082305 (2005).

Frankfurt, L., Sargsian, M. & Strikman, M. Recent observation of short-range nucleon correlations in nuclei and their implications for the structure of nuclei and neutron stars. Int. J. Mod. Phys. A 23, 2991–3055 (2008).

Kekelidze, V. et al. Project NICA at JINR. Nucl. Phys. A 904–905, 945c–948c (2013).

Agapov, N. N. et al. Cryogenic targets of the lightest gases (hydrogen, deuterium and helium-4) with GM cryocooler for experiments of high energy physics. In Cryogenics 2019. Proc. 15th IIR International Conference 38–44 (IIF-IIR, 2019).

Hussein, M. S., Rego, R. A. & Bertulani, C. A. Microscopic theory of the total reaction cross section and application to stable and exotic nuclei. Phys. Rep. 201, 279–334 (1991).

Ozawa, A., Suzuki, T. & Tanihata, I. Nuclear size and related topics. Nucl. Phys. A 693, 32–62 (2001).
Acknowledgements
We acknowledge the efforts of the staff of the Accelerator and High-Energy Physics Divisions at JINR that made this experiment possible and I. Tserruya for fruitful discussions of the analysis and results. The research was supported by the Israel Science Foundation, the Pazy Foundation and the BMBF via project no. 05P15RDFN1, through the GSI/TU Darmstadt cooperation agreement, by the US DoE under grant no. DE-FG02-08ER41533 and by the Deutsche Forschungsgemeinschaft (DFG, German Research Foundation), project ID 279384907, SFB 1245, and the RFBR under grant numbers 18-02-40046 and 18-02-40084/19.
Ethics declarations
Competing interests
The authors declare no competing interests.
Additional information
Peer review information Nature Physics thanks Daniel Bazin, Olof Tengblad and the other, anonymous, reviewer(s) for their contribution to the peer review of this work.
Publisher's note Springer Nature remains neutral with regard to jurisdictional claims in published maps and institutional affiliations.
Supplementary information
About this article
Cite this article
Patsyuk, M., Kahlbow, J., Laskaris, G. et al. Unperturbed inverse kinematics nucleon knockout measurements with a carbon beam. Nat. Phys. 17, 693–699 (2021). https://doi.org/10.1038/s41567-021-01193-4
Received:

Accepted:

Published:

Issue Date:

DOI: https://doi.org/10.1038/s41567-021-01193-4