Abstract
Glass is inherently unstable to crystallization. However, how this transformation occurs while the dynamics in the glass stay frozen at the particle scale is poorly understood. Here, through single-particle-resolved imaging experiments, we show that due to frozen-in density inhomogeneities, a soft colloidal glass crystallizes via two distinct pathways. In the poorly packed regions of the glass, crystallinity grew smoothly due to local particle shuffles, whereas in the well-packed regions, we observed abrupt jumps in crystallinity that were triggered by avalanches—cooperative rearrangements involving many tens of particles. Importantly, we show that softness—a structural-order parameter determined through machine-learning methods—not only predicts where crystallization initiates in a glass but is also sensitive to the crystallization pathway. Such a causal connection between the structure and stability of a glass has so far remained elusive. Devising strategies to manipulate softness may thus prove invaluable in realizing long-lived glassy states.
Access options
Access Nature and 54 other Nature Portfolio journals
Get Nature+, our best-value online-access subscription
$29.99 / 30 days
cancel any time
Subscribe to this journal
Receive 12 print issues and online access
$209.00 per year
only $17.42 per issue
Rent or buy this article
Prices vary by article type
from$1.95
to$39.95
Prices may be subject to local taxes which are calculated during checkout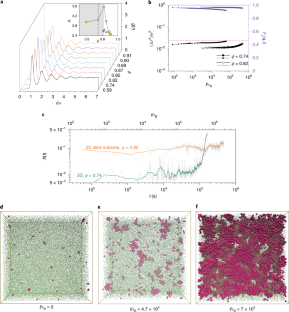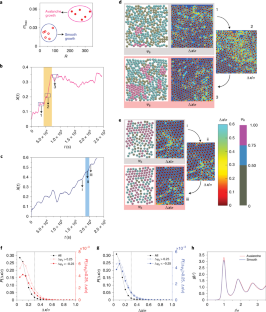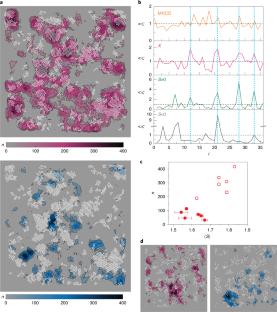 Data availability
Source data are available for this paper from the corresponding authors upon reasonable request.
References
Kelton, K. F. & Greer, A. L. Nucleation in Condensed Matter: Applications in Materials and Biology Vol. 15 (Elsevier, 2010).

Mazur, P. Freezing of living cells: mechanisms and implications. Am. J. Physiol. 247, C125–C142 (1984).

Angell, C. A. Liquid fragility and the glass transition in water and aqueous solutions. Chem. Rev. 102, 2627–2650 (2002).

van Megen, W. & Underwood, S. M. Change in crystallization mechanism at the glass transition of colloidal spheres. Nature 362, 616–618 (1993).

Ingebrigtsen, T. S., Dyre, J. C., Schrøder, T. B. & Royall, C. P. Crystallization instability in glass-forming mixtures. Phys. Rev. X 9, 031016 (2019).

Craig, D. Q. M., Royall, P. G., Kett, V. L. & Hopton, M. L. The relevance of the amorphous state to pharmaceutical dosage forms: glassy drugs and freeze dried systems. Int. J. Pharm. 179, 179–207 (1999).

Greer, A. L. Metallic glasses. Science 267, 1947–1953 (1995).

Klein, W. & Leyvraz, F. Crystalline nucleation in deeply quenched liquids. Phys. Rev. Lett. 57, 2845–2848 (1986).

Yang, J., Gould, H. & Klein, W. Molecular-dynamics investigation of deeply quenched liquids. Phys. Rev. Lett. 60, 2665–2668 (1988).

Trudu, F., Donadio, D. & Parrinello, M. Freezing of a Lennard-Jones fluid: from nucleation to spinodal regime. Phys. Rev. Lett. 97, 105701 (2006).

Kawasaki, T. & Tanaka, H. Formation of a crystal nucleus from liquid. Proc. Natl Acad. Sci. USA 107, 14036–14041 (2010).

Tan, P., Xu, N. & Xu, L. Visualizing kinetic pathways of homogeneous nucleation in colloidal crystallization. Nat. Phys. 10, 73–79 (2014).

Gasser, U., Weeks, E. R., Schofield, A., Pusey, P. N. & Weitz, D. A. Real-space imaging of nucleation and growth in colloidal crystallization. Science 292, 258–262 (2001).

Sanz, E. et al. Crystallization mechanism of hard sphere glasses. Phys. Rev. Lett. 106, 215701 (2011).

Sanz, E. et al. Avalanches mediate crystallization in a hard-sphere glass. Proc. Natl Acad. Sci. USA 111, 75–80 (2014).

Montero de Hijes, P., Rosales-Pelaez, P., Valeriani, C., Pusey, P. N. & Sanz, E. Brownian versus Newtonian devitrification of hard-sphere glasses. Phys. Rev. E 96, 020602(R) (2017).

Yanagishima, T., Russo, J. & Tanaka, H. Common mechanism of thermodynamic and mechanical origin for ageing and crystallization of glasses. Nat. Commun. 8, 15954 (2017).

Rosales-Pelaez, P., Montero de Hijes, P., Sanz, E. & Valeriani, C. Avalanche mediated devitrification in a glass of pseudo hard-spheres. J. Stat. Mech. Theory Exp. 9, 094005 (2016).

Widmer-Cooper, A., Perry, H., Harrowell, P. & Reichman, D. R. Irreversible reorganization in a supercooled liquid originates from localized soft modes. Nat. Phys. 4, 711–715 (2008).

Golde, S., Palberg, T. & Schöpe, H. J. Correlation between dynamical and structural heterogeneities in colloidal hard-sphere suspensions. Nat. Phys. 12, 712–717 (2016).

Appignanesi, G. A., Rodríguez Fris, J. A., Montani, R. A. & Kob, W. Democratic particle motion for metabasin transitions in simple glass formers. Phys. Rev. Lett. 96, 057801 (2006).

Zhang, Z. et al. Thermal vestige of the zero-temperature jamming transition. Nature 459, 230–233 (2009).

Philippe, A. M. et al. Glass transition of soft colloids. Phys. Rev. E 97, 040601(R) (2018).

Hallett, J. E., Turci, F. & Royall, C. P. Local structure in deeply supercooled liquids exhibits growing length scales and dynamical correlations. Nat. Commun. 9, 3272 (2018).

Valeriani, C. et al. From compact to fractal crystalline clusters in concentrated systems of monodisperse hard spheres. Soft Matter 8, 4960–4970 (2012).

Schoenholz, S. S., Cubuk, E. D., Sussman, D. M., Kaxiras, E. & Liu, A. J. A structural approach to relaxation in glassy liquids. Nat. Phys. 12, 469–471 (2016).

Ma, X. et al. Heterogeneous activation, local structure, and softness in supercooled colloidal liquids. Phys. Rev. Lett. 122, 028001 (2019).

Crocker, J. C. & Grier, D. G. Methods of digital video microscopy for colloidal studies. J. Colloid Interface Sci. 179, 298–310 (1996).

Chang, C.-C. & Lin, C.-J. LIBSVM: a library for support vector machines. ACM Trans. Intel. Syst. Technol. 2, 27 (2011).

Lechner, W. & Dellago, C. Accurate determination of crystal structures based on averaged local bond order parameters. J. Chem. Phys. 129, 114707 (2008).
Acknowledgements
We thank H. K. Nagamanasa for synthesizing particles and the Supercomputing Education and Research Centre, Indian Institute of Science, for computational support by providing access to the high-performance Tyrone cluster. A.K.S. and D.G. thank the Department of Science and Technology (DST), Government of India, for financial support under a Year of Science Fellowship. R.G. thanks DST-Nanomission (SR/NM/TP-25/2016) for financial support.
Ethics declarations
Competing interests
The authors declare no competing interests.
Additional information
Publisher's note Springer Nature remains neutral with regard to jurisdictional claims in published maps and institutional affiliations.
Supplementary information
About this article
Cite this article
Ganapathi, D., Chakrabarti, D., Sood, A.K. et al. Structure determines where crystallization occurs in a soft colloidal glass. Nat. Phys. 17, 114–120 (2021). https://doi.org/10.1038/s41567-020-1016-4
Received:

Accepted:

Published:

Issue Date:

DOI: https://doi.org/10.1038/s41567-020-1016-4
This article is cited by
Qiong Gao
Jingdong Ai
Peng Tan

Nature Materials (2021)

Mingrui Dong
Joerg Reimann
Yixiang Gan

International Journal of Advances in Engineering Sciences and Applied Mathematics (2021)