Abstract
Natural soils are host to a high density1 and diversity2 of microorganisms, and even deep-earth porous rocks provide a habitat for active microbial communities3. In these environments, microbial transport by disordered flows is relevant for a broad range of natural and engineered processes, from biochemical cycling to remineralization and bioremediation4,5,6,7. Yet, how bacteria are transported and distributed in the subsurface as a result of the disordered flow and the associated chemical gradients characteristic of porous media has remained poorly understood, in part because studies have so far focused on steady, macroscale chemical gradients8,9,10. Here, we use a microfluidic model system that captures flow disorder and chemical gradients at the pore scale to quantify the transport and dispersion of the soil-dwelling bacterium Bacillus subtilis in porous media. We observe that chemotaxis strongly modulates the persistence of bacteria in low-flow regions of the pore space, resulting in a 100% increase in their dispersion coefficient. This effect stems directly from the strong pore-scale gradients created by flow disorder and demonstrates that the microscale interplay between bacterial behaviour and pore-scale disorder can impact the macroscale dynamics of biota in the subsurface.
This is a preview of subscription content
Access options
Subscribe to Journal
Get full journal access for 1 year
$99.00
only $8.25 per issue
All prices are NET prices.
VAT will be added later in the checkout.
Tax calculation will be finalised during checkout.
Rent or Buy article
Get time limited or full article access on ReadCube.
from$8.99
All prices are NET prices.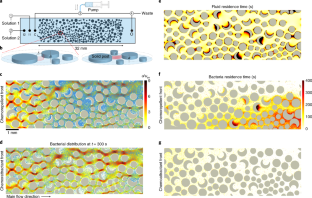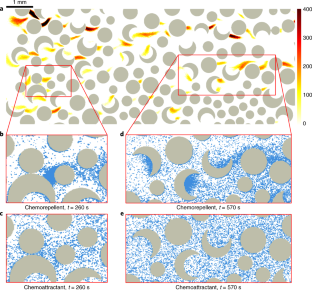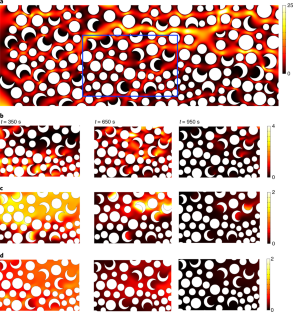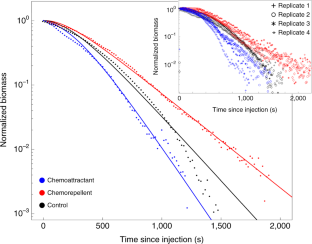 References
1.

Whitman, W. B., Coleman, D. C. & Wiebe, W. J. Prokaryotes: the unseen majority. Proc. Natl Acad. Sci. USA 95, 6578–6583 (1998).

2.

Torsvik, V., Øvreås, L. & Thingstad, T. F. Prokaryotic diversity—magnitude, dynamics and controlling factors. Science 296, 1064–1066 (2002).

3.

Chivian, D. et al. Environmental genomics reveals a single-species ecosystem deep within earth. Science 322, 275–278 (2008).

4.

McClain, M. E. et al. Biogeochemical hot spots and hot moments at the interface of terrestrial and aquatic ecosystems. Ecosystems 6, 301–312 (2003).

5.

Tebo, B. M. et al. Biogenic manganese oxides: properties and mechanisms of formation. Annu. Rev. Earth Planet. Sci. 32, 287–328 (2004).

6.

Or, D., Smets, B. F., Wraith, J. M., Dechesne, A. & Friedman, S. P. Physical constraints affecting bacterial habitats and activity in unsaturated porous media—a review. Adv. Water Resour. 30, 1505–1527 (2007).

7.

Grathwohl, P. et al. Catchments as reactors: a comprehensive approach for water fluxes and solute turnover. Environ. Earth Sci. 69, 317–333 (2013).

8.

Olson, M. S., Ford, R. M., Smith, J. A. & Fernandez, E. J. Quantification of bacterial chemotaxis in porous media using magnetic resonance imaging. Environ. Sci. Technol. 38, 3864–3870 (2004).

9.

Wang, M. & Ford, R. M. Transverse bacterial migration induced by chemotaxis in a packed column with structured physical heterogeneity. Environ. Sci. Technol. 43, 5921–5927 (2009).

10.

Strobel, K. L. et al. Chemotaxis increases vertical migration and apparent transverse dispersion of bacteria in a bench-scale microcosm. Biotechnol. Bioeng. 108, 2070–2077 (2011).

11.

Blackburn, N., Fenchel, T. & Mitchell, J. Microscale nutrient patches in planktonic habitats shown by chemotactic bacteria. Science 282, 2254–2256 (1998).

12.

Stocker, R. Marine microbes see a sea of gradients. Science 338, 628–633 (2012).

13.

Szurmant, H. & Ordal, G. W. Diversity in chemotaxis mechanisms among the bacteria and archaea. Microbiol. Mol. Biol. Rev. 68, 301–319 (2004).

14.

Abraham, E. R. The generation of plankton patchiness by turbulent stirring. Nature 391, 577–580 (1998).

15.

Tél, T., de Moura, A., Grebogi, C. & Károlyi, G. Chemical and biological activity in open flows: a dynamical system approach. Phys. Rep. 413, 91–196 (2005).

16.

Taylor, J. R. & Stocker, R. Trade-offs of chemotactic foraging in turbulent water. Science 338, 675–679 (2012).

17.

de Anna, P. et al. Mixing and reaction kinetics in porous media: an experimental pore scale quantification. Environ. Sci. Technol. 48, 508–516 (2014).

18.

de Anna, P., Quaife, B., Biros, G. & Juanes, R. Prediction of the low-velocity distribution from the pore structure in simple porous media. Phys. Rev. Fluids 2, 124103 (2017).

19.

Long, T. & Ford, R. M. Enhanced transverse migration of bacteria by chemotaxis in a porous T-sensor. Environ. Sci. Technol. 43, 1546–1552 (2009).

20.

Singh, R. & Olson, M. S. Transverse mixing enhancement due to bacterial random motility in porous microfluidic devices. Environ. Sci. Technol. 45, 8780–8787 (2011).

21.

Duffy, K. J., Ford, R. M. & Cummings, P. T. Residence time calculation for chemotactic bacteria within porous media. Biophys. J. 73, 2930–2936 (1997).

22.

Ebrahimi, A. N. & Or, D. Microbial dispersal in unsaturated porous media: characteristics of motile bacterial cell motions in unsaturated angular pore networks. Water Resources Res. 50, 7406–7429 (2014).

23.

Adadevoh, J. S., Triolo, S. C., Ramsburg, C. A. & Ford, R. M. Chemotaxis increases the residence time of bacteria in granular media containing distributed contaminant sources. Environ. Sci. Technol. 50, 181–187 (2016).

24.

Adadevoh, J. S., Ostvar, S., Wood, B. & Ford, R. M. Modeling transport of chemotactic bacteria in granular media with distributed contaminant sources. Environ. Sci. Technol. 51, 14192–14198 (2017).

25.

Wang, M., Lanning, L. & Ford, R. M. Enhanced retention of chemotactic bacteria in a pore network with residual NAPL contamination. Environ. Sci. Technol. 50, 165–172 (2016).

26.

Porter, M. L., Valdés-Parada, F. J. & Wood, B. D. Multiscale modeling of chemotaxis in homogeneous porous media. Water Resour. Res. 47, W06518 (2011).

27.

Datta, S. S., Chiang, H., Ramakrishnan, T. S. & Weitz, D. A. Spatial fluctuations of fluid velocities in flow through a three-dimensional porous medium. Phys. Rev. Lett. 111, 064501 (2013).

28.

Kang, P. K. et al. Pore-scale intermittent velocity structure underpinning anomalous transport through 3-D porous media. Geophys. Res. Lett. 41, 6184–6190 (2014).

29.

de Anna, P. et al. Flow intermittency, dispersion and correlated continuous time random walks in porous media. Phys. Rev. Lett. 110, 184502 (2013).

30.

Holzner, M., Morales, V. L., Willmann, M. & Dentz, M. Intermittent Lagrangian velocities and accelerations in three-dimensional porous medium flow. Phys. Rev. E 92, 013015 (2015).

31.

Rusconi, R., Garren, M. & Stocker, R. Microfluidics expanding the frontiers of microbial ecology. Annu. Rev. Biophys. 43, 65–91 (2014).

32.

Hol, F. J. H. & Dekker, C. Zooming in to see the bigger picture: microfluidic and nanofabrication tools to study bacteria. Science 346, 1251821 (2014).

33.

Bear, J. Dynamics of Fluids in Porous Media (Elsevier, 1972).

34.

Yawata, Y. et al. Competition–dispersal trade-off ecologically differentiates recently speciated marine bacterioplankton populations. Proc. Natl Acad. Sci. USA 111, 5622–5627 (2014).

35.

Kim, J. et al. Hydrodynamic effects on bacterial biofilm development in a microfluidic environment. Lab Chip 13, 1846–1849 (2013).

36.

Taylor, G. I. Dispersion of soluble matter in solvent flowing slowly through a tube. Proc. R. S. Lond. A Math. Phys. Sci. 219, 186–203 (1953).

37.

Squires, T. M. & Quake, S. R. Microfluidics: fluid physics at the nanoliter scale. Rev. Mod. Phys. 77, 977–1026 (2005).

38.

Sahimi, M. Flow phenomena in rocks: from continuum models to fractals, percolation, cellular automata and simulated annealing. Rev. Mod. Phys. 65, 1393–1534 (1993).

39.

Keller, E. F. & Segel, L. A. Model for chemotaxis. J. Theor. Biol. 30, 225–234 (1971).

40.

Tuval, I. et al. Bacterial swimming and oxygen transport near contact lines. Proc. Natl Acad. Sci. USA 102, 2277–2282 (2005).

41.

Lazova, M. D., Ahmed, T., Bellomo, D., Stocker, R. & Shimizu, T. S. Response rescaling in bacterial chemotaxis. Proc. Natl Acad. Sci. USA 108, 13870–13875 (2011).

42.

Wang, M., Atencia, J. & Ford, R. M. Quantitative analysis of chemotaxis towards toluene by Pseudomonas putida in a convection-free microfluidic device. Biotechnol. Bioeng. 112, 896–904 (2015).

43.

Crank, J. Mathematics of Diffusion 2nd edn (Oxford Univ. Press, 1975).

44.

Park, S. et al. Influence of topology on bacterial social interaction. Proc. Natl Acad. Sci. USA 100, 13910–13915 (2005).

45.

Galajda, P. et al. Funnel ratchets in biology at low Reynolds number: choanotaxis. J. Mod. Opt. 55, 3412–3422 (2008).
Acknowledgements
P.d.A. acknowledges the Earth Resource Laboratory of the Massachusetts Institute of Technology for the ERL fellowship that supported this research. R.J. acknowledges funding from the US Department of Energy (grant no. DE-SC0018357). R.S. acknowledges support from the Swiss National Science Foundation (grant no. 315230_176189).
Ethics declarations
Competing interests
The authors declare no competing interests.
Additional information
Peer review information Nature Physics thanks Yohan Davit and the other, anonymous, reviewer(s) for their contribution to the peer review of this work.
Publisher's note Springer Nature remains neutral with regard to jurisdictional claims in published maps and institutional affiliations.
Supplementary information
Source data
Numeric data for Fig. 3; includes README file.
Numeric data for Extended Data Fig. 2; includes README file.
Numeric data for Extended Data Fig. 10; includes README file.
About this article
Cite this article
de Anna, P., Pahlavan, A.A., Yawata, Y. et al. Chemotaxis under flow disorder shapes microbial dispersion in porous media. Nat. Phys. 17, 68–73 (2021). https://doi.org/10.1038/s41567-020-1002-x
Received:

Accepted:

Published:

Issue Date:
Further reading
Nicolas Waisbord
Amin Dehkharghani
Jeffrey S. Guasto

Nature Communications (2021)

Xiongkun Zhang
Shan Wu
Peng Cai

Soil Ecology Letters (2021)

Z. Kanavas
F. J. Pérez-Reche
V. L. Morales

Transport in Porous Media (2021)