The discussion of the quantum mechanical Wigner's friend thought experiment has regained intensity. Recent theoretical results and experimental tests restrict the possibility of maintaining an observer-independent notion of measurement outcomes.
Access options
Subscribe to Journal
Get full journal access for 1 year
$99.00
only $8.25 per issue
All prices are NET prices.
VAT will be added later in the checkout.
Tax calculation will be finalised during checkout.
Rent or Buy article
Get time limited or full article access on ReadCube.
from$8.99
All prices are NET prices.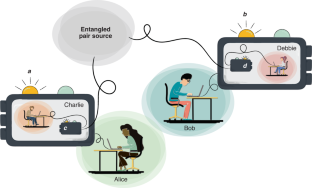 References
1.

Brukner, C. in Quantum[Un]Speakables II: Half a Century of Bell's Theorem (eds Bertlmann, R. & Zeilinger, A.) 95–117 (Springer, 2017).

2.

Brukner, C. Entropy 20, 350 (2018).

3.

Frauchiger, D. & Renner, R. Nat. Commun. 9, 3711 (2018).

4.

Proietti, M. et al. Sci. Adv. 5, eaaw9832 (2019).

5.

Wigner, E. P. in The Scientist Speculates (ed. Good, I. J.) 284–302 (Heinemann, 1961).

6.

Bong, K.-W. et al. Nat. Phys. https://doi.org/10.1038/s41567-020-0990-x (2020).

7.

Bell, J. S. Physics 1, 195–200 (1964).

8.

Miller, J. L. Phys. Today 69, 14 (2016).

9.

Cabello A. in What is Quantum Information? (eds Lombardi, O. et al.) 138–144 (Cambridge Univ. Press, 2017).

10.

Bassi, A. & Ghirardi, G. Phys. Rep 379, 257–426 (2003).
About this article
Cite this article
Brukner, Č. Facts are relative. Nat. Phys. 16, 1172–1174 (2020). https://doi.org/10.1038/s41567-020-0984-8