A mooted advantage of high-dimensional states is their robustness to noise, yet their fragility in noisy channels has hindered their deployment. A demonstration shows how to exploit entanglement to restore quantum correlations lost in transmission.
Access options
Subscribe to Journal
Get full journal access for 1 year
$59.00
only $4.92 per issue
All prices are NET prices.
VAT will be added later in the checkout.
Tax calculation will be finalised during checkout.
Rent or Buy article
Get time limited or full article access on ReadCube.
from$8.99
All prices are NET prices.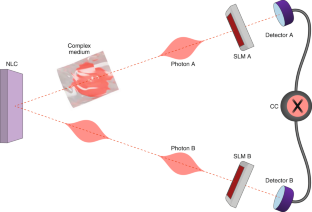 References
1.

Erhard, M., Krenn, M. & Zeilinger, A. Nat. Rev. Phys. 2, 365–381 (2020).

2.

Herrera Valencia, N., Goel, S., McCutcheon, W., Defienne, H. & Malik, M. Nat. Phys. https://doi.org/10.1038/s41567-020-0970-1 (2020).

3.

Plöschner, M., Tyc, T. & Čižmár, T. Nat. Photon. 9, 529–535 (2015).

4.

Konrad, T. et al. Nat. Phys. 4, 99–102 (2007).

5.

Ndagano, B. et al. Nat. Phys. 13, 397–402 (2017).

6.

Toninelli, E. et al. Adv. Opt. Photon. 11, 67–134 (2019).

7.

Moreau, P.-A., Toninelli, E., Gregory, T. & Padgett, M. J. Nat. Rev. Phys. 1, 367–380 (2019).
About this article
Cite this article
Forbes, A., Nape, I. A scramble to preserve entanglement. Nat. Phys. 16, 1091–1092 (2020). https://doi.org/10.1038/s41567-020-0976-8