Abstract
The nature of the pseudogap phase of cuprates remains a major puzzle1,2. One of its signatures is a large negative thermal Hall conductivity3, whose origin is as yet unknown. This is observed even in the undoped Mott insulator La2CuO4, in which the charge carriers are localized and therefore cannot be responsible. Here, we show that the thermal Hall conductivity of La2CuO4 is roughly isotropic; that is, for heat transport parallel and normal to the CuO2 planes, it is nearly the same. This shows that the Hall response must come from phonons, as they are the only heat carriers that are able to move with the same ease both normal and parallel to the planes4. For doping levels higher than the critical doping level at which the pseudogap phase ends, both La1.6−xNd0.4SrxCuO4 and La1.8−xEu0.2SrxCuO4 show no thermal Hall signal for a heat current normal to the planes, which establishes that phonons have zero Hall response outside the pseudogap phase. Inside the pseudogap phase, the phonons must become chiral to generate the Hall response, but the mechanism by which this happens remains to be identified. It must be intrinsic (from a coupling of phonons to their electronic environment) rather than extrinsic (from structural defects or impurities), as these are the same on both sides of critical doping.
This is a preview of subscription content
Access options
Subscribe to Journal
Get full journal access for 1 year
$99.00
only $8.25 per issue
All prices are NET prices.
VAT will be added later in the checkout.
Tax calculation will be finalised during checkout.
Rent or Buy article
Get time limited or full article access on ReadCube.
from$8.99
All prices are NET prices.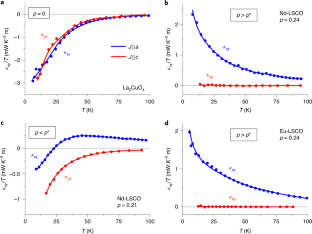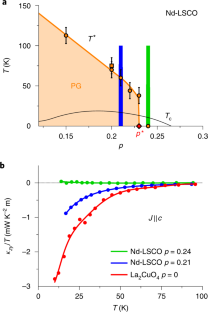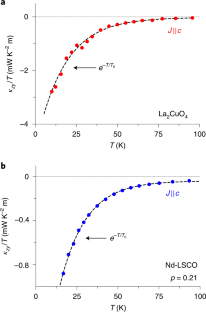 Data availability
All of the data that support the plots in this paper and other findings of this study are available from the corresponding author upon reasonable request. Source data are provided with this paper.
References
1.

Keimer, B. et al. From quantum matter to high-temperature superconductivity in copper oxides. Nature 518, 179–186 (2015).

2.

Proust, C. & Taillefer, L. The remarkable underlying ground states of cuprate superconductors. Annu. Rev. Condens. Matter Phys. 10, 409–429 (2019).

3.

Grissonnanche, G. et al. Giant thermal Hall conductivity in the pseudogap phase of cuprate superconductors. Nature 571, 376–380 (2019).

4.

Hess, C. et al. Magnon heat transport in doped La2CuO4. Phys. Rev. Lett. 90, 197002 (2003).

5.

Onose, M. et al. Observation of the magnon Hall effect. Science 329, 297–299 (2010).

6.

Katsura, H., Nagaosa, N. & Lee, P. A. Theory of the thermal Hall effect in quantum magnets. Phys. Rev. Lett. 104, 066403 (2010).

7.

Hirschberger, M. et al. Large thermal Hall conductivity of neutral spin excitations in a frustrated quantum magnet. Science 348, 106–109 (2015).

8.

Lee, H., Han, J. H. & Lee, P. A. Thermal Hall effect of spins in a paramagnet. Phys. Rev. B 91, 125413 (2015).

9.

Qin, T., Zhou, J. & Shi, J. Berry curvature and the phonon Hall effect. Phys. Rev. B 86, 104305 (2012).

10.

Yang, Y.-F., Zhang, G.-M. & Zhang, F.-C. Universal behavior of the anomalous thermal Hall conductivity. Phys. Rev. Lett. 124, 186602 (2020).

11.

Nasu, J., Yoshitake, J. & Motome, Y. Thermal transport in the Kitaev model. Phys. Rev. Lett. 119, 127204 (2017).

12.

Ye, M. et al. Quantization of the thermal Hall conductivity at small Hall angles. Phys. Rev. Lett. 121, 147201 (2018).

13.

Vinkler-Aviv, Y. & Rosch, A. Approximately quantized thermal Hall effect of chiral liquids coupled to phonons. Phys. Rev. X 8, 031032 (2018).

14.

Mori, M. et al. Origin of the phonon Hall effect in rare-Earth garnets. Phys. Rev. Lett. 113, 265901 (2014).

15.

Ideue, T. et al. Giant thermal Hall effect in multiferroics. Nat. Mater. 16, 797–802 (2017).

16.

Li, X. et al. Phonon thermal Hall effect in strontium titanate. Phys. Rev. Lett. 124, 105901 (2020).

17.

Samajdar, R. et al. Enhanced thermal Hall effect in the square-lattice Néel state. Nat. Phys. 15, 1290–1294 (2019).

18.

Han, J. H., Park, J.-H. & Lee, P. A. Consideration of thermal Hall effect in undoped cuprates. Phys. Rev. B 99, 205157 (2019).

19.

Chen, J.-Y., Kivelson, S. A. & Sun, X.-Q. Enhanced thermal Hall effect in nearly ferroelectric insulators. Phys. Rev. Lett. 124, 167601 (2020).

20.

Collignon, C. et al. Fermi-surface transformation across the pseudogap critical point of the cuprate superconductor La2−xNd0.4SrxCuO4. Phys. Rev. B 95, 224517 (2017).

21.

Matt, C. E. et al. Electron scattering, charge order and pseudogap physics in La2−xNd0.4SrxCuO4: an angle-resolved photoemission spectroscopy study. Phys. Rev. B 92, 134524 (2015).

22.

Michon, B. et al. Thermodynamic signatures of quantum criticality in cuprate superconductors. Nature 567, 281–222 (2019).

23.

Strohm, C., Rikken, G. L. J. A. & Wyder, P. Phenomenological evidence for the phonon Hall effect. Phys. Rev. Lett. 95, 155901 (2005).

24.

He, Y. et al. Rapid change in superconductivity and electron-phonon coupling through the critical point in Bi-2212. Science 362, 62–65 (2019).

25.

Kyung, B. et al. Pseudogap induced by short-range spin correlations in a doped Mott insulator. Phys. Rev. B 73, 165114 (2006).

26.

Scheurer, M. S. et al. Topological order in the pseudogap metal. Proc. Natl Acad. Sci. USA 115, E3665–E3672 (2018).

27.

Hunt, A. W. et al. Glassy slowing of stripe modulation in (La,Eu,Nd)2−x(Sr,Ba)xCuO4: a 63Cu and 139La NQR study down to 350 mK. Phys. Rev. B 64, 134525 (2001).

28.

Frachet, M. et al. Hidden magnetism at the pseudogap critical point of a high-temperature superconductor. Preprint at https://arxiv.org/abs/1909.10258 (2019).

29.

Ye, M. et al. Phonon dynamics in the Kitaev spin liquid. Preprint at https://arxiv.org/abs/2002.05328 (2020).

30.

Hirokane, Y. et al. Phononic thermal Hall effect in diluted terbium oxides. Phys. Rev. B 99, 134419 (2019).

31.

Kasahara, Y. et al. Majorana quantization and half-integer thermal quantum Hall effect in a Kitaev spin liquid. Nature 559, 227–231 (2018).

32.

Hentrich, R. et al. Large thermal Hall effect in α-RuCl3: Evidence for heat transport by Kitaev-Heisenberg paramagnons. Phys. Rev. B 99, 085136 (2019).

33.

Cyr-Choinière, O. et al. Pseudogap temperature T* of cuprate superconductors from the Nernst effect. Phys. Rev. B 97, 064502 (2018).

34.

Grissonnanche, G. et al. Wiedemann–Franz law in the underdoped cuprate superconductor YBCO. Phys. Rev. B 93, 064513 (2016).

35.

Daou, R. et al. Linear temperature dependence of resistivity and change in the Fermi surface at the pseudogap critical point of a high-Tc superconductor. Nat. Phys. 5, 31–34 (2009).

36.

Axe, J. D. & Crawford, M. K. Structural instabilities in lanthanum cuprate superconductors. J. Low Temp. Phys. 95, 271–284 (1994).
Acknowledgements
We thank L. Balents, K. Behnia, R. M. Fernandes, I. Garate, J. H. Han, C. Hess, S. A. Kivelson, P. A. Lee, A. H. MacDonald, J. E. Moore, B. J. Ramshaw, L. Savary, O. Sushkov, A.-M. S. Tremblay, R. Valenti and C. M. Varma for fruitful discussions. L.T. acknowledges support from the Canadian Institute for Advanced Research (CIFAR) as a Fellow, and funding from the Natural Sciences and Engineering Research Council of Canada (NSERC; PIN 123817), the Fonds de recherche du Québec – Nature et Technologies (FRQNT), the Canada Foundation for Innovation (CFI) and a Canada Research Chair. This research was undertaken thanks in part to funding from the Canada First Research Excellence Fund. Part of this work was funded by the EPiQS Initiative of the Gordon and Betty Moore Foundation (Grant GBMF5306 to L.T.). J.-S.Z. was supported by a US National Science Foundation grant (MRSEC DMR-1720595).
Ethics declarations
Competing interests
The authors declare no competing interests.
Additional information
Publisher's note Springer Nature remains neutral with regard to jurisdictional claims in published maps and institutional affiliations.
Peer review information Nature Physics thanks Liling Sun and the other, anonymous, reviewer(s) for their contribution to the peer review of this work.
About this article
Cite this article
Grissonnanche, G., Thériault, S., Gourgout, A. et al. Chiral phonons in the pseudogap phase of cuprates. Nat. Phys. 16, 1108–1111 (2020). https://doi.org/10.1038/s41567-020-0965-y
Received:

Accepted:

Published:

Issue Date: