Abstract
Readout and control of electrostatically confined electrons in semiconductors are key primitives of quantum information processing with solid-state spin qubits1,2. In superconductor–semiconductor heterostructures, localized electronic modes known as Andreev levels result from confinement that is provided by the pair potential3,4. Unlike electronic modes confined exclusively via electrostatic effects, Andreev levels carry supercurrent. Therefore, they naturally integrate with the techniques of circuit quantum electrodynamics (cQED) that have been developed in the field of superconducting qubits and used to detect pairs of quasiparticles that are trapped in Andreev levels5,6,7,8. Here, we demonstrate single-shot cQED readout of the spin of an individual quasiparticle trapped in the Andreev levels of a semiconductor nanowire Josephson element. Owing to a spin-orbit interaction in the nanowire, this 'superconducting spin' directly determines the flow of supercurrent through the element. We harnessed this spin-dependent supercurrent to achieve both a zero-field spin splitting and a long-range interaction between the quasiparticle and a superconducting microwave resonator9,10,11,12,13. Measurement of the resultant spin-dependent resonator frequency yielded quantum non-demolition spin readout with 92% fidelity in 1.9 μs, which enabled us to monitor the quasiparticle spin in real time. These results pave the way for superconducting spin qubits that operate at zero magnetic field and for time-domain measurements of Majorana zero modes9,10,12,14,15.
Access options
Subscribe to Journal
Get full journal access for 1 year
$59.00
only $4.92 per issue
All prices are NET prices.
VAT will be added later in the checkout.
Tax calculation will be finalised during checkout.
Rent or Buy article
Get time limited or full article access on ReadCube.
from$8.99
All prices are NET prices.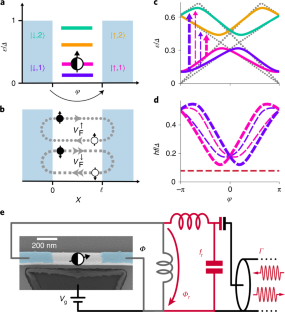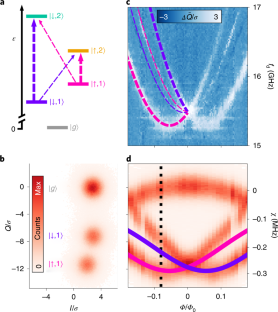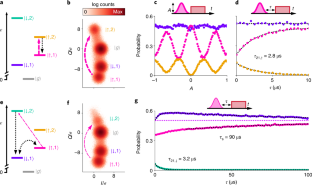 Data availability
Source data are provided with this paper. All other data that support the plots within this paper and other findings of this study are available from the corresponding author upon reasonable request.
References
1.

Hanson, R., Kouwenhoven, L. P., Petta, J. R., Tarucha, S. & Vandersypen, L. M. K. Spins in few-electron quantum dots. Rev. Mod. Phys. 79, 1217–1265 (2007).

2.

Nakajima, T. et al. Quantum non-demolition measurement of an electron spin qubit. Nat. Nanotechnol. 14, 555–560 (2019).

3.

Beenakker, C. W. J. & van Houten, H. Josephson current through a superconducting quantum point contact shorter than the coherence length. Phys. Rev. Lett. 66, 3056–3059 (1991).

4.

Furusaki, A. & Tsukada, M. Current-carrying states in Josephson junctions. Phys. Rev. B 43, 10164–10169 (1991).

5.

Blais, A., Huang, R.-S., Wallraff, A., Girvin, S. M. & Schoelkopf, R. J. Cavity quantum electrodynamics for superconducting electrical circuits: an architecture for quantum computation. Phys. Rev. A 69, 062320 (2004).

6.

Wallraff, A. et al. Strong coupling of a single photon to a superconducting qubit using circuit quantum electrodynamics. Nature 431, 162–167 (2004).

7.

Janvier, C. et al. Coherent manipulation of Andreev states in superconducting atomic contacts. Science 349, 1199–1202 (2015).

8.

Hays, M. et al. Direct microwave measurement of Andreev-bound-state dynamics in a semiconductor-nanowire Josephson junction. Phys. Rev. Lett. 121, 047001 (2018).

9.

Chtchelkatchev, N. M. & Nazarov, Y. V. Andreev quantum dots for spin manipulation. Phys. Rev. Lett. 90, 226806 (2003).

10.

Padurariu, C. & Nazarov, Y. V. Theoretical proposal for superconducting spin qubits. Phys. Rev. B 81, 144519 (2010).

11.

Reynoso, A. A., Usaj, G., Balseiro, C. A., Feinberg, D. & Avignon, M. Spin-orbit induced chirality of Andreev states in Josephson junctions. Phys. Rev. B 86, 214519 (2012).

12.

Park, S. & Yeyati, A. L. Andreev spin qubits in multichannel Rashba nanowires. Phys. Rev. B 96, 125416 (2017).

13.

Tosi, L. et al. Spin-orbit splitting of Andreev states revealed by microwave spectroscopy. Phys. Rev. X 9, 011010 (2019).

14.

Fu, L. & Kane, C. L. Superconducting proximity effect and Majorana fermions at the surface of a topological insulator. Phys. Rev. Lett. 100, 096407 (2008).

15.

Mourik, V. et al. Signatures of Majorana fermions in hybrid superconductor-semiconductor nanowire devices. Science 336, 1003–1007 (2012).

16.

Roy, A. & Devoret, M. Introduction to parametric amplification of quantum signals with Josephson circuits. C. R. Phys. 17, 740–755 (2016).

17.

Petersson, K. D. et al. Circuit quantum electrodynamics with a spin qubit. Nature 490, 380–383 (2012).

18.

Samkharadze, N. et al. Strong spin-photon coupling in silicon. Science 359, 1123–1127 (2018).

19.

Mi, X. et al. A coherent spin-photon interface in silicon. Nature 555, 599–603 (2018).

20.

Harvey, S. P. et al. Coupling two spin qubits with a high-impedance resonator. Phys. Rev. B 97, 235409 (2018).

21.

Landig, A. J. et al. Coherent spin-photon coupling using a resonant exchange qubit. Nature 560, 179–184 (2018).

22.

Cubaynes, T. et al. Highly coherent spin states in carbon nanotubes coupled to cavity photons. npj Quantum Inf. 5, 47 (2019).

23.

Borjans, F., Croot, X. G., Mi, X., Gullans, M. J. & Petta, J. R. Resonant microwave-mediated interactions between distant electron spins. Nature 577, 195–198 (2020).

24.

Zheng, G. et al. Rapid gate-based spin read-out in silicon using an on-chip resonator. Nat. Nanotechol. 14, 742–746 (2019).

25.

West, A. et al. Gate-based single-shot readout of spins in silicon. Nat. Nanotechol. 14, 437–441 (2019).

26.

Urdampilleta, M. et al. Gate-based high fidelity spin readout in a CMOS device. Nat. Nanotechol. 14, 737–741 (2019).

27.

van Woerkom, D. J. et al. Microwave spectroscopy of spinful Andreev bound states in ballistic semiconductor Josephson junctions. Nat. Phys. 13, 876–881 (2017).

28.

Aumentado, J., Keller, M. W., Martinis, J. M. & Devoret, M. H. Nonequilibrium quasiparticles and 2e periodicity in single-Cooper-pair transistors. Phys. Rev. Lett. 92, 066802 (2004).

29.

Governale, M. & Zülicke, U. Spin accumulation in quantum wires with strong Rashba spin-orbit coupling. Phys. Rev. B 66, 073311 (2002).

30.

Sriram, P., Kalantre, S. S., Gharavi, K., Baugh, J. & Muralidharan, B. Supercurrent interference in semiconductor nanowire Josephson junctions. Phys. Rev. B 100, 155431 (2019).

31.

Touzard, S. et al. Gated conditional displacement readout of superconducting qubits. Phys. Rev. Lett. 122, 080502 (2019).

32.

Frattini, N. E., Sivak, V. V., Lingenfelter, A., Shankar, S. & Devoret, M. H. Optimizing the nonlinearity and dissipation of a SNAIL parametric amplifier for dynamic range. Phys. Rev. Appl. 10, 054020 (2018).

33.

Goffman, M. F. et al. Conduction channels of an InAs-Al nanowire Josephson weak link. New J. Phys. 19, 092002 (2017).

34.

Chang, W. et al. Hard gap in epitaxial semiconductor–superconductor nanowires. Nat. Nanotechnol. 10, 232–236 (2015).

35.

Press, W. H., Teukolsky, S. A., Vetterling, W. T. & Flannery, B. P. Numerical Recipes in C++: The Art of Scientific Computing 2nd edn (Cambridge Univ. Press, 2002)..
Acknowledgements
We thank N. Frattini and V. Sivak for providing the SNAIL parametric amplifier. We are grateful to M. Goffman, H. Pothier, L. Tosi, and C. Urbina for sharing their experimental results and thoughts. We thank J. Moreno and A. L. Yeyati for important discussions on the inter-doublet decay dynamics. We are grateful to S. Frolov, L. Frunzio, L. Glazman, M. Houzet, C. Marcus, S. Shankar, and S. Touzard for useful discussions. This research was supported by the US Office of Naval Research (N00014-16-1-2270) and by the US Army Research Office (W911NF-18-1-0020, W911NF-18-1-0212 and W911NF-16-1-0349). J.N. acknowledges support from the Danish National Research Foundation. G.d.L. acknowledges support from the European Union's Horizon 2020 research and innovation programme under Marie Skłodowska–Curie grant agreement no. 656129. D.B. acknowledges support from the Netherlands Organisation for Scientific Research (NWO) and Microsoft Corporation Station Q. A.G. and J.N. acknowledge support from the Horizon 2020 research and innovation programme of the European Union: A.G. received funding from European Research Council grant no. 804988 (SiMS), and A.G. and J.N. received support from European Research Council grant no. 828948 (AndQC) and QuantERA project no. 127900 (SuperTOP).
Ethics declarations
Competing interests
The authors declare no competing interests.
Additional information
Peer review information Nature Physics thanks W. Belzig, X. Mi, and the other, anonymous, reviewer(s) for their contribution to the peer review of this work.
Publisher's note Springer Nature remains neutral with regard to jurisdictional claims in published maps and institutional affiliations.
Supplementary information
About this article
Cite this article
Hays, M., Fatemi, V., Serniak, K. et al. Continuous monitoring of a trapped superconducting spin. Nat. Phys. 16, 1103–1107 (2020). https://doi.org/10.1038/s41567-020-0952-3
Received:

Accepted:

Published:

Issue Date: