Abstract
Epithelial tissues provide an important barrier function in animals, but these tissues are subjected to extreme strains during day-to-day activities such as feeding and locomotion. Understanding tissue mechanics and the adaptive response in dynamic force landscapes remains an important area of research. Here we carry out a multi-modal study of a simple yet highly dynamic organism, Trichoplax adhaerens, and report the discovery of abrupt, bulk epithelial tissue fractures induced by the organism's own motility. Coupled with rapid healing, this discovery accounts for dramatic shape change and physiological asexual division in this early-divergent metazoan. We generalize our understanding of this phenomenon by codifying it in a heuristic model focusing on the debonding–bonding criterion in a soft, active living material. Using a suite of quantitative experimental and numerical techniques, we demonstrate a force-driven ductile-to-brittle material transition governing the morphodynamics of tissues pushed to the edge of rupture.
Relevant articles
Open Access articles citing this article.
Tatiana D. Mayorova

,

Katherine Hammar

…

Carolyn L. Smith

Scientific Reports Open Access 02 December 2021
Access options
Access Nature and 54 other Nature Portfolio journals
Get Nature+, our best-value online-access subscription
$29.99 / 30 days
cancel any time
Subscribe to this journal
Receive 12 print issues and online access
$209.00 per year
only $17.42 per issue
Rent or buy this article
Prices vary by article type
from$1.95
to$39.95
Prices may be subject to local taxes which are calculated during checkout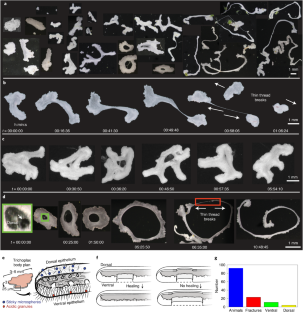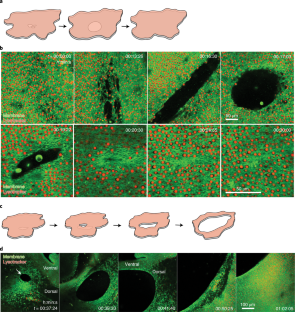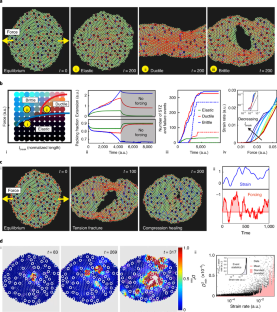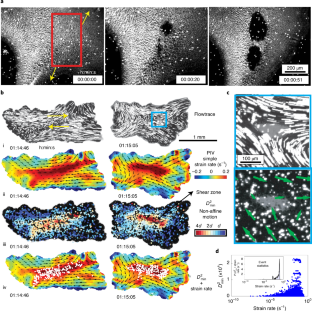 Data availability
The data that support the plots within this paper and other findings of this study are available from the corresponding author upon reasonable request.
Code availability
The computer codes used in this paper are available from the corresponding author upon reasonable request.
References
Fung, Y. Biomechanics: Motion, Flow, Stress, and Growth (Springer, 1990).

Denny, M. W. Ecological Mechanics: Principles of Life's Physical Interactions 1st edn (Princeton Univ. Press, 2017).

Carter, J. A., Hyland, C., Steele, R. E. & Collins, E. M. S. Dynamics of mouth opening in hydra. Biophys. J. 110, 1191–1201 (2016).

Casares, L. et al. Hydraulic fracture during epithelial stretching. Nat. Mater. 14, 343–351 (2015).

Harris, A. R. et al. Characterizing the mechanics of cultured cell monolayers. Proc. Natl Acad. Sci. USA 109, 16449–16454 (2012).

Vlahakis, N. E. & Hubmayr, R. D. Response of alveolar cells to mechanical stress. Curr. Opin. Critical Care 9, 2–8 (2003).

Xi, W., Saw, T. B., Delacour, D., Lim, C. T. & Ladoux, B. Material approaches to active tissue mechanics. Nat. Rev. Mater. 4, 23–44 (2019).

David, R. et al. Tissue cohesion and the mechanics of cell rearrangement. Development 141, 3672–3682 (2014).

Latorre, E. et al. Active superelasticity in three-dimensional epithelia of controlled shape. Nature 563, 203–208 (2018).

Armon, S., Bull, M. S., Aranda-Diaz, A. & Prakash, M. Ultrafast epithelial contractions provide insights into contraction speed limits and tissue integrity. Proc. Natl. Acad. Sci. USA 115, E10333–E10341 (2018).

Noll, N., Mani, M., Heemskerk, I., Streichan, S. J. & Shraiman, B. I. Active tension network model suggests an exotic mechanical state realized in epithelial tissues. Nat. Phys. 13, 1221–1226 (2017).

Khalilgharibi, N. et al. Stress relaxation in epithelial monolayers is controlled by the actomyosin cortex. Nat. Phys. 15, 839–847 (2019).

Matsuda, T., Kawakami, R., Namba, R., Nakajima, T. & Gong, J. P. Mechanoresponsive self-growing hydrogels inspired by muscle training. Science 363, 504–508 (2019).

Cordier, P., Tournilhac, F., Soulié-Ziakovic, C. & Leibler, L. Self-healing and thermoreversible rubber from supramolecular assembly. Nature 451, 977–980 (2008).

Schierwater, B. & DeSalle, R. Placozoa. Curr. Biol. 28, R97–R98 (2018).

Smith, C. et al. Novel cell types, neurosecretory cells, and body plan of the early-diverging metazoan Trichoplax adhaerens. Curr. Biol. 24, 1565–1572 (2014).

Srivastava, M. et al. The Trichoplax genome and the nature of placozoans. Nature 454, 955–960 (2008).

Bull, M., Armon, S., Prakash, V. N. & Prakash, M. The dynamics of multi-cellular coordination in a living fossil. Bull. Am. Phys. Soc. 2018, B51.004 (2018).

Smith, C. L., Reese, T., Govezensky, T. & Barrio, R. A. Coherent directed movement towards food modeled in Trichoplax, a ciliated animal lacking a nervous system. Proc. Natl. Acad. Sci. USA 116, 8901–8908 (2019).

Smith, C. L. & Reese, T. S. Adherens junctions modulate diffusion between epithelial cells in Trichoplax adhaerens. Biol. Bull. 231, 216–224 (2016).

Eitel, M., Guidi, L., Hadrys, H., Balsamo, M. & Schierwater, B. New insights into placozoan sexual reproduction and development. PLoS ONE 6, e19639 (2011).

Griffith, A. A. The phenomena of rupture and flow in solids. Phil. Trans. R. Soc. A 221, 163–198 (1921).

Anderson, T. L. Fracture Mechanics: Fundamentals and Applications (CRC Press, 2017).

Li, X., Das, A. & Bi, D. Mechanical heterogeneity in tissues promotes rigidity and controls cellular invasion. Phys. Rev. Lett. 123, 058101 (2019).

Callister, W. D. & Rethwisch, D. G. Materials Science and Engineering: An Introduction 9th edn (Wiley, 2014).

Lee, N., Robinson, J. & Lu, H. Biomimetic strategies for engineering composite tissues. Curr. Opin. Biotechnol. 40, 64–74 (2016).

Burla, F., Tauber, J., Dussi, S., van der Gucht, J. & Koenderink, G. H. Stress management in composite biopolymer networks. Nat. Phys. 15, 549–553 (2019).

Czirok, A. & Isai, D. G. Cell resolved, multiparticle model of plastic tissue deformations and morphogenesis. Phys. Biol. 12, 016005 (2015).

Bi, D., Lopez, J. H., Schwarz, J. M. & Manning, M. L. A density-independent rigidity transition in biological tissues. Nat. Phys. 11, 1074–1079 (2015).

Merkel, M., Baumgarten, K., Tighe, B. P. & Manning, M. L. A minimal-length approach unifies rigidity in underconstrained materials. Proc. Natl Acad. Sci. USA 116, 6560–6568 (2019).

Nissen, S. B., Rønhild, S., Trusina, A. & Sneppen, K. Theoretical tool bridging cell polarities with development of robust morphologies. eLife 7, e38407 (2018).

Fletcher, A. G., Osterfield, M., Baker, R. E. & Shvartsman, S. Y. Vertex models of epithelial morphogenesis. Biophys. J. 106, 2291–2304 (2014).

Tetley, R. J. et al. Tissue fluidity promotes epithelial wound healing. Nat. Phys. 15, 1195–1203 (2019).

Zulueta-Coarasa, T. & Fernandez-Gonzalez, R. Dynamic force patterns promote collective cell movements during embryonic wound repair. Nat. Phys. 14, 750–758 (2018).

Nagai, T. & Honda, H. A dynamic cell model for the formation of epithelial tissues. Phil. Mag. B 81, 699–719 (2001).

Falk, M. L. & Langer, J. S. Dynamics of viscoplastic deformation in amorphous solids. Phys. Rev. E 57, 7192–7205 (1998).

Bell, G. I. Models for the specific adhesion of cells to cells. Science 200, 618–627 (1978).

Koeze, D. J. & Tighe, B. P. Sticky matters: jamming and rigid cluster statistics with attractive particle interactions. Phys. Rev. Lett. 121, 188002 (2018).

Manning, M. L., Foty, R. A., Steinberg, M. S. & Schoetz, E.-M. Coaction of intercellular adhesion and cortical tension specifies tissue surface tension. Proc. Natl Acad. Sci. USA 107, 12517–12522 (2010).

Bonn, D., Denn, M. M., Berthier, L., Divoux, T. & Manneville, S. Yield stress materials in soft condensed matter. Rev. Mod. Phys. 89, 035005 (2017).

Dauchot, O., Marty, G. & Biroli, G. Dynamical heterogeneity close to the jamming transition in a sheared granular material. Phys. Rev. Lett. 95, 265701 (2005).

Gilpin, W., Prakash, V. N. & Prakash, M. Flowtrace: simple visualization of coherent structures in biological fluid flows. J. Exp. Biol. 220, 3411–3418 (2017).

Mongera, A. et al. A fluid-to-solid jamming transition underlies vertebrate body axis elongation. Nature 561, 401–405 (2018).

Wyatt, T., Baum, B. & Charras, G. A question of time: tissue adaptation to mechanical forces. Curr. Opin. Cell Biol. 38, 68–73 (2016).

Armon, S., Bull, M. S., Moriel, A., Aharoni, H. & Prakash, M. Epithelial tissues as active solids: from nonlinear contraction pulses to rupture resistance. bioRxiv https://doi.org/10.1101/2020.06.15.153163 (2020).

Kim, S., Pochitaloff, M., Stooke-Vaughan, G. & Campas, O. Embryonic tissues as active foams. bioRxiv https://doi.org/10.1101/2020.06.17.157909 (2020).

Krajnc, M. Solid–fluid transition and cell sorting in epithelia with junctional tension fluctuations. Soft Matter 16, 3209–3215 (2020).

Charras, G. & Yap, A. S. Tensile forces and mechanotransduction at cell–cell junctions. Curr. Biol. 28, R445–R457 (2018).

Park, J. A. et al. Unjamming and cell shape in the asthmatic airway epithelium. Nat. Mater. 14, 1040–1048 (2015).

Pearse, V. B. & Voigt, O. Field biology of placozoans (Trichoplax): distribution, diversity, biotic interactions. Integr. Comp. Biol. 47, 677–692 (2007).

Farhadifar, R., Röper, J.-C., Aigouy, B., Eaton, S. & Jülicher, F. The influence of cell mechanics, cell-cell interactions, and proliferation on epithelial packing. Curr. Biol. 17, 2095–2104 (2007).

Chen, J., Newhall, J., Xie, Z. R., Leckband, D. & Wu, Y. A computational model for kinetic studies of cadherin binding and clustering. Biophys. J. 111, 1507–1518 (2016).

Razzell, W., Bustillo, M. E. & Zallen, J. A. The force-sensitive protein Ajuba regulates cell adhesion during epithelial morphogenesis. J. Cell Biol. 217, 3715–3730 (2018).

Yap, A. S., Gomez, G. A. & Parton, R. G. Adherens junctions revisualized: organizing cadherins as nanoassemblies. Dev. Cell 35, 12–20 (2015).

Chikkadi, V. & Schall, P. Nonaffine measures of particle displacements in sheared colloidal glasses. Phys. Rev. E 85, 031402 (2012).

Keim, N. C. & Arratia, P. E. Mechanical and microscopic properties of the reversible plastic regime in a 2D jammed material. Phys. Rev. Lett. 112, 028302 (2014).

Utter, B. & Behringer, R. P. Experimental measures of affine and nonaffine deformation in granular shear. Phys. Rev. Lett. 100, 208302 (2008).

Lee, R. M., Kelley, D. H., Nordstrom, K. N., Ouellette, N. T. & Losert, W. Quantifying stretching and rearrangement in epithelial sheet migration. New J. Phys. 15, 025036 (2013).

Thielicke, W. & Stamhuis, E. J. PIVlab—towards user-friendly, affordable and accurate digital particle image velocimetry in MATLAB. J. Open Res. Softw. 2, e30 (2014).
Acknowledgements
We thank A. Bhargava and N. Eiseman for their contributions in the initial stages of the project, and S. Armon, P. Vyas, H. Soto-Montoya, W. Gilpin, H. Vaidehi Narayanan and members of the Prakash Lab at Stanford University for useful suggestions. We thank V. Chikkadi, S. Bandyopadhyay, S. Shekhar, N. Clarke and C. Lowe for helpful scientific discussions; K. Uhlinger for help with marine algae cultures; L. Buss for the generous gift of animals; R. Konte for help with the illustrations, C. Espenel, A. Khan and J. Mulholland (Cell Sciences Imaging Facility (CSIF), Stanford University) for help with microscopy. M.S.B. was supported by the National Science Foundation Graduate Research Fellowship (DGE-1147470) and the Stanford University BioX Fellows Program. This work was supported by NSF CCC grant (DBI-1548297) (M.P.), the CZI BioHub Investigator Program (M.P.) and the Howard Hughes Medical Institute (M.P.).
Ethics declarations
Competing interests
The authors declare no competing interests.
Additional information
Peer review information Nature Physics thanks Gijsje Koenderink and the other, anonymous, reviewer(s) for their contribution to the peer review of this work.
Publisher's note Springer Nature remains neutral with regard to jurisdictional claims in published maps and institutional affiliations.
Supplementary information
About this article
Cite this article
Prakash, V.N., Bull, M.S. & Prakash, M. Motility-induced fracture reveals a ductile-to-brittle crossover in a simple animal's epithelia. Nat. Phys. 17, 504–511 (2021). https://doi.org/10.1038/s41567-020-01134-7
Received:

Accepted:

Published:

Issue Date:

DOI: https://doi.org/10.1038/s41567-020-01134-7