Quantum computing combines great promise with daunting challenges — the road to devices that solve real-world problems is still long. Now, an implementation of a quantum algorithm maps the problems we want to solve to the devices we already have.
Access options
Subscribe to Journal
Get full journal access for 1 year
$169.00
only $14.08 per issue
All prices are NET prices.
VAT will be added later in the checkout.
Rent or Buy article
Get time limited or full article access on ReadCube.
from$8.99
All prices are NET prices.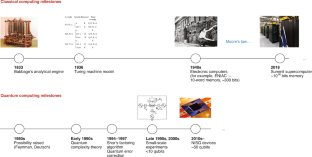 References
1.

Harrigan, M. P. et al. Nat. Phys. https://doi.org/10.1038/s41567-020-01105-y (2021).

2.

Preskill, J. Quantum 2, 79 (2018).

3.

Farhi, E., Goldstone, J. & Gutmann, S. Preprint at https://arxiv.org/abs/1411.4028 (2014).

4.

Shor, P. W. SIAM Rev. 41, 303–332 (1999).

5.

Turing, A. M. Proc. Lond. Math. Soc. s2-42, 230–265 (1937).

6.

Nakamura, Y., Pashkin, Y. & Tsai, J. Nature 398, 786–788 (1999).

7.

Arute, F. et al. Nature 574, 505–510 (2019).
About this article
Cite this article
Barak, B. Work with what you've got. Nat. Phys. (2021). https://doi.org/10.1038/s41567-020-01126-7