Abstract
DNA is organized into chromatin, a complex polymeric material that stores information and controls gene expression. An emerging mechanism for biological organization, particularly within the crowded nucleus, is biomolecular phase separation into condensed droplets of protein and nucleic acids. However, the way in which chromatin impacts the dynamics of phase separation and condensate formation is poorly understood. Here we utilize a powerful optogenetic strategy to examine the interplay of droplet coarsening with the surrounding viscoelastic chromatin network. We demonstrate that droplet growth dynamics are directly inhibited by the chromatin-dense environment, which gives rise to an anomalously slow coarsening exponent, β ≈ 0.12, contrasting with the classical prediction of β = 1/3. Using scaling arguments and simulations, we show how this arrested growth can arise due to subdiffusion of individual condensates, predicting β ≈ α/3, where α is the diffusive exponent. Tracking the fluctuating motion of condensates within chromatin reveals a subdiffusive exponent, α ≈ 0.5, which explains the anomalous coarsening behaviour and is also consistent with Rouse-like dynamics arising from the entangled chromatin. Our findings have implications for the biophysical regulation of the size and shape of biomolecular condensates and suggest that condensate emulsions can be used to probe the viscoelastic mechanical environment within living cells.
This is a preview of subscription content
Access options
Subscribe to Nature+
Get immediate online access to the entire Nature family of 50+ journals
Subscribe to Journal
Get full journal access for 1 year
$99.00
only $8.25 per issue
All prices are NET prices.
VAT will be added later in the checkout.
Tax calculation will be finalised during checkout.
Buy article
Get time limited or full article access on ReadCube.
$32.00
All prices are NET prices.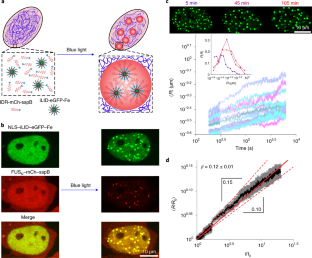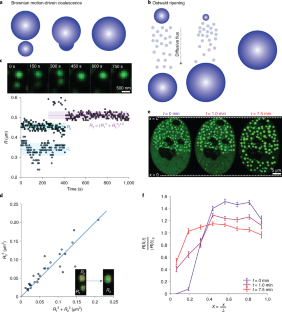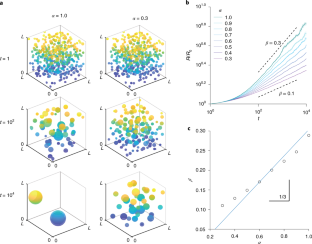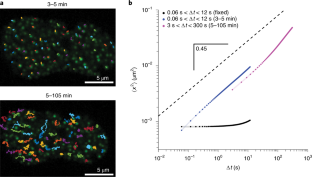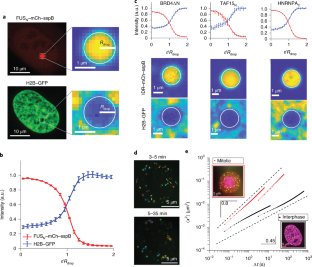 Data availability
All data within this paper are available from C.P.B. upon reasonable request.
Code availability
All code utilized in this paper is available from C.P.B. upon reasonable request.
References
Shin, Y. & Brangwynne, C. P. Liquid phase condensation in cell physiology and disease. Science 357, eaaf4382 (2017).

Banani, S. F., Lee, H. O., Hyman, A. A. & Rosen, M. K. Biomolecular condensates: organizers of cellular biochemistry. Nat. Rev. Mol. Cell Biol. 18, 285–298 (2017).

Brangwynne, C. P., Mitchison, T. J. & Hyman, A. A. Active liquid-like behavior of nucleoli determines their size and shape in Xenopus laevis oocytes. Proc. Natl Acad. Sci. USA 108, 4334–4339 (2011).

Ivanov, P., Kedersha, N. & Anderson, P. Stress granules and processing bodies in translational control. Cold Spring Harb. Perspect. Biol. 11, a032813 (2019).

Brangwynne, C. P. et al. Germline P granules are liquid droplets that localize by controlled dissolution/condensation. Science 324, 1729–1732 (2009).

Brangwynne, C. P., Tompa, P. & Pappu, R. V. Polymer physics of intracellular phase transitions. Nat. Phys. 11, 899–904 (2015).

Sanders, D. W. et al. Competing protein–RNA interaction networks control multiphase intracellular organization. Cell 181, 306–324.e28 (2020).

Li, L. et al. Real-time imaging of Huntingtin aggregates diverting target search and gene transcription. eLife 5, e17056 (2016).

Patel, A. et al. A liquid-to-solid phase transition of the ALS protein FUS accelerated by disease mutation. Cell 162, 1066–1077 (2015).

Bergeron-Sandoval, L.-P. et al. Endocytosis caused by liquid–liquid phase separation of proteins. Preprint at bioRxiv https://www.biorxiv.org/content/10.1101/145664v3 (2018).

Brangwynne, C. P. Phase transitions and size scaling of membrane-less organelles. J. Cell Biol. 203, 875–881 (2013).

Weber, S. C. & Brangwynne, C. P. Inverse size scaling of the nucleolus by a concentration-dependent phase transition. Curr. Biol. 25, 641–646 (2015).

Lifshitz, I. M. & Slyozov, V. V. The kinetics of precipitation from supersaturated solid solutions. J. Phys. Chem. Solids 19, 35–50 (1961).

Siggia, E. D. Late stages of spinodal decomposition in binary mixtures. Phys. Rev. A 20, 595–605 (1979).

Stanich, C. A. et al. Coarsening dynamics of domains in lipid membranes. Biophys. J. 105, 444–454 (2013).

Berry, J., Weber, S. C., Vaidya, N., Haataja, M. & Brangwynne, C. P. RNA transcription modulates phase transition-driven nuclear body assembly. Proc. Natl Acad. Sci. USA 112, E5237–E5245 (2015).

Feric, M. & Brangwynne, C. P. A nuclear F-actin scaffold stabilizes ribonucleoprotein droplets against gravity in large cells. Nat. Cell Biol. 15, 1253–1259 (2013).

Caragine, C. M., Haley, S. C. & Zidovska, A. Surface fluctuations and coalescence of nucleolar droplets in the human cell nucleus. Phys. Rev. Lett. 121, 148101 (2018).

Caragine, C. M., Haley, S. C. & Zidovska, A. Nucleolar dynamics and interactions with nucleoplasm in living cells. eLife 8, e47533 (2019).

Ou, H. D. et al. ChromEMT: visualizing 3D chromatin structure and compaction in interphase and mitotic cells. Science 357, eaag0025 (2017).

Görisch, S. M., Wachsmuth, M., Tóth, K. F., Lichter, P. & Rippe, K. Histone acetylation increases chromatin accessibility. J. Cell Sci. 118, 5825–5834 (2005).

Shin, Y. et al. Liquid nuclear condensates mechanically sense and restructure the genome. Cell 175, 1481–1491 (2018).

Zidovska, A., Weitz, D. A. & Mitchison, T. J. Micron-scale coherence in interphase chromatin dynamics. Proc. Natl Acad. Sci. USA 110, 15555–15560 (2013).

Stephens, A. D., Banigan, E. J., Adam, S. A., Goldman, R. D. & Marko, J. F. Chromatin and lamin A determine two different mechanical response regimes of the cell nucleus. Mol. Biol. Cell 28, 1984–1996 (2017).

Bracha, D., Walls, M. T. & Brangwynne, C. P. Probing and engineering liquid-phase organelles. Nat. Biotechnol. 37, 1435–1445 (2019).

Shin, Y. et al. Spatiotemporal control of intracellular phase transitions using light-activated optodroplets. Cell 168, 159–171 (2017).

Bracha, D. et al. Mapping local and global liquid phase behavior in living cells using photo-oligomerizable seeds. Cell 175, 1467–1480 (2018).

Schwartz, J. C., Cech, T. R. & Parker, R. R. Biochemical properties and biological functions of FET proteins. Annu. Rev. Biochem. 84, 355–379 (2015).

Radke, L. & Voorhees, P. Growth and Coarsening: Ripening in Material Processing. Engineering Materials and Processes (Springer, 2002).

Wong, I. Y. et al. Anomalous diffusion probes microstructure dynamics of entangled F-actin networks. Phys. Rev. Lett. 92, 178101 (2004).

Feric, M. et al. Coexisting liquid phases underlie nucleolar subcompartments. Cell 165, 1686–1697 (2016).

Aarts, D. G. A. L., Schmidt, M. & Lekkerkerker, H. N. W. Direct visual observation of thermal capillary waves. Science 304, 847–850 (2004).

Bray, A. J. & Emmott, C. L. Lifshitz–Slyozov scaling for late-stage coarsening with an order-parameter-dependent mobility. Phys. Rev. B 52, R685 (1995).

Tanaka, H. Viscoelastic phase separation. J. Phys. Condens. Matter 12, R207 (2000).

Rosowski, K. A. et al. Elastic ripening and inhibition of liquid–liquid phase separation. Nat. Phys. 16, 422–425 (2020).

Style, R. W. et al. Liquid–liquid phase separation in an elastic network. Phys. Rev. X 8, 011028 (2018).

Riback, J. A. et al. Composition-dependent thermodynamics of intracellular phase separation. Nature 581, 209–214 (2020).

Weber, S. C., Theriot, J. A. & Spakowitz, A. J. Subdiffusive motion of a polymer composed of subdiffusive monomers. Phys. Rev. E 82, 011913 (2010).

Weber, S. C., Spakowitz, A. J. & Theriot, J. A. Nonthermal ATP-dependent fluctuations contribute to the in vivo motion of chromosomal loci. Proc. Natl Acad. Sci. USA 109, 7338–7343 (2012).

Bronshtein, I. et al. Loss of lamin A function increases chromatin dynamics in the nuclear interior. Nat. Commun. 6, 8044 (2015).

Platani, M., Goldberg, I., Lamond, A. I. & Swedlow, J. R. Cajal body dynamics and association with chromatin are ATP-dependent. Nat. Cell Biol. 4, 502–508 (2002).

Gorisch, S. M. et al. Nuclear body movement is determined by chromatin accessibility and dynamics. Proc. Natl Acad. Sci. USA 101, 13221–13226 (2004).

Kim, J., Han, K. Y., Khanna, N., Ha, T. & Belmont, A. S. Nuclear speckle fusion via long-range directional motion regulates speckle morphology after transcriptional inhibition. J. Cell Sci. 132, jcs226563 (2019).

Schindelin, J. et al. Fiji: an open-source platform for biological-image analysis. Nat. Methods 9, 676–682 (2012).

Tinevez, J.-Y. et al. TrackMate: an open and extensible platform for single-particle tracking. Methods 115, 80–90 (2017).
Acknowledgements
This work was supported by the NIH 4D Nucleome Program (U01 DA040601, C.P.B.), the Howard Hughes Medical Institute (C.P.B.) and the National Science Foundation, through the Center for the Physics of Biological Function (PHY-1734030) and the Graduate Research Fellowship Program (DCE-1656466, D.S.W.L.). We thank J. Riback, P. Ronceray, S. Shimobayashi, A. Strom, Y. Zhang, and the rest of the Brangwynne and Wingreen groups for constructive comments on this work. We also thank S. Keller (University of Washington, Department of Chemistry) for useful discussions at the Marine Biological Laboratory. We acknowledge E. Gatzogiannis for microscopy assistance and K. Rittenbach and the Princeton Molecular Biology Flow Cytometry Resource Facility, which is partially supported by the Cancer Institute of New Jersey Cancer Center Support Grant (P30CA072720), for assistance with cell-sorting experiments.
Ethics declarations
Competing interests
C.P.B. is a founder and consultant for Nereid Therapeutics. All other authors declare no competing interests.
Additional information
Peer review information Nature Physics thanks David Zwicker and the other, anonymous, reviewer(s) for their contribution to the peer review of this work.
Publisher's note Springer Nature remains neutral with regard to jurisdictional claims in published maps and institutional affiliations.
Supplementary information
About this article
Cite this article
Lee, D.S.W., Wingreen, N.S. & Brangwynne, C.P. Chromatin mechanics dictates subdiffusion and coarsening dynamics of embedded condensates. Nat. Phys. 17, 531–538 (2021). https://doi.org/10.1038/s41567-020-01125-8
Received:

Accepted:

Published:

Issue Date:

DOI: https://doi.org/10.1038/s41567-020-01125-8