Abstract
Three-dimensional topological insulators are a phase of matter that hosts unique spin-polarized gapless surface states that are protected by time-reversal symmetry. They exhibit unconventional charge and spin transport properties1,2. Intense laser fields can drive ballistic charge dynamics in Dirac bands3,4 or they can coherently steer spin5 and valley pseudospin6. Similarly, high-harmonic generation (HHG) in solids provides insights into the dynamics of the electrons in topological insulators7,8,9,10,11,12,13. Despite several theoretical attempts to identify a topological signature in the high-harmonic spectrum14,15,16, a unique fingerprint has yet to be found experimentally. Here, we observe HHG that arises from topological surface states in the intrinsic topological insulator BiSbTeSe2. The components of the even-order harmonics that are polarized along the pump polarization stem from the spin current in helical surface states, whereas the perpendicular components originate from the out-of-plane spin polarization related to the hexagonal wrapping effect17. The dependence of HHG on surface doping in ambient air also suggests the presence of a Rashba-split two-dimensional electron gas, whose strength can be enhanced by an increase in the intensity of the mid-infrared pump.
Relevant articles
Open Access articles citing this article.
Pawan Suthar

,

František Trojánek

…

Martin Kozák

Communications Physics Open Access 18 November 2022

Soonyoung Cha

,

Minjeong Kim

…

Jonghwan Kim

Nature Communications Open Access 04 November 2022

Nicolas Tancogne-Dejean

,

Florian G. Eich

&

Angel Rubio

npj Computational Materials Open Access 06 July 2022
Access options
Subscribe to Nature+
Get immediate online access to Nature and 55 other Nature journal
Subscribe to Journal
Get full journal access for 1 year
$99.00
only $8.25 per issue
All prices are NET prices.
VAT will be added later in the checkout.
Tax calculation will be finalised during checkout.
Buy article
Get time limited or full article access on ReadCube.
$32.00
All prices are NET prices.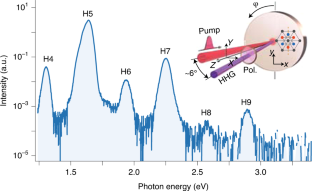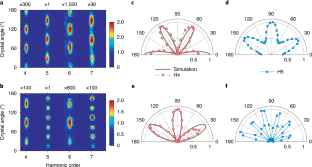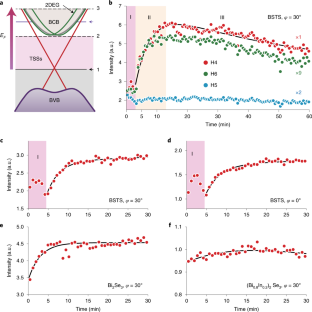 Data availability
Source data are available for this paper. All other data that support the plots within this paper and other findings of this study are available from the corresponding author upon reasonable request.
Code availability
The analysis codes that support the findings of the study are available from the corresponding authors upon reasonable request.
References
Hasan, M. Z. & Kane, C. L. Colloquium: topological insulators. Rev. Mod. Phys. 82, 3045–3067 (2010).

Qi, X. & Zhang, S. Topological insulators and superconductors. Rev. Mod. Phys. 83, 1057–1110 (2011).

Higuchi, T., Heide, C., Ullmann, K., Weber, H. B. & Hommelhoff, P. Light-field-driven currents in graphene. Nature 550, 224–228 (2017).

Reimann, J. et al. Subcycle observation of lightwave-driven Dirac currents in a topological surface band. Nature 562, 396–400 (2018).

Schlauderer, S. et al. Temporal and spectral fingerprints of ultrafast all-coherent spin switching. Nature 569, 383–387 (2019).

Langer, F. et al. Lightwave valleytronics in a monolayer of tungsten diselenide. Nature 557, 76–80 (2018).

Ghimire, S. et al. Observation of high-order harmonic generation in a bulk crystal. Nat. Phys. 7, 138–141 (2011).

Schubert, O. et al. Sub-cycle control of terahertz high-harmonic generation by dynamical Bloch oscillations. Nat. Photon. 8, 119–123 (2014).

Hohenleutner, M. et al. Real-time observation of interfering crystal electrons in high-harmonic generation. Nature 523, 572–575 (2015).

Liu, H. et al. High-harmonic generation from an atomically thin semiconductor. Nat. Phys. 13, 262–265 (2017).

Yoshikawa, N., Tamaya, T. & Tanaka, K. High-harmonic generation in graphene enhanced by elliptically polarized light excitation. Science 356, 736–738 (2017).

Hafez, H. A. et al. Extremely efficient terahertz high-harmonic generation in graphene by hot Dirac fermions. Nature 561, 507–511 (2018).

Luu, T. T. & Wörner, H. J. Measurement of the Berry curvature of solids using high-harmonic spectroscopy. Nat. Commun. 9, 916 (2018).

Bauer, D. & Hansen, K. K. High-harmonic generation in solids with and without topological edge states. Phys. Rev. Lett. 120, 177401 (2018).

Silva, R. E. F., Jiménez-Galán, A., Amorim, B., Smirnova, O. & Ivanov, M. Topological strong-field physics on sub-laser-cycle timescale. Nat. Photon. 13, 849–854 (2019).

Chacón, A. et al. Circular dichroism in high-order harmonic generation: heralding topological phases and transitions in Chern insulators. Preprint at https://arxiv.org/abs/1807.01616 (2020).

Fu, L. Hexagonal warping effects in the surface states of the topological insulator Bi2Te3. Phys. Rev. Lett. 103, 266801 (2009).

Soumyanarayanan, A., Reyren, N., Fert, A. & Panagopoulos, C. Emergent phenomena induced by spin–orbit coupling at surfaces and interfaces. Nature 539, 509–517 (2016).

Mellnik, A. R. et al. Spin-transfer torque generated by a topological insulator. Nature 511, 449–451 (2014).

Wang, Y. et al. Topological surface states originated spin–orbit torques in Bi2Se3. Phys. Rev. Lett. 114, 257202 (2015).

Xu, Y. et al. Observation of topological surface state quantum Hall effect in an intrinsic three-dimensional topological insulator. Nat. Phys. 10, 956–963 (2014).

Kaneshima, K. et al. Polarization-resolved study of high harmonics from bulk semiconductors. Phys. Rev. Lett. 120, 243903 (2018).

German, R. et al. Phonon mode calculations and Raman spectroscopy of the bulk-insulating topological insulator BiSbTeSe2. Phys. Rev. Mater. 3, 054204 (2019).

Brahlek, M. et al. Topological-metal to band-insulator transition in (Bi1−xInx)2Se3 thin films. Phys. Rev. Lett. 109, 186403 (2012).

Bianchi, M. et al. Coexistence of the topological state and a two-dimensional electron gas on the surface of Bi2Se3. Nat. Commun. 1, 128 (2010).

Benia, H. M., Lin, C., Kern, K. & Ast, C. R. Reactive chemical doping of the Bi2Se3 topological insulator. Phys. Rev. Lett. 107, 177602 (2011).

Hsieh, D. et al. Nonlinear optical probe of tunable surface electrons on a topological insulator. Phys. Rev. Lett. 106, 057401 (2011).

Sim, S. et al. Ultra-high modulation depth exceeding 2,400% in optically controlled topological surface plasmons. Nat. Commun. 6, 8814 (2015).

Park, S. H., Hamh, S. Y., Park, J., Kim, J. S. & Lee, J. S. Possible flat band bending of the Bi1.5Sb0.5Te1.7Se1.3 crystal cleaved in an ambient air probed by terahertz emission spectroscopy. Sci. Rep. 6, 36343 (2016).

Neupane, M. et al. Gigantic surface lifetime of an intrinsic topological insulator. Phys. Rev. Lett. 115, 116801 (2015).

Manchon, A., Koo, H. C., Nitta, J., Frolov, S. M. & Duine, R. A. New perspectives for Rashba spin–orbit coupling. Nat. Mater. 14, 871–882 (2015).

Ishizaka, K. et al. Giant Rashba-type spin splitting in bulk BiTeI. Nat. Mater. 10, 521–526 (2011).

Culcer, D. et al. Semiclassical spin transport in spin–orbit-coupled bands. Phys. Rev. Lett. 93, 046602 (2004).

Iyer, V., Chen, Y. P. & Xu, X. Ultrafast surface state spin-carrier dynamics in the topological insulator Bi2Te2Se. Phys. Rev. Lett. 121, 026807 (2018).

Shen S. -Q. (ed.) in Topological Insulators: Dirac Equation in Condensed Matters 1st edn, Ch. 6 (Springer, 2012).

Liu, C. X. et al. Model Hamiltonian for topological insulators. Phys. Rev. B 82, 045122 (2010).
Acknowledgements
This project was supported by the National Natural Science Foundation of China (grant no. 11874373) and the Scientific Instrument Developing Project of the Chinese Academy of Sciences (grant no. YJKYYQ20180023).
Ethics declarations
Competing interests
The authors declare no competing interests.
Additional information
Peer review information Nature Physics thanks Tran Trung Luu and the other, anonymous, reviewer(s) for their contribution to the peer review of this work.
Publisher's note Springer Nature remains neutral with regard to jurisdictional claims in published maps and institutional affiliations.
Supplementary information
About this article
Cite this article
Bai, Y., Fei, F., Wang, S. et al. High-harmonic generation from topological surface states. Nat. Phys. 17, 311–315 (2021). https://doi.org/10.1038/s41567-020-01052-8
Received:

Accepted:

Published:

Issue Date:

DOI: https://doi.org/10.1038/s41567-020-01052-8