Abstract
The cytoskeleton forms a dynamic network that generates fluctuations larger than thermal agitation of the cytoplasm1. Here, we tested whether dynein, a minus-end-directed microtubule (MT) motor2, can harness energy from these fluctuations using optical trapping in vitro. We show that dynein forms an asymmetric slip bond with MTs, where its detachment rate increases more slowly under hindering forces than assisting forces. This asymmetry enables dynein to generate unidirectional motility towards the minus-end from force fluctuations. Consistent with our model, oscillatory forces exerted by the trap drive dynein stepping without net force and ATP. Dynein is capable of ratcheting towards the minus-end, even when the net force is in the plus-end direction. With ATP, force oscillations increase the velocity and stall force of dynein as it transports cargos and glides MTs. Therefore, dynein is a mechanical ratchet that rectifies cytoskeletal fluctuations to move faster and resists higher forces along MTs.
Relevant articles
Open Access articles citing this article.
Xinglei Liu

,

Lu Rao

&

Arne Gennerich

Nature Communications Open Access 23 November 2020
Access options
Subscribe to Nature+
Get immediate online access to Nature and 55 other Nature journal
Subscribe to Journal
Get full journal access for 1 year
$99.00
only $8.25 per issue
All prices are NET prices.
VAT will be added later in the checkout.
Tax calculation will be finalised during checkout.
Buy article
Get time limited or full article access on ReadCube.
$32.00
All prices are NET prices.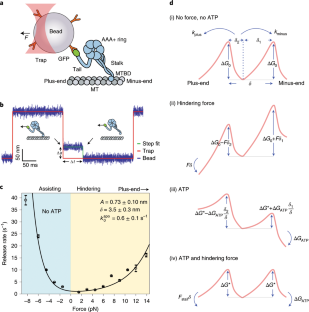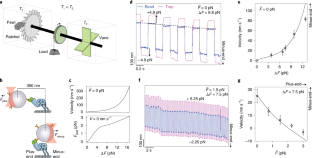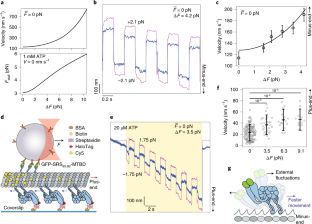 Data availability
The data represented in Figs. 1–4 and Extended Data Figs. 2, 3, 4 and 6 are available as source data in the Supplementary Information. All other data that support the plots within this paper and other findings of this study are available from the corresponding author upon reasonable request. Yeast strains used in this study are available from the corresponding author upon request.
Code availability
Software and code used in this study are available from the corresponding author upon request.
References
Mizuno, D., Tardin, C., Schmidt, C. F. & Mackintosh, F. C. Nonequilibrium mechanics of active cytoskeletal networks. Science 315, 370–373 (2007).

Roberts, A. J., Kon, T., Knight, P. J., Sutoh, K. & Burgess, S. A. Functions and mechanics of dynein motor proteins. Nat. Rev. Mol. Cell Biol. 14, 713–726 (2013).

Fakhri, N. et al. High-resolution mapping of intracellular fluctuations using carbon nanotubes. Science 344, 1031–1035 (2014).

Forth, S., Hsia, K. C., Shimamoto, Y. & Kapoor, T. M. Asymmetric friction of nonmotor MAPs can lead to their directional motion in active microtubule networks. Cell 157, 420–432 (2014).

Buckley, C. D. et al. Cell adhesion. The minimal cadherin–catenin complex binds to actin filaments under force. Science 346, 1254211 (2014).

Huang, D. L., Bax, N. A., Buckley, C. D., Weis, W. I. & Dunn, A. R. Vinculin forms a directionally asymmetric catch bond with F-actin. Science 357, 703–706 (2017).

Guo, B. & Guilford, W. H. Mechanics of actomyosin bonds in different nucleotide states are tuned to muscle contraction. Proc. Natl Acad. Sci. USA 103, 9844–9849 (2006).

Bormuth, V., Varga, V., Howard, J. & Schaffer, E. Protein friction limits diffusive and directed movements of kinesin motors on microtubules. Science 325, 870–873 (2009).

Gennerich, A., Carter, A. P., Reck-Peterson, S. L. & Vale, R. D. Force-induced bidirectional stepping of cytoplasmic dynein. Cell 131, 952–965 (2007).

Cleary, F. B. et al. Tension on the linker gates the ATP-dependent release of dynein from microtubules. Nat. Commun. 5, 4587 (2014).

Belyy, V., Hendel, N. L., Chien, A. & Yildiz, A. Cytoplasmic dynein transports cargos via load-sharing between the heads. Nat. Commun. 5, 5544 (2014).

Nicholas, M. P. et al. Cytoplasmic dynein regulates its attachment to microtubules via nucleotide state-switched mechanosensing at multiple AAA domains. Proc. Natl Acad. Sci. USA 112, 6371–6376 (2015).

DeWitt, M. A., Chang, A. Y., Combs, P. A. & Yildiz, A. Cytoplasmic dynein moves through uncoordinated stepping of the AAA+ ring domains. Science 335, 221–225 (2012).

Qiu, W. et al. Dynein achieves processive motion using both stochastic and coordinated stepping. Nat. Struct. Mol. Biol 19, 193–200 (2012).

Rai, A. K., Rai, A., Ramaiya, A. J., Jha, R. & Mallik, R. Molecular adaptations allow dynein to generate large collective forces inside cells. Cell 152, 172–182 (2013).

Reck-Peterson, S. L. et al. Single-molecule analysis of dynein processivity and stepping behavior. Cell 126, 335–348 (2006).

Dogan, M. Y., Can, S., Cleary, F. B., Purde, V. & Yildiz, A. Kinesin's front head is gated by the backward orientation of its neck linker. Cell Rep. 10, 1967–1973 (2015).

Khataee, H. & Howard, J. Force generated by two kinesin motors depends on the load direction and intermolecular coupling. Phys. Rev. Lett. 122, 188101 (2019).

Can, S., Lacey, S., Gur, M., Carter, A. P. & Yildiz, A. Directionality of dynein is controlled by the angle and length of its stalk. Nature 566, 407–410 (2019).

Feynman, R. P., Leighton, R. B. & Sands, M. The Feynman Lectures on Physics, Vol. I: The New Millennium Edition: Mainly Mechanics, Radiation, and Heat Vol. 1 (Basic Books, 2011).

Belyy, V. et al. The mammalian dynein–dynactin complex is a strong opponent to kinesin in a tug-of-war competition. Nat. Cell Biol. 18, 1018–1024 (2016).

Gebhardt, J. C., Clemen, A. E., Jaud, J. & Rief, M. Myosin-V is a mechanical ratchet. Proc. Natl Acad. Sci. USA 103, 8680–8685 (2006).

Campas, O. & Sens, P. Chromosome oscillations in mitosis. Phys. Rev. Lett. 97, 128102 (2006).

Pecreaux, J. et al. Spindle oscillations during asymmetric cell division require a threshold number of active cortical force generators. Curr. Biol. 16, 2111–2122 (2006).

Yang, G. et al. Architectural dynamics of the meiotic spindle revealed by single-fluorophore imaging. Nat. Cell Biol. 9, 1233–1242 (2007).

Gaetz, J. & Kapoor, T. M. Dynein/dynactin regulate metaphase spindle length by targeting depolymerizing activities to spindle poles. J. Cell Biol. 166, 465–471 (2004).

Shingyoji, C., Higuchi, H., Yoshimura, M., Katayama, E. & Yanagida, T. Dynein arms are oscillating force generators. Nature 393, 711–714 (1998).

Lin, J. & Nicastro, D. Asymmetric distribution and spatial switching of dynein activity generates ciliary motility. Science 360, eaar1968 (2018).

Laan, L. et al. Cortical dynein controls microtubule dynamics to generate pulling forces that position microtubule asters. Cell 148, 502–514 (2012).

Sanchez, T., Welch, D., Nicastro, D. & Dogic, Z. Cilia-like beating of active microtubule bundles. Science 333, 456–459 (2011).

Zhang, K. et al. Cryo-EM reveals how human cytoplasmic dynein is auto-inhibited and activated. Cell 169, 1303–1314 (2017).

Schlager, M. A., Hoang, H. T., Urnavicius, L., Bullock, S. L. & Carter, A. P. In vitro reconstitution of a highly processive recombinant human dynein complex. EMBO J. 33, 1855–1868 (2014).

Urnavicius, L. et al. Cryo-EM shows how dynactin recruits two dyneins for faster movement. Nature 554, 202–206 (2018).

King, S. J. & Schroer, T. A. Dynactin increases the processivity of the cytoplasmic dynein motor. Nat. Cell Biol. 2, 20–24 (2000).

Carter, A. P. et al. Structure and functional role of dynein's microtubule-binding domain. Science 322, 1691–1695 (2008).
Acknowledgements
We thank L. Ferro, M. ElShenawy and N. Hendel for their help in the initiation of this project, and the rest of the Yildiz Laboratory members for helpful discussions and technical assistance. This work was funded by grants from the NIH (GM094522) and NSF (MCB-1055017, MCB-1617028) to A.Y. and an NSF Graduate Research Fellowship (DGE 11064000) to V.B.
Ethics declarations
Competing interests
The authors declare no competing interests.
Additional information
Publisher's note Springer Nature remains neutral with regard to jurisdictional claims in published maps and institutional affiliations.
Supplementary information
Force-detachment kinetics of a dynein monomer and the force–velocity relationship of a dynein dimer.
About this article
Cite this article
Ezber, Y., Belyy, V., Can, S. et al. Dynein harnesses active fluctuations of microtubules for faster movement. Nat. Phys. 16, 312–316 (2020). https://doi.org/10.1038/s41567-019-0757-4
Received:

Accepted:

Published:

Issue Date:

DOI: https://doi.org/10.1038/s41567-019-0757-4
This article is cited by
Xinglei Liu
Lu Rao
Arne Gennerich

Nature Communications (2020)

Heiner Linke
Birte Höcker
Paul M. G. Curmi

Biophysical Reviews (2020)