A model fluid comprising rotating magnetic particles behaves according to the equations of hydrodynamics, but for a few key differences due to broken mirror symmetry. The resulting active chiral fluid is characterized by parity-odd Hall viscosity.
Access options
Access options
Subscribe to Journal
Get full journal access for 1 year
$187.00
only $15.58 per issue
All prices are NET prices.
VAT will be added later in the checkout.
Rent or Buy article
Get time limited or full article access on ReadCube.
from$8.99
All prices are NET prices.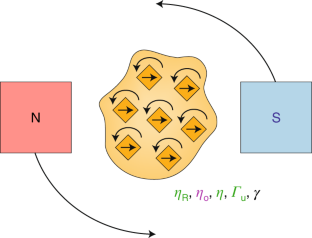 References
1.

Soni, V. et al. Nat. Phys. https://doi.org/10.1038/s41567-019-0603-8 (2019).

2.

Korving, J., Hulsman, H. & Knaap, H. Phys. Lett. 21, 5–7 (1966).

3.

Berdyugin, A. I. et al. Science 364, 162–165 (2019).

4.

Banerjee, D. et al. Nat. Commun. 8, 1573 (2017).

5.

Abanov, A., Can, T. & Ganeshan, S. SciPost Phys. 5, 010 (2018).

6.

Avron, J. E., Seiler, R. & Zograf, P. G. Phys. Rev. Lett. 75, 697–700 (1995).