An active counterpart to passive wetting is an encouraging sign for tissue physics and, more generally, the interface between biology and physics.
Access options
Subscribe to Journal
Get full journal access for 1 year
$169.00
only $14.08 per issue
All prices are NET prices.
VAT will be added later in the checkout.
Rent or Buy article
Get time limited or full article access on ReadCube.
from$8.99
All prices are NET prices.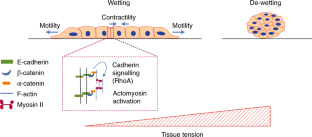 References
1.

Bormashenko, E. Yu. Physics of Wetting: Phenomena and Applications of Fluids on Surfaces (de Grutyer, Berlin, 2017).

2.

Alberts, B. et al. Molecular Biology of the Cell 6th edn (Taylor & Francis, New York, 2015)

3.

Pérez-González, C. et al. Nat. Phys.. https://doi.org/10.1038/s41567-018-0279-5 (2018).

4.

Meng, W. & Takeichi, M. Cold Spring Harb. Perspect. Biol. 1, a002899 (2009).

5.

Priya, R. & Yap, A. S. Curr. Top Dev. Biol. 112, 65–102 (2015).

6.

Marchetti, M. C. et al. Rev. Mod. Phys. 85, 1143–1189 (2013).
About this article
Cite this article
Morris, R.G., Yap, A.S. Wetting by living tissues. Nature Phys 15, 6–7 (2019). https://doi.org/10.1038/s41567-018-0316-4