Active galactic nuclei are firm favourites to be revealed as the source of cosmic rays, but solid evidence has proven elusive. A model taking both local and global nuclei propagation into account may help to close the deal.
Access options
Subscribe to Journal
Get full journal access for 1 year
$99.00
only $8.25 per issue
All prices are NET prices.
VAT will be added later in the checkout.
Tax calculation will be finalised during checkout.
Rent or Buy article
Get time limited or full article access on ReadCube.
from$8.99
All prices are NET prices.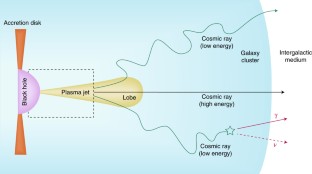 About this article
Cite this article
Becker Tjus, J. Cosmic-ray tracing. Nature Phys 14, 333–334 (2018). https://doi.org/10.1038/s41567-018-0044-9