The photovoltaics market has long been dominated by silicon, but further improvements of these solar cells require novel approaches. Now, triplet–triplet annihilation photon upconversion has been used to harvest photons from below the bandgap of silicon, extending the spectral response and potentially improving the efficiency of these cells.
This is a preview of subscription content
Access options
Subscribe to Journal
Get full journal access for 1 year
$99.00
only $8.25 per issue
All prices are NET prices.
VAT will be added later in the checkout.
Tax calculation will be finalised during checkout.
Rent or Buy article
Get time limited or full article access on ReadCube.
from$8.99
All prices are NET prices.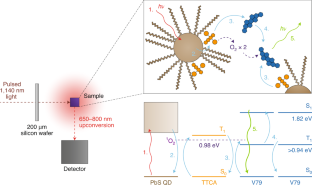 References
1.

Zhou, J., Liu, Q., Feng, W., Sun, Y. & Li, F. Chem. Rev. 115, 395–465 (2015).

2.

Singh-Rachford, T. N. & Castellano, F. N. Coord. Chem. Rev. 254, 2560–2573 (2010).

3.

Parker, C. A. & Hatchard, C. G. Proc. R. Soc. A 269, 574–584 (1962).

4.

Gholizadeh, E. M. et al. Nat. Photon. https://doi.org/10.1038/s41566-020-0664-3 (2020).

5.

Chopra, K. L., Paulson, P. D. & Dutta, V. Prog. Photovolt. 12, 69–92 (2004).

6.

Shockley, W. & Queisser, H. J. J. Appl. Phys. 32, 510–519 (1961).

7.

Trupke, T., Shalav, A., Richards, B. S., Würfel, P. & Green, M. A. Sol. Energy Mater. Sol. Cells 90, 3327–3338 (2006).

8.

Gray, V., Moth-Poulsen, K., Albinsson, B. & Abrahamsson, M. Coord. Chem. Rev. 362, 54–71 (2018).
Ethics declarations
Competing interests
The authors declare no competing interests.
About this article
Cite this article
Albinsson, B., Olesund, A. Untapping solar energy resources. Nat. Photonics 14, 528–530 (2020). https://doi.org/10.1038/s41566-020-0681-2