Abstract
The contractility of cardiac cells is a key parameter that describes the biomechanical characteristics of the beating heart, but functional monitoring of three-dimensional cardiac tissue with single-cell resolution remains a major challenge. Here, we introduce microscopic whispering-gallery-mode lasers into cardiac cells to realize all-optical recording of transient cardiac contraction profiles with cellular resolution. The brilliant emission and high spectral sensitivity of microlasers to local changes in refractive index enable long-term tracking of individual cardiac cells, monitoring of drug administration, accurate measurements of organ-scale contractility in live zebrafish, and robust contractility sensing through hundreds of micrometres of rat heart tissue. Our study reveals changes in sarcomeric protein density as an underlying factor to cardiac contraction. More broadly, the use of novel micro- and nanoscopic lasers as non-invasive, biointegrated optical sensors brings new opportunities to monitor a wide range of physiological parameters with cellular resolution.
Relevant articles
Open Access articles citing this article.
Yaping Wang

,

Marion C. Lang

…

Pu Wang

Nature Communications Open Access 05 November 2022

Aljaž Kavčič

,

Maja Garvas

…

Matjaž Humar

Nature Communications Open Access 11 March 2022

Ting Pan

,

Dengyun Lu

…

Baojun Li

Light: Science & Applications Open Access 09 June 2021
Access options
Subscribe to Nature+
Get immediate online access to Nature and 55 other Nature journal
Subscribe to Journal
Get full journal access for 1 year
$99.00
only $8.25 per issue
All prices are NET prices.
VAT will be added later in the checkout.
Tax calculation will be finalised during checkout.
Buy article
Get time limited or full article access on ReadCube.
$32.00
All prices are NET prices.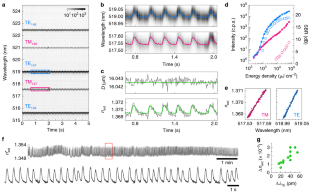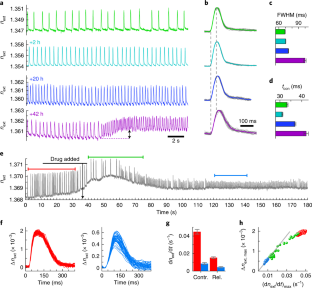 References
Aguirre, A. D., Vinegoni, C., Sebas, M. & Weissleder, R. Intravital imaging of cardiac function at the single-cell level. Proc. Natl Acad. Sci. USA 111, 11257–11262 (2014).

Kobirumaki-Shimozawa, F. et al. Nano-imaging of the beating mouse heart in vivo: importance of sarcomere dynamics, as opposed to sarcomere length per se, in the regulation of cardiac function. J. Gen. Physiol. 147, 53–62 (2016).

Pasqualin, C. et al. SarcOptiM for ImageJ: high-frequency online sarcomere length computing on stimulated cardiomyocytes. Am. J. Physiol. Physiol. 311, C277–C283 (2016).

Lind, J. U. et al. Instrumented cardiac microphysiological devices via multimaterial three-dimensional printing. Nat. Mater. 16, 303–308 (2016).

Mickoleit, M. et al. High-resolution reconstruction of the beating zebrafish heart. Nat. Methods 11, 919–922 (2014).

Vinegoni, C., Lee, S., Aguirre, A. D. & Weissleder, R. New techniques for motion-artifact-free in vivo cardiac microscopy. Front. Physiol. 6, 147 (2015).

Matsuura, R. et al. Intravital imaging with two-photon microscopy reveals cellular dynamics in the ischeamia-reperfused rat heart. Sci. Rep. 8, 15991 (2018).

Liu, R., Li, Z., Marvin, J. S. & Kleinfeld, D. Direct wavefront sensing enables functional imaging of infragranular axons and spines. Nat. Methods 16, 615–618 (2019).

Vollmer, F. & Arnold, S. Whispering-gallery-mode biosensing: label-free detection down to single molecules. Nat. Methods 5, 591–596 (2008).

Kim, E., Baaske, M. D., Schuldes, I., Wilsch, P. S. & Vollmer, F. Label-free optical detection of single enzyme-reactant reactions and associated conformational changes. Sci. Adv. 3, e1603044 (2017).

Schubert, M. et al. Lasing within live cells containing intracellular optical microresonators for barcode-type cell tagging and tracking. Nano Lett. 15, 5647–5652 (2015).

Humar, M. & Yun, S. H. Intracellular microlasers. Nat. Photon. 9, 572–576 (2015).

Schubert, M. et al. Lasing in live mitotic and non-phagocytic cells by efficient delivery of microresonators. Sci. Rep. 7, 40877 (2017).

Fikouras, A. H. et al. Non-obstructive intracellular nanolasers. Nat. Commun. 9, 4817 (2018).

Martino, N. et al. Wavelength-encoded laser particles for massively multiplexed cell tagging. Nat. Photon. 13, 720–727 (2019).

Liu, P. Y. et al. Cell refractive index for cell biology and disease diagnosis: past, present and future. Lab Chip 16, 634–644 (2016).

Irving, T. C., Konhilas, J., Perry, D., Fischetti, R. & de Tombe, P. P. Myofilament lattice spacing as a function of sarcomere length in isolated rat myocardium. Am. J. Physiol. Circ. Physiol. 279, H2568–H2573 (2000).

Yagi, N. et al. Sarcomere-length dependence of lattice volume and radial mass transfer of myosin cross-bridges in rat papillary muscle. Pflugers Arch. Eur. J. Physiol. 448, 153–160 (2004).

Moeendarbary, E. et al. The cytoplasm of living cells behaves as a poroelastic material. Nat. Mater. 12, 253–261 (2013).

Schreckenberg, R. in Cardiomyocytes—Active Players in Cardiac Disease 135–163 (Springer International, 2016). https://doi.org/10.1007/978-3-319-31251-4_5.

Klimas, A. et al. OptoDyCE as an automated system for high-throughput all-optical dynamic cardiac electrophysiology. Nat. Commun. 7, 11542 (2016).

Dempsey, G. T. et al. Cardiotoxicity screening with simultaneous optogenetic pacing, voltage imaging and calcium imaging. J. Pharmacol. Toxicol. Methods 81, 240–250 (2016).

Cao, J. & Poss, K. D. Explant culture of adult zebrafish hearts for epicardial regeneration studies. Nat. Protoc. 11, 872–881 (2016).

Weber, M. et al. Cell-accurate optical mapping across the entire developing heart. Elife 6, e28307 (2017).

Brown, D., Samsa, L., Qian, L. & Liu, J. Advances in the study of heart development and disease using zebrafish. J. Cardiovasc. Dev. Dis. 3, 13 (2016).

Watson, S. A. et al. Preparation of viable adult ventricular myocardial slices from large and small mammals. Nat. Protoc. 12, 2623–2639 (2017).

Watson, S. A. et al. Biomimetic electromechanical stimulation to maintain adult myocardial slices in vitro. Nat. Commun. 10, 2168 (2019).

Fischer, C. et al. Long-term functional and structural preservation of precision-cut human myocardium under continuous electromechanical stimulation in vitro. Nat. Commun. 10, 117 (2019).

Vujic, A. et al. Exercise induces new cardiomyocyte generation in the adult mammalian heart. Nat. Commun. 9, 1659 (2018).

Tzahor, E. & Poss, K. D. Cardiac regeneration strategies: staying young at heart. Science 356, 1035–1039 (2017).

Shiba, Y. et al. Allogeneic transplantation of iPS cell-derived cardiomyocytes regenerates primate hearts. Nature 538, 388–391 (2016).

Ronaldson-Bouchard, K. et al. Advanced maturation of human cardiac tissue grown from pluripotent stem cells. Nature 556, 239–243 (2018).

Liu, Y.-W. et al. Human embryonic stem cell–derived cardiomyocytes restore function in infarcted hearts of non-human primates. Nat. Biotechnol. 36, 597–605 (2018).

Jones, J. S., Small, D. M. & Nishimura, N. In vivo calcium imaging of cardiomyocytes in the beating mouse heart with multiphoton microscopy. Front. Physiol. 9, 969 (2018).

Gaetani, R. et al. Epicardial application of cardiac progenitor cells in a 3D-printed gelatin/hyaluronic acid patch preserves cardiac function after myocardial infarction. Biomaterials 61, 339–348 (2015).

Jeong, S. et al. Focusing of light energy inside a scattering medium by controlling the time-gated multiple light scattering. Nat. Photon. 12, 277–283 (2018).

Fernandez-Bravo, A. et al. Continuous-wave upconverting nanoparticle microlasers. Nat. Nanotechnol. 13, 572–577 (2018).

Feng, C. et al. Organic-nanowire–SiO2 core–shell microlasers with highly polarized and narrow emissions for biological imaging. ACS Appl. Mater. Interfaces 9, 7385–7391 (2017).

Wu, X. et al. Nanowire lasers as intracellular probes. Nanoscale 10, 9729–9735 (2018).

Hill, M. T. & Gather, M. C. Advances in small lasers. Nat. Photon. 8, 908–918 (2014).

Ma, R.-M. & Oulton, R. F. Applications of nanolasers. Nat. Nanotechnol. 14, 12–22 (2019).

Wu, Y.-C. et al. Massively parallel delivery of large cargo into mammalian cells with light pulses. Nat. Methods 12, 439–444 (2015).

Lee, A. S. et al. Prolonged survival of transplanted stem cells after ischaemic injury via the slow release of pro-survival peptides from a collagen matrix. Nat. Biomed. Eng. 2, 104–113 (2018).

Mauranyapin, N. P., Madsen, L. S., Taylor, M. A., Waleed, M. & Bowen, W. P. Evanescent single-molecule biosensing with quantum-limited precision. Nat. Photon. 11, 477–481 (2017).

Kippenberg, T. J., Holzwarth, R. & Diddams, S. A. Microresonator-based optical frequency combs. Science 332, 555–559 (2011).

Coddington, I., Newbury, N. & Swann, W. Dual-comb spectroscopy. Optica 3, 414 (2016).

Ackers-Johnson, M. et al. A simplified, Langendorff-free method for concomitant isolation of viable cardiac myocytes and nonmyocytes from the adult mouse heart. Circ. Res. 119, 909–920 (2016).

Carlton, P. M. et al. Fast live simultaneous multiwavelength four-dimensional optical microscopy. Proc. Natl Acad. Sci. USA 107, 16016–16022 (2010).

Schubert, M. et al. Monitoring contractility in cardiac tissue with cellular resolution using biointegrated microlasers (dataset). Univ. St Andrews Res. Portal https://doi.org/10.17630/97927f1f-a111-46d0-8d41-038771733b73 (2020).
Acknowledgements
We thank S. A. Sharples for assistance with the preparation of myocardial slices. This research was financially supported by the European Research Council under the European Union's Horizon 2020 Framework Programme (FP/2014-2020)/ERC grant agreement no. 640012 (ABLASE), by EPSRC (grant no. EP/P030017/1) and by the RS Macdonald Charitable Trust. S.J.P. acknowledges funding by the Royal Society of Edinburgh (Biomedical Fellowship) and the British Heart Foundation (grant no. FS/17/9/32676). S.J.P. and G.B.R. acknowledge support from The Wellcome Trust Institutional Strategic Support Fund to the University of St Andrews (grant no. 204821/Z/16/A). M.S. acknowledges funding by the European Commission (Marie Skłodowska-Curie Individual Fellowship, 659213) and the Royal Society (Dorothy Hodgkin Fellowship, DH160102; grant no. RGF\R1\180070).
Ethics declarations
Competing interests
The authors declare no competing interests.
Additional information
Publisher's note Springer Nature remains neutral with regard to jurisdictional claims in published maps and institutional affiliations.
Supplementary information
About this article
Cite this article
Schubert, M., Woolfson, L., Barnard, I.R.M. et al. Monitoring contractility in cardiac tissue with cellular resolution using biointegrated microlasers. Nat. Photonics 14, 452–458 (2020). https://doi.org/10.1038/s41566-020-0631-z
Received:

Accepted:

Published:

Issue Date:

DOI: https://doi.org/10.1038/s41566-020-0631-z