Exciton funnelling due to non-homogeneous strain was previously thought of as an efficient neutral exciton transport mechanism. New findings suggest that exciton funnelling might be negligible compared with another strain-dependent process, the conversion of neutral excitons into trions.
Access options
Subscribe to Journal
Get full journal access for 1 year
$59.00
only $4.92 per issue
All prices are NET prices.
VAT will be added later in the checkout.
Tax calculation will be finalised during checkout.
Rent or Buy article
Get time limited or full article access on ReadCube.
from$8.99
All prices are NET prices.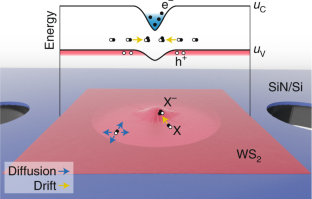 References
1.

Roldán, R., Castellanos-Gomez, A., Cappelluti, E. & Guinea, F. J. Phys. Condens. Matter 27, 313201 (2015).

2.

Levy, N. et al. Science 329, 544–547 (2010).

3.

Feng, J., Qian, X., Huang, C.-W. & Li, J. Nat. Photon. 6, 866–872 (2012).

4.

Castellanos-Gomez, A. et al. Nano Lett. 13, 5361–5366 (2013).

5.

De Sanctis, A., Amit, I., Hepplestone, S. P., Craciun, M. F. & Russo, S. Nat. Commun. 9, 1652 (2018).

6.

Harats, M. G., Kirchhof, J. N., Qiao, M., Greben, K. & Bolotin, K. I. Nat. Photon. https://doi.org/10.1038/s41566-019-0581-5 (2020).

7.

Dukic, M., Adams, J. D. & Fantner, G. E. Sci. Rep. 5, 16393 (2015).

8.

Unuchek, D. et al. Nature 560, 340–344 (2018).
About this article
Cite this article
Frisenda, R., Castellanos-Gomez, A. Strain creates a trion factory. Nat. Photonics 14, 269–270 (2020). https://doi.org/10.1038/s41566-020-0625-x
Further reading
Ghada Dushaq

,

Bruna Paredes

,

Jin-You Lu

,

Matteo Chiesa

&

Mahmoud Rasras

ACS Applied Nano Materials (2020)