The journey to realize a terahertz quantum cascade laser that operates at room temperature has taken a jump forward with news of a device that operates at –23 °C, within the reach of Peltier coolers.
Access options
Subscribe to Journal
Get full journal access for 1 year
$59.00
only $4.92 per issue
All prices are NET prices.
VAT will be added later in the checkout.
Tax calculation will be finalised during checkout.
Rent or Buy article
Get time limited or full article access on ReadCube.
from$8.99
All prices are NET prices.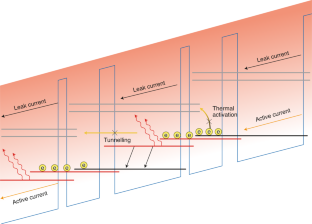 References
1.

Cheon, H., Paik, J. H., Choi, M., Yang, H.-J. & Son, J.-H. Sci. Rep. 9, 6413 (2019).

2.

Khalatpour, A., Paulsen, A. K., Deimert, C., Wasilewski, Z. R. & Hu, Q. Nat. Photon. https://doi.org/10.1038/s41566-020-00707-5 (2020).

3.

Crocker, A., Gebbie, H. A., Kimmitt, M. F. & Mathias, L. E. S. Nature 201, 250–251 (1964).

4.

Bosco, L. et al. Appl. Phys. Lett. 115, 010601 (2019).

5.

Asada, M. & Suzuki, S. J. Infrared Millim. Terahertz Waves 37, 1185–1198 (2016).

6.

Fujita, K. et al. Nanophotonics 7, 1795–1817 (2018).

7.

Lu, Q., Wang, F., Wu, D., Slivken, S. & Razeghi, M. Nat. Commun. 10, 2403 (2019).

8.

Pagies, A., Ducournau, G. & Lampin, J.-F. APL Photon. 1, 031302 (2016).
Ethics declarations
Competing interests
The author declares no competing interests.
About this article
Cite this article
Sirtori, C. Terahertz race heats up. Nat. Photonics 15, 1–2 (2021). https://doi.org/10.1038/s41566-020-00740-4