Facilities generating coherent X-rays tend to be large scale and costly. Now researchers have demonstrated a parametric and coherent laboratory-scale X-ray source by passing moderately energetic electrons through van der Waals heterostructures.
Access options
Subscribe to Journal
Get full journal access for 1 year
$59.00
only $4.92 per issue
All prices are NET prices.
VAT will be added later in the checkout.
Tax calculation will be finalised during checkout.
Rent or Buy article
Get time limited or full article access on ReadCube.
from$8.99
All prices are NET prices.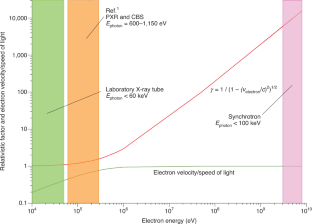 References
1.

Shentcis, M. et al. Nat. Photon. https://doi.org/10.1038/s41566-020-0689-7 (2020).

2.

von Weizsäcker, C. F. Zeitschrift Physik 88, 612–629 (1934).

3.

Williams, E. Phys. Rev. 45, 729–730 (1934).

4.

Überall, H. Phys. Rev. 103, 1055–1067 (1956).

5.

Baryshevsky, V. G., Feranchuck, I. D. & Ulyanenkov, A. P. Parametric X-ray Radiation in Crystals (Springer-Verlag, 2005).
Ethics declarations
Competing interests
The author declares no competing interests.
About this article
Cite this article
Uschmann, I. A free-electron laboratory coherent X-ray source. Nat. Photonics 14, 655–656 (2020). https://doi.org/10.1038/s41566-020-00710-w