By tailoring the anisotropy of light scattering along the surface of a macroscopic flat object, mechanical stabilization can be achieved without focused incident light or excessive constraints on the shape, size or material composition of the object.
Access options
Subscribe to Journal
Get full journal access for 1 year
$169.00
only $14.08 per issue
All prices are NET prices.
VAT will be added later in the checkout.
Rent or Buy article
Get time limited or full article access on ReadCube.
from$8.99
All prices are NET prices.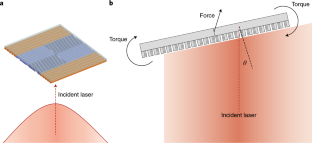 References
1.

Ricci, F. et al. Nat. Commun. 8, 15141 (2017).

2.

Arita, Y., Mazilu, M. & Dholakia, K. Nat. Commun. 4, 2374 (2013).

3.

Hebestreit, E., Frimmer, M., Reimann, R. & Novotny, L. Phys. Rev. Lett. 121, 063602 (2018).

4.

Romero-Isart, O., Juan, M. L., Quidant, R. & Cirac, J. I. New J. Phys. 12, 033015 (2010).

5.

Ilic, O. & Atwater, H. A. Nat. Photon. https://doi.org/10.1038/s41566-019-0373-y (2019).
About this article
Cite this article
Quidant, R. A light ride to the stars. Nat. Photonics 13, 227–228 (2019). https://doi.org/10.1038/s41566-019-0402-x