The observation of a room-temperature stable liquid phase of electrons and holes in a quasi-two-dimensional photocell paves the way towards optoelectronic devices that harness collective phenomena.
This is a preview of subscription content
Access options
Subscribe to Journal
Get full journal access for 1 year
$99.00
only $8.25 per issue
All prices are NET prices.
VAT will be added later in the checkout.
Tax calculation will be finalised during checkout.
Rent or Buy article
Get time limited or full article access on ReadCube.
from$8.99
All prices are NET prices.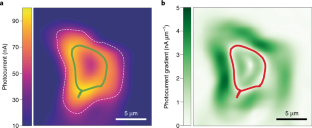 References
1.

Klingshirn, C. F. Semiconductor Optics (Springer, 2012).

2.

Keldysh, L. V. In Proc. 9th Int. Conf. Physics of Semiconductors, Moscow (ed. Ryvkin, S. M.) 1303 (Nauka Leningrad, 1968).

3.

Sibeldin, N. N. Phys. Usp. 60, 1147 (2017).

4.

Mak, K. F. & Shan, J. Nat. Photon. 10, 216–226 (2016).

5.

Rustagi, A. & Kemper, A. F. Nano Lett. 18, 455–459 (2018).

6.

Arp, T. B., Pleskot, D., Aji, V. & Gabor, N. M. Nat. Photon. https://doi.org/10.1038/s41566-019-0349-y (2019).

7.

Novoselov, K. S., Mishchenko, A., Carvalho, A. & Castro Neto, A. H. Science 353, aac9439 (2016).

8.

Massicotte, M. et al. Nat. Nanotechnol. 11, 42–46 (2016).

9.

Froehlicher, G. et al. Phys. Rev. X 8, 011007 (2018).

10.

Wang, G. et al. Rev. Mod. Phys. 90, 21001 (2018).

11.

Bataller, A. W. et al. Nano Lett. 19, 1104–1111 (2019).
About this article
Cite this article
Berciaud, S. Quasi-two-dimensional electron–hole droplets. Nat. Photonics 13, 225–226 (2019). https://doi.org/10.1038/s41566-019-0400-z