Innovations in 'sustainable' photonics technologies such as free-space optical links and solar-powered equipment provide developing countries with new cost-effective opportunities for deploying future-proof telecommunication networks.
This is a preview of subscription content
Access options
Subscribe to Nature+
Get immediate online access to the entire Nature family of 50+ journals
Subscribe to Journal
Get full journal access for 1 year
$99.00
only $8.25 per issue
All prices are NET prices.
VAT will be added later in the checkout.
Tax calculation will be finalised during checkout.
Buy article
Get time limited or full article access on ReadCube.
$32.00
All prices are NET prices.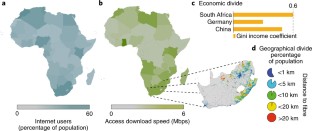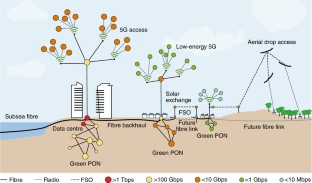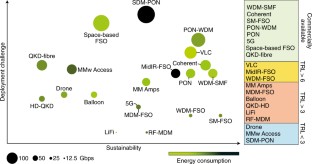 References
Keiser, G. Encyclopedia of Telecommunications (Wiley, London, 2003).

A Framework for the Establishment and Maintenance of a Sustainable NICIS (Report of the International Committee for the Development of South Africa's National Integrated Cyberinfrastructure System Appointed by the Department of Science and Technology, December 2013); http://www.dst.gov.za/index.php/resource-center/cyber-infrastructure2.

Zeilinger, A. Nat. Phys. 14, 3–4 (2018).

Yin, J. et al. Science 356, 1140–1144 (2017).

Diamanti, E. & Kashefi, E. Nat. Phys. 13, 3–4 (2017).

Fagas, G., Gallagher, J. P., Gammaitoni, L. & Paul, D. J. in ICT - Energy Concepts for Energy Efficiency and Sustainability (ed. Fagas, G.) Ch. 1 (InTech, 2017).

Ahmed, M., Ahmad, I. & Habibi, D. IEEE/OSA J. Optical Commun. Networking 7, 669–680 (2015).

Ahmed, M., Ahmad, I. & Habibi, D. J. Lightwave Technol. 33, 7–18 (2015).

Mowla, M. M., Ahmad, I., Habibi, D. & Phung, Q. V. IEEE Trans. Green Commun. Networking 1, 264–280 (2017).

Fadlullah, Z. M. et al. IEEE Intelligent Syst. 28, 86–91 (2013).

Chen, J., Gong, Y., Fiorani, M. & Aleksic, A. IEEE Commun. Magazine 53, 140–148 (2015).

Chiaroni, D. Network Energy: problematic and solutions towards sustainable ICT. Tu1E-07 In 24th Congress of the International Commission for Optics (2017).

De Domenico, A., Calvanese Strinati, E. & Capone, A. Compt. Commun. 37, 5–24 (2014).

Tombaz, S. et al. 2014 IEEE Int. Conf. Commun. (ICC) 4029–4035 (2014).

Hamza, A. S., Deogun, J. S. & Alexander, D. R. IEEE Commun. Surveys Tutorials 18, 1572–1595 (2016).

Li, X., Huo, Y., Zhang, R. & Hanzo, L. IEEE Trans. Green Commun. Networking 1, 59–73 (2017).

Wang, T. Q., Green, R. J. & Armstrong, J. IEEE J. Selected Areas Commun. 33, 1959–1971 (2015).

Richardson, D. J., Fini, J. M. & Nelson, L. E. Nat. Photon. 7, 354–362 (2013).

Willner, A. E. et al. Adv. Optics Photon. 7, 66–106 (2015).

Fontaine, N. K. et al. in Asia Commun. Photon. Conf. OSA Technical Digest (online) M1J.4 (Optical Society of America, 2017).

South Africa's inequality is no longer about race. The Economist (20 May 2017); https://www.economist.com/news/middle-east-and-africa/21722155-democracy-has-brought-wealth-only-few.
Acknowledgements
The authors would like to thank the EPSRC Global Challenges Research Fund, the South African National Research Foundation, the South African Research Chair Initiative of the Department of Science and Technology, the National Basic Research Program of China (2014CB340004), the Royal Society-Newton Advanced Fellowship, the programme for Huazhong University of Science and Technology Academic Frontier Youth Team, the National Research Foundation and the Royal Academy of Engineering for their support.
About this article
Cite this article
Lavery, M.P.J., Abadi, M.M., Bauer, R. et al. Tackling Africa's digital divide. Nature Photon 12, 249–252 (2018). https://doi.org/10.1038/s41566-018-0162-z
Published:

Issue Date:

DOI: https://doi.org/10.1038/s41566-018-0162-z
Further reading
Chao He
Yijie Shen
Andrew Forbes

Light: Science & Applications (2022)

Rakan E. Alsaigh
Ralf Bauer
Martin P. J. Lavery

Scientific Reports (2020)

Mojtaba Mansour Abadi
Mitchell A. Cox
Martin P. J. Lavery

Scientific Reports (2019)