Abstract
Plasma membrane rupture is a promising strategy for drug-resistant cancer treatment, but its application is limited by the low tumour selectivity of membranolytic molecules. Here we report the design of 'proton transistor' nanodetergents that can convert the subtle pH perturbation signals of tumour tissues into sharp transition signals of membranolytic activity for selective cancer therapy. Our top-performing 'proton transistor' nanodetergent, P(C6-Bn20), can achieve a >32-fold change in cytotoxicity with a 0.1 pH input signal. At physiological pH, P(C6-Bn20) self-assembles into neutral nanoparticles with inactive membranolytic blocks shielded by poly(ethylene glycol) shells, exhibiting low toxicity. At tumour acidity, a sharp transition in its protonation state induces a morphological transformation and an activation of the membranolytic blocks, and the cation–π interaction facilitates the insertion of benzyl groups-containing hydrophobic domains into the cell membranes, resulting in potent membranolytic activity. P(C6-Bn20) is well tolerated in mice and shows high anti-tumour efficacy in various mouse tumour models.
Access options
Subscribe to Nature+
Get immediate online access to Nature and 55 other Nature journal
Subscribe to Journal
Get full journal access for 1 year
$119.00
only $9.92 per issue
All prices are NET prices.
VAT will be added later in the checkout.
Tax calculation will be finalised during checkout.
Buy article
Get time limited or full article access on ReadCube.
$32.00
All prices are NET prices.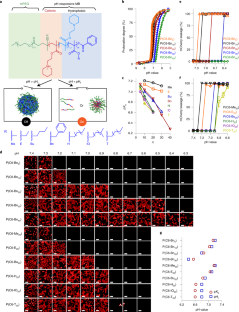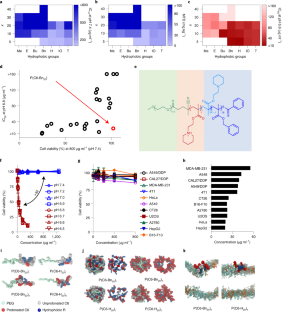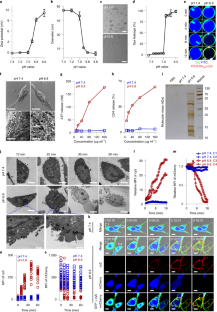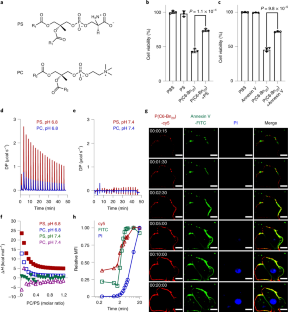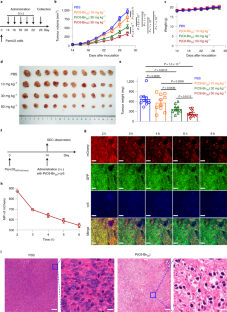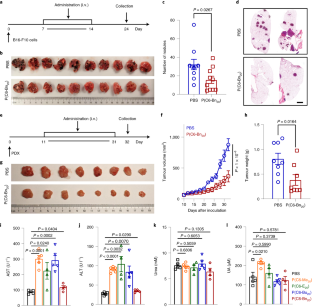 Data availability
All relevant data of this study are available within the paper and its Supplementary Information files. Full gels of the SDS–PAGE image in Fig. 3i are provided as Source data with this paper. The raw and analysed datasets generated during the study are available for research purposes from the corresponding authors on reasonable request.
References
Hancock, R. E. W. & Sahl, H. G. Antimicrobial and host-defense peptides as new anti-infective therapeutic strategies. Nat. Biotechnol. 24, 1551–1557 (2006).

Nederberg, F. et al. Biodegradable nanostructures with selective lysis of microbial membranes. Nat. Chem. 3, 409–414 (2011).

Trambas, C. M. & Griffiths, G. M. Delivering the kiss of death. Nat. Immunol. 4, 399–403 (2003).

Leung, C. et al. Real-time visualization of perforin nanopore assembly. Nat. Nanotechnol. 12, 467–473 (2017).

Fjell, C. D., Hiss, J. A., Hancock, R. E. W. & Schneider, G. Designing antimicrobial peptides: form follows function. Nat. Rev. Drug Discov. 11, 37–51 (2012).

Park, N. H. et al. Addressing drug resistance in cancer with macromolecular chemotherapeutic agents. J. Am. Chem. Soc. 140, 4244–4252 (2018).

Magana, M. et al. The value of antimicrobial peptides in the age of resistance. Lancet Infect. Dis. 20, e216–e230 (2020).

Shen, W. et al. Antineoplastic drug-free anticancer strategy enabled by host-defense-peptides-mimicking synthetic polypeptides. Adv. Mater. 32, 2001108 (2020).

Mookherjee, N., Anderson, M. A., Haagsman, H. P. & Davidson, D. J. Antimicrobial host defence peptides: functions and clinical potential. Nat. Rev. Drug Discov. 19, 311–332 (2020).

Voskoboinik, I., Whisstock, J. C. & Trapani, J. A. Perforin and granzymes: function, dysfunction and human pathology. Nat. Rev. Immunol. 15, 388–400 (2015).

Tew, G. N., Scott, R. W., Klein, M. L. & Degrado, W. F. De novo design of antimicrobial polymers, foldamers, and small molecules: from discovery to practical applications. Acc. Chem. Res. 43, 30–39 (2010).

Palermo, E. F., Lienkamp, K., Gillies, E. R. & Ragogna, P. J. Antibacterial activity of polymers: discussions on the nature of amphiphilic balance. Angew. Chem. Int. Ed. Engl. 58, 3690–3693 (2019).

Liang, Y. B., Zhang, X. S., Yuan, Y. L., Bao, Y. & Xiong, M. H. Role and modulation of the secondary structure of antimicrobial peptides to improve selectivity. Biomater. Sci. 8, 6858–6866 (2020).

Mishra, B., Narayana, J. L., Lushnikova, T., Wang, X. Q. & Wang, G. S. Low cationicity is important for systemic in vivo efficacy of database-derived peptides against drug-resistant Gram-positive pathogens. Proc. Natl Acad. Sci. USA 116, 13517–13522 (2019).

Chin, W. et al. A macromolecular approach to eradicate multidrug resistant bacterial infections while mitigating drug resistance onset. Nat. Commun. 9, 917 (2018).

de Breij, A. et al. The antimicrobial peptide SAAP-148 combats drug-resistant bacteria and biofilms. Sci. Transl. Med. 10, eaan4044 (2018).

Xiong, M. et al. Helical antimicrobial polypeptides with radial amphiphilicity. Proc. Natl Acad. Sci. USA 112, 13155–13160 (2015).

Mowery, B. P., Lindner, A. H., Weisblum, B., Stahl, S. S. & Gellman, S. H. Structure–activity relationships among random nylon-3 copolymers that mimic antibacterial host-defense peptides. J. Am. Chem. Soc. 131, 9735–9745 (2009).

Fan, Y. et al. A biomimetic peptide recognizes and traps bacteria in vivo as human defensin-6. Sci. Adv. 6, eaaz4767 (2020).

Xiong, M. H. et al. Bacteria-assisted activation of antimicrobial polypeptides by a random-coil to helix transition. Angew. Chem. Int. Ed. 56, 10826–10829 (2017).

Xiong, M. H. et al. Selective killing of Helicobacter pylori with pH-responsive helix–coil conformation transitionable antimicrobial polypeptides. Proc. Natl Acad. Sci. USA 114, 12675–12680 (2017).

Qi, G. B., Zhang, D., Liu, F. H., Qiao, Z. Y. & Wang, H. An "on-site transformation" strategy for treatment of bacterial infection. Adv. Mater. 29, 1703461 (2017).

Wang, Y. G. et al. A nanoparticle-based strategy for the imaging of a broad range of tumours by nonlinear amplification of microenvironment signals. Nat. Mater. 13, 204–212 (2014).

Zhao, T. et al. A transistor-like pH nanoprobe for tumour detection and image-guided surgery. Nat. Biomed. Eng. 1, 0006 (2017).

Webb, B. A., Chimenti, M., Jacobson, M. P. & Barber, D. L. Dysregulated pH: a perfect storm for cancer progression. Nat. Rev. Cancer 11, 671–677 (2011).

Anderson, M., Moshnikova, A., Engelman, D. M., Reshetnyak, Y. K. & Andreev, O. A. Probe for the measurement of cell surface pH in vivo and ex vivo. Proc. Natl Acad. Sci. USA 113, 8177–8181 (2016).

Gerweck, L. E. & Seetharaman, K. Cellular pH gradient in tumor versus normal tissue: potential exploitation for the treatment of cancer. Cancer Res. 56, 1194–1198 (1996).

Feng, L. Z., Dong, Z. L., Tao, D. L., Zhang, Y. C. & Liu, Z. The acidic tumor microenvironment: a target for smart cancer nano-theranostics. Natl Sci. Rev. 5, 269–286 (2018).

Sun, L. et al. MiR-200b and miR-15b regulate chemotherapy-induced epithelial-mesenchymal transition in human tongue cancer cells by targeting BMI1. Oncogene 31, 432–445 (2012).

Meyer, E. A., Castellano, R. K. & Diederich, F. Interactions with aromatic rings in chemical and biological recognition. Angew. Chem. Int. Ed. 42, 1210–1250 (2003).

Dougherty, D. A. Cation-π interactions in chemistry and biology: a new view of benzene, Phe, Tyr, and Trp. Science 271, 163–168 (1996).

Li, Y. et al. Chaotropic-anion-induced supramolecular self-assembly of ionic polymeric micelles. Angew. Chem. Int. Ed. 53, 8074–8078 (2014).

Riedl, S. et al. In search of a novel target—phosphatidylserine exposed by non-apoptotic tumor cells and metastases of malignancies with poor treatment efficacy. Biochim. Biophys. Acta Biomembr. 1808, 2638–2645 (2011).

Birge, R. B. et al. Phosphatidylserine is a global immunosuppressive signal in efferocytosis, infectious disease, and cancer. Cell Death Differ. 23, 962–978 (2016).

Ma, X. P. et al. Ultra-pH-sensitive nanoprobe library with broad pH tunability and fluorescence emissions. J. Am. Chem. Soc. 136, 11085–11092 (2014).

Li, H. J. et al. Smart superstructures with ultrahigh pH-sensitivity for targeting acidic tumor microenvironment: instantaneous size switching and improved tumor penetration. ACS Nano 10, 6753–6761 (2016).
Acknowledgements
We thank G. Yao (Nanfang Hospital) for providing the patient sample. We thank J. Li (Sun Yat-sen Memorial Hospital, Sun Yat-sen University) for providing the cisplatin-resistant human tongue cancer cell line CAL27/DDP. This work was supported by National Key R&D Program of China grant no. 2017YFA0205600 (J.W.); the National Natural Science Foundation of China grants no. 51633008 (J.W.), no. 52073102 (M.X.), no. 32171319 (Y.B.), no. 31971297 (Y.B.), no. U1801252 (M.X.) and no. 32000949 (M.L.); the Program for Guangdong Introducing Innovative and Entrepreneurial Teams grant no. 2017ZT07S054 (J.W.); Guangdong Provincial Pearl River Talents Program grants no. 2019QN01Y090 (M.X.) and no. 2017GC010713 (J.W.); the Key Research and Development Program of Guangzhou grant no. 202007020002 (M.X.); the Natural Science Foundation of Guangdong Province grants no. 2019A1515110617 (M.L.) and no. 2021A1515012492 (M.L.); the China Postdoctoral Science Foundation grant no. 2019M652909 (M.L.); and Guangdong Science and Technology Department grants no. 2020B1212060018 (Y.B.) and no. 2020B1212030004 (Y.B.).
Ethics declarations
Competing interests
M.L., L.H., X.W., Y.B., M.X. and J.W. have submitted a patent application (PCT/CN2021/102758) related to this study. The other authors declare no competing interests.
Peer review
Peer review information
Nature Nanotechnology thanks Cameron Alexander, Yiyan Yang and the other, anonymous, reviewer(s) for their contribution to the peer review of this work.
Additional information
Publisher's note Springer Nature remains neutral with regard to jurisdictional claims in published maps and institutional affiliations.
Supplementary information
About this article
Cite this article
Liu, M., Huang, L., Zhang, W. et al. A transistor-like pH-sensitive nanodetergent for selective cancer therapy. Nat. Nanotechnol. 17, 541–551 (2022). https://doi.org/10.1038/s41565-022-01085-5
Received:

Accepted:

Published:

Issue Date:

DOI: https://doi.org/10.1038/s41565-022-01085-5
This article is cited by
Tu Hong
Xinyuan Shen
Longguang Tang

Nano Research (2022)