Abstract
Mechanical deformation of a crystal can have a profound effect on its physical properties. Notably, even small modifications of bond geometry can completely change the size and sign of magnetic exchange interactions and thus the magnetic ground state. Here we report the strain tuning of the magnetic properties of the A-type layered antiferromagnetic semiconductor CrSBr achieved by designing a strain device that can apply continuous, in situ uniaxial tensile strain to two-dimensional materials, reaching several percent at cryogenic temperatures. Using this apparatus, we realize a reversible strain-induced antiferromagnetic-to-ferromagnetic phase transition at zero magnetic field and strain control of the out-of-plane spin-canting process. First-principles calculations reveal that the tuning of the in-plane lattice constant strongly modifies the interlayer magnetic exchange interaction, which changes sign at the critical strain. Our work creates new opportunities for harnessing the strain control of magnetism and other electronic states in low-dimensional materials and heterostructures.
Relevant articles
Open Access articles citing this article.
Xiaolei Wang

,

Zixuan Shang

…

Jianhua Zhao

Nature Communications Open Access 15 February 2023

Faran Zhou

,

Kyle Hwangbo

…

Haidan Wen

Nature Communications Open Access 03 November 2022
Access options
Access Nature and 54 other Nature Portfolio journals
Get Nature+, our best-value online-access subscription
$29.99 per month
cancel any time
Subscribe to this journal
Receive 12 print issues and online access
$259.00 per year
only $21.58 per issue
Rent or buy this article
Get just this article for as long as you need it
$39.95
Prices may be subject to local taxes which are calculated during checkout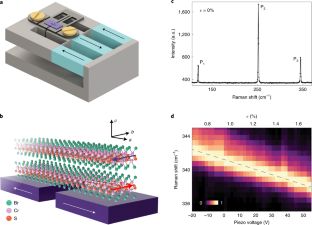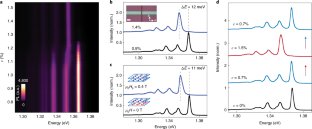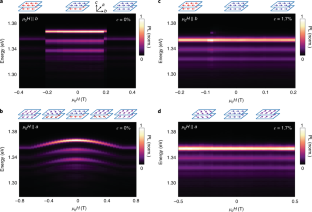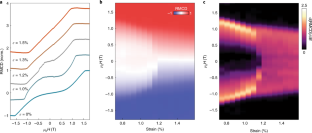 Data availability
Source data are provided with this paper. All other data that support the findings of this study are available from the corresponding authors upon reasonable request.
References
Song, T. et al. Giant tunneling magnetoresistance in spin-filter van der Waals heterostructures. Science 360, 1214–1218 (2018).

Klein, D. R. et al. Probing magnetism in 2D van der Waals crystalline insulators via electron tunneling. Science 360, 1218–1222 (2018).

Wang, Z. et al. Very large tunneling magnetoresistance in layered magnetic semiconductor CrI3. Nat. Commun. 9, 2516 (2018).

Kim, H. H. et al. One million percent tunnel magnetoresistance in a magnetic van der Waals heterostructure. Nano Lett. 18, 4885–4890 (2018).

Burch, K. S., Mandrus, D. & Park, J.-G. Magnetism in two-dimensional van der Waals materials. Nature 563, 47–52 (2018).

Mak, K. F., Shan, J. & Ralph, D. C. Probing and controlling magnetic states in 2D layered magnetic materials. Nat. Rev. Phys. 1, 646–661 (2019).

Li, T. et al. Pressure-controlled interlayer magnetism in atomically thin CrI3. Nat. Mater. 18, 1303–1308 (2019).

Song, T. et al. Switching 2D magnetic states via pressure tuning of layer stacking. Nat. Mater. 18, 1298–1302 (2019).

Chu, J.-H. et al. In-plane resistivity anisotropy in an underdoped iron arsenide superconductor. Science 329, 824–826 (2010).

Hicks, C. W. et al. Strong increase of Tc of Sr2RuO4 under both tensile and compressive strain. Science 344, 283–285 (2014).

Chu, J.-H., Kuo, H.-H., Analytis, J. G. & Fisher, I. R. Divergent nematic susceptibility in an iron arsenide superconductor. Science 337, 710–712 (2012).

Mutch, J. et al. Evidence for a strain-tuned topological phase transition in ZrTe5. Sci. Adv. 5, eaav9771 (2019).

Ceballos, A. et al. Effect of strain and thickness on the transition temperature of epitaxial FeRh thin-films. Appl. Phys. Lett. 111, 172401 (2017).

Haskel, D. et al. Pressure tuning of the spin-orbit coupled ground state in Sr2IrO4. Phys. Rev. Lett. 109, 027204 (2012).

Hong, S. S. et al. Extreme tensile strain states in La0.7Ca0.3MnO3 membranes. Science 368, 71–76 (2020).

Šiškins, M. et al. Magnetic and electronic phase transitions probed by nanomechanical resonators. Nat. Commun. 11, 2698 (2020).

Wang, Y. et al. Strain-sensitive magnetization reversal of a van der Waals magnet. Adv. Mater. 32, 2004533 (2020).

Ni, Z. et al. Imaging the Néel vector switching in the monolayer antiferromagnet MnPSe3 with strain-controlled Ising order. Nat. Nanotechnol. 16, 782–787 (2021).

Pizzochero, M. & Yazyev, O. V. Inducing magnetic phase transitions in monolayer CrI3 via lattice deformations. J. Phys. Chem. C 124, 7585–7590 (2020).

Wu, Z., Yu, J. & Yuan, S. Strain-tunable magnetic and electronic properties of monolayer CrI3. Phys. Chem. Chem. Phys. 21, 7750–7755 (2019).

Zhang, J.-M., Nie, Y.-Z., Wang, X.-G., Xia, Q.-L. & Guo, G.-H. Strain modulation of magnetic properties of monolayer and bilayer FePS3 antiferromagnet. J. Magn. Magn. Mater. 525, 167687 (2021).

Xu, B. et al. Switching of the magnetic anisotropy via strain in two dimensional multiferroic materials: CrSX (X = Cl, Br, I). Appl. Phys. Lett. 116, 052403 (2020).

Hicks, C. W., Barber, M. E., Edkins, S. D., Brodsky, D. O. & Mackenzie, A. P. Piezoelectric-based apparatus for strain tuning. Rev. Sci. Instrum. 85, 065003 (2014).

Wilson, N. P. et al. Interlayer electronic coupling on demand in a 2D magnetic semiconductor. Nat. Mater. 20, 1657–1662 (2021).

Lee, K. et al. Magnetic order and symmetry in the 2D semiconductor CrSBr. Nano Lett. 21, 3511–3517 (2020).

Telford, E. J. et al. Layered antiferromagnetism induces large negative magnetoresistance in the van der Waals semiconductor CrSBr. Adv. Mater. 32, 2003240 (2020).

Wang, L. et al. In situ strain tuning in hBN-encapsulated graphene electronic devices. Nano Lett. 19, 4097–4102 (2019).

Levy, N. et al. Strain-induced pseudo-magnetic fields greater than 300 Tesla in graphene nanobubbles. Science 329, 544–547 (2010).

Mao, J. et al. Evidence of flat bands and correlated states in buckled graphene superlattices. Nature 584, 215–220 (2020).

Pető, J. et al. Moderate strain induced indirect bandgap and conduction electrons in MoS2 single layers. npj 2D Mater. Appl. 3, 39 (2019).

Conley, H. J. et al. Bandgap engineering of strained monolayer and bilayer MoS2. Nano Lett. 13, 3626–3630 (2013).

He, K., Poole, C., Mak, K. F. & Shan, J. Experimental demonstration of continuous electronic structure tuning via strain in atomically thin MoS2. Nano Lett. 13, 2931–2936 (2013).

Lee, J., Wang, Z., Xie, H., Mak, K. F. & Shan, J. Valley magnetoelectricity in single-layer MoS2. Nat. Mater. 16, 887–891 (2017).

Andrei, E. Y. et al. The marvels of moiré materials. Nat. Rev. Mater. 6, 201–206 (2021).

Hopcroft, M. A., Nix, W. D. & Kenny, T. W. What is the Young's modulus of silicon? J. Microelectromech. Syst. 19, 229–238 (2010).

Ureña, F., Olsen, S. H. & Raskin, J.-P. Raman measurements of uniaxial strain in silicon nanostructures. J. Appl. Phys. 114, 144507 (2013).

Mohr, M., Papagelis, K., Maultzsch, J. & Thomsen, C. Two-dimensional electronic and vibrational band structure of uniaxially strained graphene from ab initio calculations. Phys. Rev. B 80, 205410 (2009).

Huang, B. et al. Layer-dependent ferromagnetism in a van der Waals crystal down to the monolayer limit. Nature 546, 270–273 (2017).

Giannozzi, P. et al. QUANTUM ESPRESSO: a modular and open-source software project for quantum simulations of materials. J. Phys. Condens. Matter 21, 395502 (2009).

Hamann, D. R. Optimized norm-conserving Vanderbilt pseudopotentials. Phys. Rev. B 88, 085117 (2013).

Grimme, S. Semiempirical GGA-type density functional constructed with a long-range dispersion correction. J. Comput. Chem. 27, 1787–1799 (2006).
Acknowledgements
We thank K. Seyler, D. Cobden and M. Yankowitz for their helpful discussions on the strain devices. The strain-induced magnetic phase transition project is mainly supported by the US Department of Energy (DOE), Basic Energy Sciences (BES), under award DE-SC0018171. Part of the strain setup and RMCD measurements are supported by the Air Force Office of Scientific Research (AFOSR) Multidisciplinary University Research Initiative (MURI) program via grant no. FA9550-19-1-0390 and the Gordon and Betty Moore Foundation's EPiQS Initiative via grant GBMF6759 to J.-H.C. The first-principles calculation is mainly supported by NSF MRSEC DMR-1719797. K.X. acknowledges the Graduate Fellowship from Clean Energy Institute funded by the State of Washington. Z.L. and J.-H.C. acknowledge the support of the David and Lucile Packard Foundation. T.C. acknowledges support from the Micron Foundation. Computational resources were provided by HYAK at the University of Washington. CrSBr crystal synthesis is supported by the Center on Programmable Quantum Materials, an Energy Frontier Research Center funded by the US DOE, Office of Science, BES, under award DESC0019443.
Ethics declarations
Competing interests
The authors declare no competing interests.
Peer review
Peer review information
Nature Nanotechnology thanks Wei Ji, Liang Wu and the other, anonymous, reviewer(s) for their contribution to the peer review of this work.
Additional information
Publisher's note Springer Nature remains neutral with regard to jurisdictional claims in published maps and institutional affiliations.
About this article
Cite this article
Cenker, J., Sivakumar, S., Xie, K. et al. Reversible strain-induced magnetic phase transition in a van der Waals magnet. Nat. Nanotechnol. 17, 256–261 (2022). https://doi.org/10.1038/s41565-021-01052-6
Received:

Accepted:

Published:

Issue Date:

DOI: https://doi.org/10.1038/s41565-021-01052-6