Nanotube-mediated acquisition of immune cells' mitochondria by tumour cells is a novel mechanism for immune evasion that can be pharmacologically targeted to potentiate cancer immunotherapies.
This is a preview of subscription content
Access options
Subscribe to Journal
Get full journal access for 1 year
$99.00
only $8.25 per issue
All prices are NET prices.
VAT will be added later in the checkout.
Tax calculation will be finalised during checkout.
Rent or Buy article
Get time limited or full article access on ReadCube.
from$8.99
All prices are NET prices.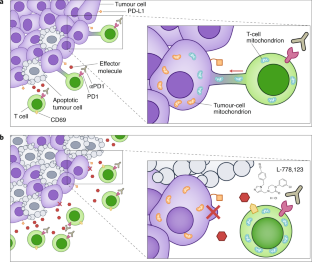 References
1.

Saha, T. et al. Nat. Nanotechnol. https://doi.org/10.1038/s41565-021-01000-4 (2021).

2.

Bantug, G. R. et al. Nat. Rev. Immunol. 18, 19–34 (2018).

3.

Sukumar, M. et al. Cell Metab. 23, 63–76 (2016).

4.

Spees, J. L. et al. Proc. Natl Acad. Sci. USA 103, 1283–1288 (2006).

5.

Berridge, M. et al. Anal. Biochem. 552, 75–80 (2018).

6.

Mohammadalipour, A. et al. Front. Cell Dev. Biol. 8, 1519 (2020).

7.

Burt, R. et al. Blood 134, 1415–1429 (2019).

8.

Moschoi, R. et al. Blood 128, 253–264 (2016).

9.

Yu, Y.-R. et al. Nat. Immunol. 21, 1540–1551 (2020).

10.

Pilipow, K. et al. JCI Insight 3, e122299 (2018).
Ethics declarations
Competing interests
L.G. has consulting agreements with Lyell Immunopharma, AstraZeneca, Turnstone Biologics, Xcelcyte. L.G. is on the scientific advisory board of Poseida Therapeutics and Kiromic, and a stockholder of Poseida Therapeutics. J.G.B. declares no competing interests.
About this article
Cite this article
Baldwin, J.G., Gattinoni, L. Cancer cells hijack T-cell mitochondria. Nat. Nanotechnol. (2021). https://doi.org/10.1038/s41565-021-01006-y