Abstract
Magnon-mediated angular-momentum flow in antiferromagnets may become a design element for energy-efficient, low-dissipation and high-speed spintronic devices1,2. Owing to their low energy dissipation, antiferromagnetic magnons can propagate over micrometre distances3. However, direct observation of their high-speed propagation has been elusive due to the lack of sufficiently fast probes2. Here we measure the antiferromagnetic magnon propagation in the time domain at the nanoscale (≤50 nm) with optical-driven terahertz emission. In non-magnetic-Bi2Te3/antiferromagnetic-insulator-NiO/ferromagnetic-Co trilayers, we observe a magnon velocity of ~650 km s–1 in the NiO layer. This velocity far exceeds previous estimations of the maximum magnon group velocity of ~40 km s–1, which were based on the magnon dispersion measurements of NiO using inelastic neutron scattering4,5. Our theory suggests that for magnon propagation at the nanoscale, a finite damping makes the dispersion anomalous for small magnon wavenumbers and yields a superluminal-like magnon velocity. Given the generality of finite dissipation in materials, our results strengthen the prospects of ultrafast nanodevices using antiferromagnetic magnons.
Access options
Access Nature and 54 other Nature Portfolio journals
Get Nature+, our best-value online-access subscription
$29.99 / 30 days
cancel any time
Subscribe to this journal
Receive 12 print issues and online access
$259.00 per year
only $21.58 per issue
Rent or buy this article
Get just this article for as long as you need it
$39.95
Prices may be subject to local taxes which are calculated during checkout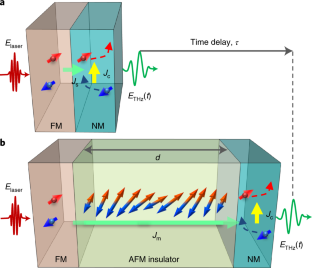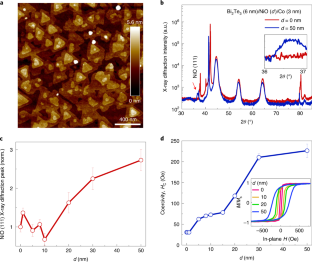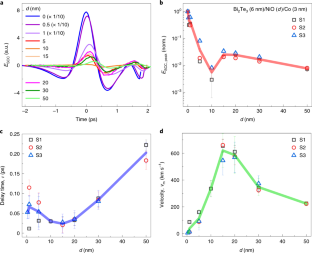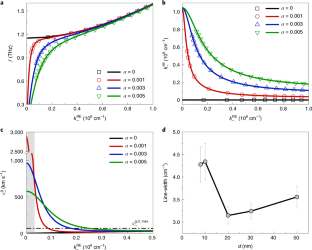 Data availability
Source data are provided with this paper. All other data that support the plots within this paper and other findings of this study are available from the Supplementary Information or the corresponding authors upon reasonable request.
Code availability
The code that has been used for this work is available from the corresponding authors upon reasonable request.
References
Chumak, A. V., Vasyuchka, V. I., Serga, A. A. & Hillebrands, B. Magnon spintronics. Nat. Phys. 11, 453–461 (2015).

Hou, D., Qiu, Z. & Saitoh, E. Spin transport in antiferromagnetic insulators: progress and challenges. NPG Asia Mater. 11, 35 (2019).

Lebrun, R. et al. Tunable long-distance spin transport in a crystalline antiferromagnetic iron oxide. Nature 561, 222–225 (2018).

Hutchings, M. T. & Samuelsen, E. J. Measurement of spin-wave dispersion in NiO by inelastic neutron scattering and its relation to magnetic properties. Phys. Rev. B 6, 3447–3461 (1972).

Gomonay, O., Jungwirth, T. & Sinova, J. High antiferromagnetic domain wall velocity induced by Néel spin-orbit torques. Phys. Rev. Lett. 117, 017202 (2016).

Kampfrath, T. et al. Coherent terahertz control of antiferromagnetic spin waves. Nat. Photon. 5, 31–34 (2011).

Cheng, R., Xiao, D. & Brataas, A. Terahertz antiferromagnetic spin Hall nano-oscillator. Phys. Rev. Lett. 116, 207603 (2016).

Li, J. et al. Spin current from sub-terahertz-generated antiferromagnetic magnons. Nature 578, 70–74 (2020).

Vaidya, P. et al. Subterahertz spin pumping from an insulating antiferromagnet. Science 368, 160–165 (2020).

Olejník, K. et al. Terahertz electrical writing speed in an antiferromagnetic memory. Sci. Adv. 4, eaar3566 (2018).

Shiino, T. et al. Antiferromagnetic domain wall motion driven by spin-orbit torques. Phys. Rev. Lett. 117, 087203 (2016).

Lan, J., Yu, W. & Xiao, J. Antiferromagnetic domain wall as spin wave polarizer and retarder. Nat. Commun. 8, 178 (2017).

Daniels, M. W., Cheng, R., Yu, W., Xiao, J. & Xiao, D. Nonabelian magnonics in antiferromagnets. Phys. Rev. B 98, 134450 (2018).

Rezende, S. M., Azevedo, A. & Rodríguez-Suárez, R. L. Introduction to antiferromagnetic magnons. J. Appl. Phys. 126, 151101 (2019).

Brataas, A., van Wees, B., Klein, O., de Loubens, G. & Viret, M. Spin insulatronics. Phys. Rep. 885, 1–27 (2020).

Kampfrath, T. et al. Terahertz spin current pulses controlled by magnetic heterostructures. Nat. Nanotechnol. 8, 256–260 (2013).

Wu, Y. et al. High-performance THz emitters based on ferromagnetic/nonmagnetic heterostructures. Adv. Mater. 29, 1603031 (2017).

Wang, H., Du, C., Hammel, P. C. & Yang, F. Antiferromagnonic spin transport from Y3Fe5O12 into NiO. Phys. Rev. Lett. 113, 097202 (2014).

Li, C. H., van't Erve, O. M. J., Yan, C., Li, L. & Jonker, B. T. Electrical detection of charge-to-spin and spin-to-charge conversion in a topological insulator Bi2Te3 using BN/Al2O3 hybrid tunnel barrier. Sci. Rep. 8, 10265 (2018).

Nogués, J. & Schuller, I. K. Exchange bias. J. Magn. Magn. Mater. 192, 203–232 (1999).

Ma, L. Y. et al. NiO-thickness dependent magnetic anisotropies in Fe/NiO/Au(001) and Fe/NiO/MgO(001) systems. J. Magn. Magn. Mater. 324, 528–533 (2012).

Braun, L. et al. Ultrafast photocurrents at the surface of the three-dimensional topological insulator Bi2Se3. Nat. Commun. 7, 13259 (2016).

Beaurepaire, E. et al. Coherent terahertz emission from ferromagnetic films excited by femtosecond laser pulses. Appl. Phys. Lett. 84, 3465–3467 (2004).

Higuchi, T., Kanda, N., Tamaru, H. & Kuwata-Gonokami, M. Selection rules for light-induced magnetization of a crystal with threefold symmetry: the case of antiferromagnetic NiO. Phys. Rev. Lett. 106, 047401 (2011).

Wang, Y. et al. Magnetization switching by magnon-mediated spin torque through an antiferromagnetic insulator. Science 366, 1125–1128 (2019).

Qiu, H. et al. Ultrafast spin current generated from an antiferromagnet. Nat. Phys. 17, 388–394 (2021).

Malozemoff, A. P. Random-field model of exchange anisotropy at rough ferromagnetic-antiferromagnetic interfaces. Phys. Rev. B 35, 3679–3682 (1987).

Haldane, F. D. M. Nonlinear field theory of large-spin Heisenberg antiferromagnets: semiclassically quantized solitons of the one-dimensional easy-axis Néel state. Phys. Rev. Lett. 50, 1153–1156 (1983).

Caretta, L. et al. Relativistic kinematics of a magnetic soliton. Science 370, 1438–1442 (2020).

Garrett, C. G. B. & McCumber, D. E. Propagation of a Gaussian light pulse through an anomalous dispersion medium. Phys. Rev. A 1, 305–313 (1970).

Wang, L. J., Kuzmich, A. & Dogariu, A. Gain-assisted superluminal light propagation. Nature 406, 277–279 (2000).

Bigelow, M. S., Lepeshkin, N. N. & Boyd, R. W. Superluminal and slow light propagation in a room-temperature solid. Science 301, 200–202 (2003).

Moriyama, T. et al. Intrinsic and extrinsic antiferromagnetic damping in NiO. Phys. Rev. Mater. 3, 051402 (2019).

Khymyn, R., Lisenkov, I., Tiberkevich, V. S., Slavin, A. N. & Ivanov, B. A. Transformation of spin current by antiferromagnetic insulators. Phys. Rev. B 93, 224421 (2016).

Dąbrowski, M. et al. Coherent transfer of spin angular momentum by evanescent spin waves within antiferromagnetic NiO. Phys. Rev. Lett. 124, 217201 (2020).
Acknowledgements
We thank D. Zhao and E. Chia for discussion of THz measurements and H.-W. Lee, J. H. Oh and K.-W. Kim for fruitful discussions of theory. The work is partially supported by the SpOT-LITE program (A*STAR grant, A18A6b0057), AME-IRG (grant no. A1983c0037) through RIE2020 funds and a National Research Foundation of Korea Investigatorship (NRFI06-2020-0015). D.-K.L. and K.-J.L. were supported by the National Research Foundation of Korea, funded by the Ministry of Science and ICT (2020R1A2C3013302). S.K.K. was supported by the Brain Pool Plus Program through the National Research Foundation of Korea, funded by the Ministry of Science and ICT (grant no. NRF-2020H1D3A2A03099291) and by the National Research Foundation of Korea, funded by the Korean government via the SRC Center for Quantum Coherence in Condensed Matter (grant no. NRF-2016R1A5A1008184). Q.X. acknowledges support from the State Key Laboratory of Low-Dimensional Quantum Physics and a start-up grant from Tsinghua University.
Ethics declarations
Competing interests
The authors declare no competing interests.
Additional information
Peer review information Nature Nanotechnology thanks the anonymous reviewers for their contribution to the peer review of this work.
Publisher's note Springer Nature remains neutral with regard to jurisdictional claims in published maps and institutional affiliations.
Supplementary information
About this article
Cite this article
Lee, K., Lee, DK., Yang, D. et al. Superluminal-like magnon propagation in antiferromagnetic NiO at nanoscale distances. Nat. Nanotechnol. 16, 1337–1341 (2021). https://doi.org/10.1038/s41565-021-00983-4
Received:

Accepted:

Published:

Issue Date:

DOI: https://doi.org/10.1038/s41565-021-00983-4
This article is cited by
Jiahao Han
Ran Cheng
Shunsuke Fukami

Nature Materials (2023)