Abstract
Chimeric antigen receptor (CAR) T cell-based immunotherapy, approved by the US Food and Drug Administration, has shown curative potential in patients with haematological malignancies. However, owing to the lack of control over the location and duration of the anti-tumour immune response, CAR T cell therapy still faces safety challenges arising from cytokine release syndrome and on-target, off-tumour toxicity. Herein, we present the design of light-switchable CAR (designated LiCAR) T cells that allow real-time phototunable activation of therapeutic T cells to precisely induce tumour cell killing. When coupled with imaging-guided, surgically removable upconversion nanoplates that have enhanced near-infrared-to-blue upconversion luminescence as miniature deep-tissue photon transducers, LiCAR T cells enable both spatial and temporal control over T cell-mediated anti-tumour therapeutic activity in vivo with greatly mitigated side effects. Our nano-optogenetic immunomodulation platform not only provides a unique approach to interrogate CAR-mediated anti-tumour immunity, but also sets the stage for developing precision medicine to deliver personalized anticancer therapy.
Relevant articles
Open Access articles citing this article.
Skylar T. Chuang

,

Brandon Conklin

…

Ki-Bum Lee

Nano Convergence Open Access 28 April 2022
Access options
Subscribe to Nature+
Get immediate online access to Nature and 55 other Nature journal
Subscribe to Journal
Get full journal access for 1 year
$119.00
only $9.92 per issue
All prices are NET prices.
VAT will be added later in the checkout.
Tax calculation will be finalised during checkout.
Buy article
Get time limited or full article access on ReadCube.
$32.00
All prices are NET prices.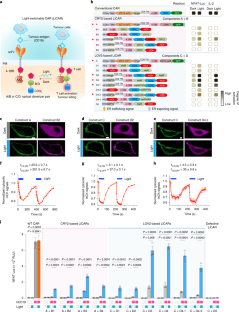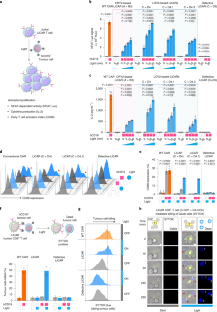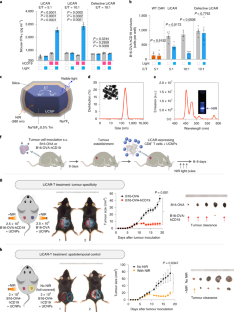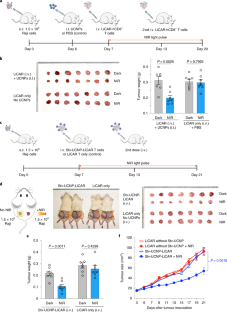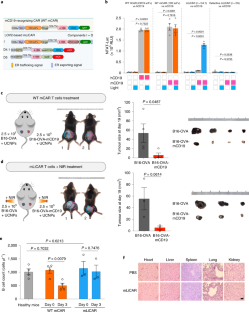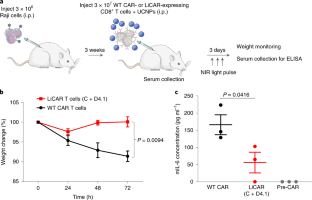 References
June, C. H., O'Connor, R. S., Kawalekar, O. U., Ghassemi, S. & Milone, M. C. CAR T cell immunotherapy for human cancer. Science 359, 1361–1365 (2018).

Chmielewski, M., Hombach, A. A. & Abken, H. Antigen-specific T-cell activation independently of the MHC: chimeric antigen receptor-redirected T cells. Front. Immunol. 4, 371 (2013).

Grupp, S. A. et al. Chimeric antigen receptor-modified T cells for acute lymphoid leukemia. N. Engl. J. Med. 368, 1509–1518 (2013).

Maude, S. L. et al. Tisagenlecleucel in children and young adults with B-cell lymphoblastic leukemia. N. Engl. J. Med. 378, 439–448 (2018).

Sadelain, M., Brentjens, R. & Riviere, I. The basic principles of chimeric antigen receptor design. Cancer Discov. 3, 388–398 (2013).

Kochenderfer, J. N. et al. B-cell depletion and remissions of malignancy along with cytokine-associated toxicity in a clinical trial of anti-CD19 chimeric-antigen-receptor-transduced T cells. Blood 119, 2709–2720 (2012).

Neelapu, S. S. et al. Axicabtagene ciloleucel CAR T-cell therapy in refractory large B-cell lymphoma. N. Engl. J. Med. 377, 2531–2544 (2017).

Kennedy, M. J. et al. Rapid blue-light-mediated induction of protein interactions in living cells. Nat. Methods 7, 973–975 (2010).

Guntas, G. et al. Engineering an improved light-induced dimer (iLID) for controlling the localization and activity of signaling proteins. Proc. Natl Acad. Sci. USA 112, 112–117 (2015).

He, L. et al. Near-infrared photoactivatable control of Ca2+ signaling and optogenetic immunomodulation. Elife https://doi.org/10.7554/eLife.10024 (2015).

Wu, J. et al. An activating immunoreceptor complex formed by NKG2D and DAP10. Science 285, 730–732 (1999).

Wu, C. Y., Roybal, K. T., Puchner, E. M., Onuffer, J. & Lim, W. A. Remote control of therapeutic T cells through a small molecule-gated chimeric receptor. Science 350, aab4077 (2015).

Irving, B. A., Chan, A. C. & Weiss, A. Functional characterization of a signal transducing motif present in the T cell antigen receptor zeta chain. J. Exp. Med. 177, 1093–1103 (1993).

Zimmerman, S. P. et al. Tuning the binding affinities and reversion kinetics of a light inducible dimer allows control of transmembrane protein localization. Biochemistry 55, 5264–5271 (2016).

Chen, J. et al. NR4A transcription factors limit CAR T cell function in solid tumours. Nature 567, 530–534 (2019).

Maraskovsky, E., Chen, W. F. & Shortman, K. IL-2 and IFN-gamma are two necessary lymphokines in the development of cytolytic T cells. J. Immunol. 143, 1210–1214 (1989).

Yu, N. et al. Near-infrared-light activatable nanoparticles for deep-tissue-penetrating wireless optogenetics. Adv. Healthc. Mater. 8, e1801132 (2019).

Tan, P., He, L., Han, G. & Zhou, Y. Optogenetic immunomodulation: shedding light on antitumor immunity. Trends Biotechnol. 35, 215–226 (2017).

Nguyen, N. T. et al. CRAC channel-based optogenetics. Cell Calcium 75, 79–88 (2018).

Huang, K., Jayakumar, M. K. G. & Zhang, Y. Lutetium doping for making big core and core-shell upconversion nanoparticles. J. Mater. Chem. C 3, 10267–10272 (2015).

Barolet, D. Light-emitting diodes (LEDs) in dermatology. Semin Cutan. Med. Surg. 27, 227–238 (2008).

Pan, Y. et al. Mechanogenetics for the remote and noninvasive control of cancer immunotherapy. Proc. Natl Acad. Sci. USA 115, 992–997 (2018).

Ma, Y. et al. Targeting of antigens to B lymphocytes via CD19 as a means for tumor vaccine development. J. Immunol. 190, 5588–5599 (2013).

Dai, H., Wang, Y., Lu, X. & Han, W. Chimeric antigen receptors modified T-cells for cancer therapy. J Natl Cancer Inst. https://doi.org/10.1093/jnci/djv439 (2016)

Lee, D. W. et al. T cells expressing CD19 chimeric antigen receptors for acute lymphoblastic leukaemia in children and young adults: a phase 1 dose-escalation trial. Lancet 385, 517–528 (2015).

Maude, S. L. et al. Chimeric antigen receptor T cells for sustained remissions in leukemia. N. Engl. J. Med. 371, 1507–1517 (2014).

Giavridis, T. et al. CAR T cell–induced cytokine release syndrome is mediated by macrophages and abated by IL-1 blockade. Nat. Med. 24, 731–738 (2018).

Allen, M. E. et al. An AND-gated drug and photoactivatable Cre-loxP system for spatiotemporal control in cell-based therapeutics. ACS Synth. Biol. 8, 2359–2371 (2019).

Huang, Z. et al. Engineering light-controllable CAR T cells for cancer immunotherapy. Sci. Adv. 6, eaay9209 (2020).
Acknowledgements
We acknowledge L. Strittmatter and the Electron Microscopy Facility at University of Massachusetts Medical School for EDS sample handling and analysis. We thank S. Siwko for manuscript editing. This work was supported by grants from the National Institutes of Health (R01CA232017 to Y.Z. and G.H., R01GM112003 to Y.Z., R01HL146852 to Y.H., R21GM138824 to Y.H., R01CA240258 to Y.H., R01AI040127 to A.R. and R01AI109842 to A.R.), the Department of Defense (W81XWH-19-1-0379 to G.H. and Y.Z.), the Cancer Prevention and Research Institute of Texas (RR140053, with Y.H. as a CPRIT Scholar in Cancer Research, and RP210070 to Y.Z.), the Welch Foundation (BE-1913-20190330 to Y.Z.) and the American Cancer Society (RSG-16-215-01-TBE to Y.Z. and RSG-18-043-01-LIB to Y.H.).
Ethics declarations
Competing interests
Y.Z. and G.H. have submitted a patent application to the United States Patent and Trademark Office pertaining to the design and biomedical application aspect(s) of this work (application number 62/942,770). The remaining authors declare no competing interests.
Additional information
Peer review information Nature Nanotechnology thanks Betty Kim and the other, anonymous, reviewer(s) for their contribution to the peer review of this work.
Publisher's note Springer Nature remains neutral with regard to jurisdictional claims in published maps and institutional affiliations.
Supplementary information
About this article
Cite this article
Nguyen, N.T., Huang, K., Zeng, H. et al. Nano-optogenetic engineering of CAR T cells for precision immunotherapy with enhanced safety. Nat. Nanotechnol. 16, 1424–1434 (2021). https://doi.org/10.1038/s41565-021-00982-5
Received:

Accepted:

Published:

Issue Date:

DOI: https://doi.org/10.1038/s41565-021-00982-5
This article is cited by
Skylar T. Chuang
Brandon Conklin
Ki-Bum Lee

Nano Convergence (2022)

Simeng Zhang
Xing Wan
Guan Wang

EPMA Journal (2022)