Co-drawing of metallic glass with polymers of similar viscosity–temperature behaviour enables highly uniform nanoscale cross-sectional features of various shapes in functional fibres without length limit.
Access options
Subscribe to Journal
Get full journal access for 1 year
$169.00
only $14.08 per issue
All prices are NET prices.
VAT will be added later in the checkout.
Rent or Buy article
Get time limited or full article access on ReadCube.
from$8.99
All prices are NET prices.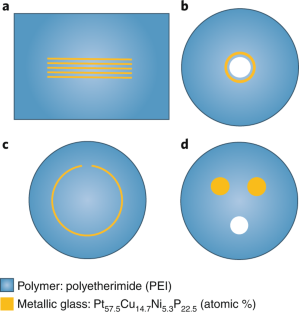 References
1.

Yan, W. et al. Nat. Nanotechnol. https://doi.org/10.1038/s41565-020-0747-9 (2020).

2.

Han, Y., Embury, J. D., Petrovic, J. J. & Weatherly, G. C. Acta Mater. 46, 4691–4699 (1998).

3.

Adar, E. & Bolotinsky, Y. Glass-coated wires and methods for the production thereof. US patent 20110036123A1 (2011).

4.

Gonzalez-Legarreta, L. et al. J. Alloys Comp. 830, 154576 (2020).

5.

Chiriac, H. et al. Cryst. 7, 48 (2017).

6.

Nagel, S. R., MacChesney, J. B. & Walker, K. L. IEEE Trans. Microwave Theory Techn. MTT-30, 305–322 (1982).

7.

Kersting, B. & Salinga, M. Faraday Discuss. 213, 357–370 (2019).
About this article
Cite this article
Greer, A.L. Fine fibres with multifunctionality. Nat. Nanotechnol. (2020). https://doi.org/10.1038/s41565-020-0725-2