Abstract
Atherosclerosis is the process that underlies heart attack and stroke. A characteristic feature of the atherosclerotic plaque is the accumulation of apoptotic cells in the necrotic core. Prophagocytic antibody-based therapies are currently being explored to stimulate the phagocytic clearance of apoptotic cells; however, these therapies can cause off-target clearance of healthy tissues, which leads to toxicities such as anaemia. Here we developed a macrophage-specific nanotherapy based on single-walled carbon nanotubes loaded with a chemical inhibitor of the antiphagocytic CD47-SIRPα signalling axis. We demonstrate that these single-walled carbon nanotubes accumulate within the atherosclerotic plaque, reactivate lesional phagocytosis and reduce the plaque burden in atheroprone apolipoprotein-E-deficient mice without compromising safety, and thereby overcome a key translational barrier for this class of drugs. Single-cell RNA sequencing analysis reveals that prophagocytic single-walled carbon nanotubes decrease the expression of inflammatory genes linked to cytokine and chemokine pathways in lesional macrophages, which demonstrates the potential of 'Trojan horse' nanoparticles to prevent atherosclerotic cardiovascular disease.
Relevant articles
Open Access articles citing this article.
Xiaoxue Fu

,

Xiaojuan Yu

…

Chao Yu

Nature Communications Open Access 01 November 2022

Hui Xu

,

Shuang Li

&

You-Shuo Liu

Signal Transduction and Targeted Therapy Open Access 11 July 2022

Lixuan Zhang

,

Yan Guo

…

Bo Jin

Scientific Reports Open Access 01 February 2022
Access options
Subscribe to Nature+
Get immediate online access to Nature and 55 other Nature journal
Subscribe to Journal
Get full journal access for 1 year
$119.00
only $9.92 per issue
All prices are NET prices.
VAT will be added later in the checkout.
Tax calculation will be finalised during checkout.
Buy article
Get time limited or full article access on ReadCube.
$32.00
All prices are NET prices.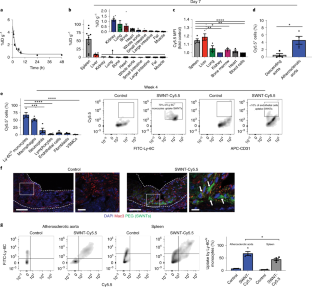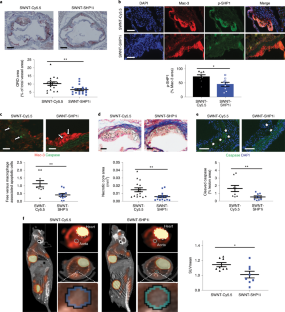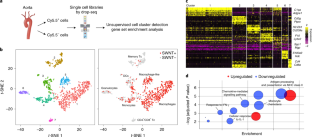 Data availability
The data that support the findings of this study are available from the corresponding author upon reasonable request.
Code availability
Code used on R package for analysis of scRNA-seq data can be accessed by contacting A.M.F. at atflores@stanford.edu.
References
Arandjelovic, S. & Ravichandran, K. S. Phagocytosis of apoptotic cells in homeostasis. Nat. Immunol. 16, 907–917 (2015).

Huynh, M. L., Fadok, V. A. & Henson, P. M. Phosphatidylserine-dependent ingestion of apoptotic cells promotes TGF-β1 secretion and the resolution of inflammation. J. Clin. Invest. 109, 41–50 (2002).

Yurdagul, A. Jr., Doran, A. C., Cai, B., Fredman, G. & Tabas, I. A. Mechanisms and consequences of defective efferocytosis in atherosclerosis. Front. Cardiovasc. Med. 4, 86 (2017).

Jaiswal, S. et al. CD47 is upregulated on circulating hematopoietic stem cells and leukemia cells to avoid phagocytosis. Cell 138, 271–285 (2009).

Willingham, S. B. et al. The CD47-signal regulatory protein alpha (SIRPα) interaction is a therapeutic target for human solid tumors. Proc. Natl Acad. Sci. USA 109, 6662–6667 (2012).

Kojima, Y. et al. CD47-blocking antibodies restore phagocytosis and prevent atherosclerosis. Nature 536, 86–90 (2016).

Leading Causes of Death, 1900–1998 (Centre for Disease Control and Prevention, 2015); https://www.cdc.gov/nchs/data/dvs/lead1900_98.pdf

Heron, M. & Anderson, R. N. Changes in the Leading Cause of Death: Recent Patterns in Heart Disease and Cancer Mortality (National Center for Health Statistics, 2016); https://www.cdc.gov/nchs/data/databriefs/db254.pdf

Brown, E. J. & Frazier, W. A. Integrin-associated protein (CD47) and its ligands. Trends Cell Biol. 11, 130–135 (2001).

Gresham, H. D. et al. Negative regulation of phagocytosis in murine macrophages by the Src kinase family member, Fgr. J. Exp. Med. 191, 515–528 (2000).

Liu, J. et al. Pre-clinical development of a humanized Anti-CD47 antibody with anti-cancer therapeutic potential. PLoS ONE 10, e0137345 (2015).

Weiskopf, K. et al. Engineered SIRPα variants as immunotherapeutic adjuvants to anticancer antibodies. Science 341, 88–91 (2013).

Liu, Z., Sun, X., Nakayama-Ratchford, N. & Dai, H. Supramolecular chemistry on water-soluble carbon nanotubes for drug loading and delivery. ACS Nano 1, 50–56 (2007).

Schipper, M. L. et al. A pilot toxicology study of single-walled carbon nanotubes in a small sample of mice. Nat. Nanotechnol. 3, 216–221 (2008).

Liu, Z. et al. Circulation and long-term fate of functionalized, biocompatible single-walled carbon nanotubes in mice probed by Raman spectroscopy. Proc. Natl Acad. Sci. USA 105, 1410–1415 (2008).

Smith, B. R. et al. Selective uptake of single-walled carbon nanotubes by circulating monocytes for enhanced tumour delivery. Nat. Nanotechnol. 9, 481–487 (2014).

Swirski, F. K. et al. Ly-6Chi monocytes dominate hypercholesterolemia-associated monocytosis and give rise to macrophages in atheromata. J. Clin. Invest. 117, 195–205 (2007).

Robbins, C. S. et al. Extramedullary hematopoiesis generates Ly-6Chigh monocytes that infiltrate atherosclerotic lesions. Circulation 125, 364–374 (2012).

Swirski, F. K. et al. Monocyte accumulation in mouse atherogenesis is progressive and proportional to extent of disease. Proc. Natl Acad. Sci. USA 103, 10340–10345 (2006).

Moore, K. J. & Tabas, I. Macrophages in the pathogenesis of atherosclerosis. Cell 145, 341–355 (2011).

Liu, Z. et al. In vivo biodistribution and highly efficient tumour targeting of carbon nanotubes in mice. Nat. Nanotechnol. 2, 47–52 (2007).

Campagnolo, L. et al. Biodistribution and toxicity of pegylated single wall carbon nanotubes in pregnant mice. Part. Fibre Toxicol. 10, 21 (2013).

Hung, S, C., Zhu, S., Ma, Z., Ghosen, E. & Mellins, E. D. Single-walled carbon nanotubes target neutrophils and Ly-6Chi monocytes and localize to joints in murine models of arthritis. J. Immunol. 175 (Suppl.), 23 (2018).

Daugherty, A., Manning, M. W. & Cassis, L. A. Angiotensin II promotes atherosclerotic lesions and aneurysms in apolipoprotein E-deficient mice. J. Clin. Invest. 105, 1605–1612 (2000).

Zhang, Z., Shen, K., Lu, W. & Cole, P. A. The role of C-terminal tyrosine phosphorylation in the regulation of SHP-1 explored via expressed protein ligation. J. Biol. Chem. 278, 4668–4674 (2003).

Schrijvers, D. M., De Meyer, G. R., Kockx, M. M., Herman, A. G. & Martinet, W. Phagocytosis of apoptotic cells by macrophages is impaired in atherosclerosis. Arterioscler. Thromb. Vasc. Biol. 25, 1256–1261 (2005).

Poon, I. K., Lucas, C. D., Rossi, A. G. & Ravichandran, K. S. Apoptotic cell clearance: basic biology and therapeutic potential. Nat. Rev. Immunol. 14, 166–180 (2014).

Rudd, J. H. et al. Imaging atherosclerotic plaque inflammation by fluorodeoxyglucose with positron emission tomography: ready for prime time? J. Am. Coll. Cardiol. 55, 2527–2535 (2010).

Luo, G. et al. Spontaneous calcification of arteries and cartilage in mice lacking matrix GLA protein. Nature 386, 78–81 (1997).

Carballo, E., Gilkeson, G. S. & Blackshear, P. J. Bone marrow transplantation reproduces the tristetraprolin-deficiency syndrome in recombination activating gene-2 (–/–) mice. Evidence that monocyte/macrophage progenitors may be responsible for TNFalpha overproduction. J. Clin. Invest. 100, 986–995 (1997).

Yoshimura, A., Naka, T. & Kubo, M. SOCS proteins, cytokine signalling and immune regulation. Nat. Rev. Immunol. 7, 454–465 (2007).

Barker, R. N. et al. Antigen presentation by macrophages is enhanced by the uptake of necrotic, but not apoptotic, cells. Clin. Exp. Immunol. 127, 220–225 (2002).

George, T. I. Automated Hematology Instrumentation (UptoDate Inc., 2018).

Ridker, P. M. et al. Antiinflammatory therapy with canakinumab for atherosclerotic disease. N. Engl. J. Med. 377, 1119–1131 (2017).

Advani, R. et al. CD47 blockade by Hu5F9-G4 and rituximab in non-Hodgkin's lymphoma. N. Engl. J. Med. 379, 1711–1721 (2018).

Plutzky, J., Neel, B. G. & Rosenberg, R. D. Isolation of a src homology 2-containing tyrosine phosphatase. Proc. Natl Acad. Sci. USA 89, 1123–1127 (1992).

Green, M. C. & Shultz, L. D. Motheaten, an immunodeficient mutant of the mouse. I. Genetics and pathology. J. Hered. 66, 250–258 (1975).

Kojima, Y. et al. Cyclin-dependent kinase inhibitor 2B regulates efferocytosis and atherosclerosis. J. Clin. Invest. 124, 1083–1097 (2014).

Smith, B. R. & Gambhir, S. S. Nanomaterials for in vivo imaging. Chem. Rev. 117, 901–986 (2017).

Flores, A. M. et al. Nanoparticle therapy for vascular diseases. Arterioscler. Thromb. Vasc. Biol. 39, 635–646 (2019).

Alidori, S. et al. Targeted fibrillar nanocarbon RNAi treatment of acute kidney injury. Sci. Transl. Med. 8, 331ra339 (2016).

Kagan, V. E. et al. Carbon nanotubes degraded by neutrophil myeloperoxidase induce less pulmonary inflammation. Nat. Nanotechnol. 5, 354–359 (2010).

Elgrabli, D. et al. Carbon nanotube degradation in macrophages: live nanoscale monitoring and understanding of biological pathway. ACS Nano 9, 10113–10124 (2015).

Green, D. R., Oguin, T. H. & Martinez, J. The clearance of dying cells: table for two. Cell Death Differ. 23, 915–926 (2016).

Fredman, G. et al. Targeted nanoparticles containing the proresolving peptide Ac2-26 protect against advanced atherosclerosis in hypercholesterolemic mice. Sci. Transl. Med. 7, 275ra220 (2015).

Liu, Z., Tabakman, S. M., Chen, Z. & Dai, H. Preparation of carbon nanotube bioconjugates for biomedical applications. Nat. Protocols 4, 1372–1382 (2009).

Smith, B. R. et al. Shape matters: intravital microscopy reveals surprising geometrical dependence for nanoparticles in tumor models of extravasation. Nano Lett. 12, 3369–3377 (2012).

Zheng, G. X. et al. Massively parallel digital transcriptional profiling of single cells. Nat. Commun. 8, 14049 (2017).

Butler, A., Hoffman, P., Smibert, P., Papalexi, E. & Satija, R. Integrating single-cell transcriptomic data across different conditions, technologies, and species. Nat. Biotechnol. 36, 411–420 (2018).

Ashburner, M. et al. Gene ontology: tool for the unification of biology. The gene ontology consortium. Nat. Genet. 25, 25–29 (2000).
Acknowledgements
A.M.F. is a Howard Hughes Medical Institute Research Fellow. K.-U.J. and P.T. are supported by Deutsche Forschungsgemeinschaft grant JA 2869/1-1:1 and TS 385/1-1. This study was funded by NIH R35 HL144475, R01 HL123370, a 2018 Fondation Leducq Award (to N.J.L.), K99 CA160764 (to B.R.S.), a Catalyst Award from the Dr. Ralph and Marian Falk Medical Research Trust, the Johnson Family Foundation (to N.J.L.) and the American Heart Association Transformational Project grant 18TPA34230113 (to B.R.S. and N.J.L.). We acknowledge the Stanford Small Animal Imaging Facility, the Stanford Cyclotron & Radiochemistry Facility, the Stanford Nano Shared Facilities/Stanford Nanofabrication Facility (National Science Foundation award ECCS-1542152) and the Stanford Shared FACS facility used for sorting (NIH S10 S10RR025518-01). The sequencing data were generated on an Illumina HiSeq 4000 that was purchased with funds from NIH S10OD018220. The authors acknowledge S. Gustafsson for help with bioinformatics analyses, I. Kalashnikova for technical assistance in nanocharacterization, T. Shaffer for radiochemistry assistance, D.-H. Chen for help with the TEM imaging, M. Weglarz of the Stanford FACS facility for technical support, D. Wagh of the Stanford Functional Genomics Facility for assistance with scRNA-seq and T. Doyle for valuable input on small animal imaging.
Ethics declarations
Competing interests
N.J.L. and I.L.W. are co-founders and hold equity interest in 47 Incorporated.
Additional information
Peer review information Nature Nanotechnology thanks Gabrielle Fredman, Willem Mulder and Edward Thorp for their contribution to the peer review of this work.
Publisher's note Springer Nature remains neutral with regard to jurisdictional claims in published maps and institutional affiliations.
Supplementary information
Supplementary data legends, methods, refs. 1–7 and Tables 1–6.
18F-FDG-PET/CT of SWNT-SHP1i treated and SWNT-Cy5.5 control apoE−/−mice.
About this article
Cite this article
Flores, A.M., Hosseini-Nassab, N., Jarr, KU. et al. Pro-efferocytic nanoparticles are specifically taken up by lesional macrophages and prevent atherosclerosis. Nat. Nanotechnol. 15, 154–161 (2020). https://doi.org/10.1038/s41565-019-0619-3
Received:

Accepted:

Published:

Issue Date:

DOI: https://doi.org/10.1038/s41565-019-0619-3