Nanostructures of electrically conducting polymers show plasmonic behaviour that indicates their promise as switchable optical materials.
Access options
Subscribe to Journal
Get full journal access for 1 year
$59.00
only $4.92 per issue
All prices are NET prices.
VAT will be added later in the checkout.
Tax calculation will be finalised during checkout.
Rent or Buy article
Get time limited or full article access on ReadCube.
from$8.99
All prices are NET prices.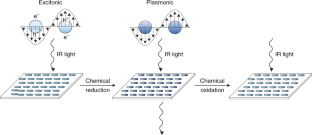 References
1.

Das, R., Ghaffarzadeh, K. & He, X. Flexible, printed OLED displays 2020–2030: forecasts, markets, technologies IDTechEx https://www.idtechex.com/en/research-report/flexible-printed-oled-displays-2020-2030-forecasts-markets-technologies/693 (2019).

2.

MacDiarmid, A. G. Rev. Mod. Phys. 73, 701–712 (2001).

3.

Chen, S. et al. Nat. Nanotechnol. https://doi.org/10.1038/s41565-019-0583-y (2019).

4.

Silva, C. et al. Phys. Rev. B 64, 125211–125217 (2001).

5.

Gramotnev, D. K. & Bozhevolnyi, S. I. Nat. Photon. 4, 83–91 (2010).

6.

Mortimer, R. J. Electrochim. Acta 44, 2971–2981 (1999).

7.

Evans, D. Polym. Int. 67, 351–355 (2018).
About this article
Cite this article
Evans, D. The switch is on. Nat. Nanotechnol. 15, 7–8 (2020). https://doi.org/10.1038/s41565-019-0588-6