Abstract
Precision placement and transport of biomolecules are critical to many single-molecule manipulation and detection methods. One such method is nanopore sequencing, in which the delivery of biomolecules towards a nanopore controls the method's throughput. Using all-atom molecular dynamics, here we show that the precision transport of biomolecules can be realized by utilizing ubiquitous features of graphene surface-step defects that separate multilayer domains. Subject to an external force, we found that adsorbed DNA moved much faster down a step defect than up, and even faster along the defect edge, regardless of whether the motion was produced by a mechanical force or a solvent flow. We utilized this direction dependency to demonstrate a mechanical analogue of an electric diode and a system for delivering DNA molecules to a nanopore. The defect-guided delivery principle can be used for the separation, concentration and storage of scarce biomolecular species, on-demand chemical reactions and nanopore sensing.
Access options
Subscribe to Journal
Get full journal access for 1 year
$99.00
only $8.25 per issue
All prices are NET prices.
VAT will be added later in the checkout.
Tax calculation will be finalised during checkout.
Rent or Buy article
Get time limited or full article access on ReadCube.
from$8.99
All prices are NET prices.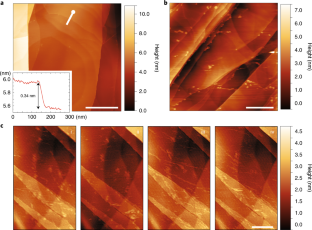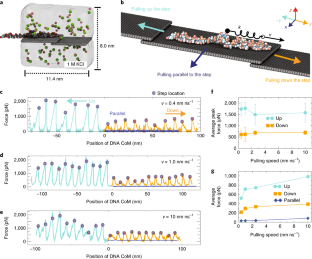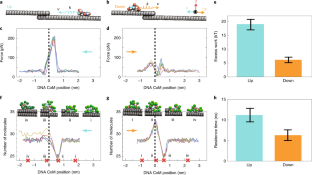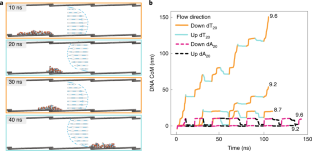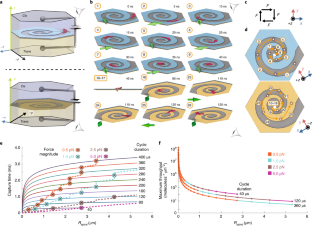 Data availability
The data that support the plots within this paper and other findings of this study are available from the corresponding author upon reasonable request.
References
1.

Han, J. & Craighead, H. G. Separation of long DNA molecules in a microfabricated entropic trap array. Science 288, 1026–1029 (2000).

2.

Huang, L. R., Cox, E. C., Austin, R. H. & Sturm, J. C. Continuous particle separation through deterministic lateral displacement. Science 304, 987–990 (2004).

3.

Fu, J., Schoch, R. B., Stevens, A. L., Tannenbaum, S. R. & Han, J. A patterned anisotropic nanofluidic sieving structure for continuous-flow separation of DNA and proteins. Nat. Nanotechnol. 2, 121–128 (2007).

4.

Hong, J. W., Studer, V., Hang, G., Anderson, W. F. & Quake, S. R. A nanoliter-scale nucleic acid processor with parallel architecture. Nat. Biotechnol. 22, 435 (2004).

5.

Sarkar, A., Kolitz, S., Lauffenburger, D. A. & Han, J. Microfluidic probe for single-cell analysis in adherent tissue culture. Nat. Commun. 5, 3421 (2014).

6.

Fan, X. & White, I. M. Optofluidic microsystems for chemical and biological analysis. Nat. Photon. 5, 591 (2011).

7.

Wang, C. et al. Wafer-scale integration of sacrificial nanofluidic chips for detecting and manipulating single DNA molecules. Nat. Commun. 8, 14243 (2017).

8.

Branton, D. et al. The potential and challenges of nanopore sequencing. Nat. Biotechnol. 26, 1146–1153 (2008).

9.

Wanunu, M., Morrison, W., Rabin, Y., Grosberg, A. Y. & Meller, A. Electrostatic focusing of unlabelled DNA into nanoscale pores using a salt gradient. Nat. Nanotechnol. 5, 165–169 (2010).

10.

Kasianowicz, J. J., Brandin, E., Branton, D. & Deamer, D. W. Characterization of individual polynucleotide molecules using a membrane channel. Proc. Natl Acad. Sci. USA 93, 13770–13773 (1996).

11.

Akeson, M., Branton, D., Kasianowicz, J. J., Brandin, E. & Deamer, D. W. Microsecond time-scale discrimination among polycytidylic acid, polyadenylic acid, and polyuridylic acid as homopolymers or as segments within single RNA molecules. Biophys. J. 77, 3227–3233 (1999).

12.

Meller, A., Nivon, L., Brandin, E., Golovchenko, J. & Branton, D. Rapid nanopore discrimination between single polynucleotide molecules. Proc. Natl Acad. Sci. USA 97, 1079–1084 (2000).

13.

Manrao, E. A. et al. Reading DNA at single-nucleotide resolution with a mutant MspA nanopore and phi29 DNA polymerase. Nat. Biotechnol. 30, 349–353 (2012).

14.

Schneider, G. F. et al. Tailoring the hydrophobicity of graphene for its use as nanopores for DNA translocation. Nat. Commun. 4, 3619 (2013).

15.

Garaj, S., Liu, S., Golovchenko, J. A. & Branton, D. Molecule-hugging graphene nanopores. Proc. Natl Acad. Sci. USA 110, 12192–12196 (2013).

16.

Shan, Y. P. et al. Surface modification of graphene nanopores for protein translocation. Nanotechnology 24, 495102 (2013).

17.

Laszlo, A. H. et al. Decoding long nanopore sequencing reads of natural DNA. Nat. Biotechnol. 32, 829–833 (2014).

18.

Jain, M. et al. Improved data analysis for the MinION nanopore sequencer. Nat. Methods 12, 351–356 (2015).

19.

Lagerqvist, J., Zwolak, M. & Di Ventra, M. Fast DNA sequencing via transverse electronic transport. Nano Lett. 6, 779–782 (2006).

20.

Gracheva, M. E. et al. Simulation of the electric response of DNA translocation through a semiconductor nanopore-capacitor. Nanotechnology 17, 622–633 (2006).

21.

Postma, H. W. C. Rapid sequencing of individual DNA molecules in graphene nanogaps. Nano Lett. 10, 420–425 (2010).

22.

Huang, S. et al. Identifying single bases in a DNA oligomer with electron tunnelling. Nat. Nanotechnol. 5, 868–873 (2010).

23.

Saha, K., Drndić, M. & Nikolić, B. K. DNA base-specific modulation of microampere transverse edge currents through a metallic graphene nanoribbon with a nanopore. Nano Lett. 12, 50–55 (2012).

24.

Kim, M. J., Wanunu, M., Bell, D. C. & Meller, A. Rapid fabrication of uniform size nanopores and nanopore arrays for parallel DNA analysis. Adv. Mater. 18, 3149–3153 (2006).

25.

Dekker, C. Solid-state nanopores. Nat. Nanotechnol. 2, 209–215 (2007).

26.

Liu, K., Feng, J., Kis, A. & Radenovic, A. Atomically thin molybdenum disulfide nanopores with high sensitivity for DNA translocation. ACS Nano 8, 2504–2511 (2014).

27.

Zhou, Z. et al. DNA translocation through hydrophilic nanopore in hexagonal boron nitride. Sci. Rep. 3, 3287 (2013).

28.

Garaj, S. et al. Graphene as a subnanometre trans-electrode membrane. Nature 467, 190–193 (2010).

29.

Merchant, C. A. et al. DNA translocation through graphene nanopores. Nano Lett. 10, 2915–2921 (2010).

30.

Schneider, G. F. et al. DNA translocation through graphene nanopores. Nano Lett. 10, 3163–3167 (2010).

31.

Traversi, F. et al. Detecting the translocation of DNA through a nanopore using graphene nanoribbons. Nat. Nanotechnol. 8, 939–945 (2013).

32.

Novoselov, K. S. et al. Electric field effect in atomically thin carbon films. Science 306, 666–669 (2004).

33.

Brett, A. M. O. & Paquim, A.-M. C. DNA imaged on a HOPG electrode surface by AFM with controlled potential. Bioelectrochemistry 66, 117–124 (2005).

34.

Adamcik, J., Klinov, D. V., Witz, G., Sekatskii, S. K. & Dietler, G. Observation of single-stranded DNA on mica and highly oriented pyrolytic graphite by atomic force microscopy. FEBS Lett. 580, 5671–5675 (2006).

35.

Wells, D. B., Belkin, M., Comer, J. & Aksimentiev, A. Assessing graphene nanopores for sequencing DNA. Nano Lett. 12, 4117–4123 (2012).

36.

Kim, H. S., Farmer, B. L. & Yingling, Y. G. Effect of graphene oxidation rate on adsorption of poly-thymine single stranded DNA. Adv. Mater. Interfaces 4, 1601168 (2017).

37.

Evans, E. & Ritchie, K. Dynamic strength of molecular adhesion bonds. Biophys. J. 72, 1541–1555 (1997).

38.

Wang, C. et al. Hydrodynamics of diamond-shaped gradient nanopillar arrays for effective DNA translocation into nanochannels. ACS Nano 9, 1206–1218 (2015).

39.

Manohar, S. et al. Peeling single-stranded DNA from graphite surface to determine oligonucleotide binding energy by force spectroscopy. Nano Lett. 8, 4365–4372 (2008).

40.

Lee, J.-H., Choi, Y.-K., Kim, H.-J., Scheicher, R. H. & Cho, J.-H. Physisorption of DNA nucleobases on h-BN and graphene: vdW-corrected DFT calculations. J. Phys. Chem. C 117, 13435–13441 (2013).

41.

Astumian, R. D. Thermodynamics and kinetics of a Brownian motor. Science 276, 917–922 (1997).

42.

Freedman, K. J., Ahn, C. W. & Kim, M. J. Detection of long and short DNA using nanopores with graphitic polyhedral edges. ACS Nano 7, 5008–5016 (2013).

43.

Wilson, J., Sloman, L., He, Z. & Aksimentiev, A. Graphene nanopores for protein sequencing. Adv. Funct. Mater. 26, 4830–4838 (2016).

44.

Viovy, J. L. Electrophoresis of DNA and other polyelectrolytes: physical mechanisms. Rev. Mod. Phys. 72, 813–872 (2000).

45.

Stein, D., van der Heyden, F. H., Koopmans, W. J. & Dekker, C. Pressure-driven transport of confined DNA polymers in fluidic channels. Proc. Natl Acad. Sci. USA 103, 15853–15858 (2006).

46.

Squires, T. M. & Quake, S. R. Microfluidics: fluid physics at the nanoliter scale. Rev. Mod. Phys. 77, 977–1026 (2005).

47.

Salaita, K. et al. Massively parallel dip–pen nanolithography with 55 000-pen two-dimensional arrays. Angew. Chem. Int. Ed. 118, 7378–7381 (2006).

48.

Jin, Z. et al. Metallized DNA nanolithography for encoding and transferring spatial information for graphene patterning. Nat. Commun. 4, 1663 (2013).

49.

Russo, C. J. & Golovchenko, J. A. Atom-by-atom nucleation and growth of graphene nanopores. Proc. Natl Acad. Sci. USA 109, 5953–5957 (2012).

50.

Sahin, R., Simsek, E. & Akturk, S. Nanoscale patterning of graphene through femtosecond laser ablation. Appl. Phys. Lett. 104, 053118 (2014).

51.

Nećas, D. & Klapetek, P. Gwyddion: an open-source software for SPM data analysis. Open Phys. 10, 181–188 (2012).

52.

Phillips, J. C. et al. Scalable molecular dynamics with NAMD. J. Comput. Chem. 26, 1781–1802 (2005).

53.

MacKerell, A. D. Jr. Empirical force fields for biological macromolecules: overview and issues. J. Comput. Chem. 25, 1584–1604 (2004).

54.

Darden, T. A., York, D. & Pedersen, L. Particle mesh Ewald: an N log(N) method for Ewald sums in large systems. J. Chem. Phys. 98, 10089–10092 (1993).

55.

Koopman, E. A. & Lowe, C. P. Advantages of a Lowe–Andersen thermostat in molecular dynamics simulations. J. Chem. Phys. 124, 204103 (2006).

56.

Martyna, G. J., Tobias, D. J. & Klein, M. L. Constant pressure molecular dynamics algorithms. J. Chem. Phys. 101, 4177–4189 (1994).

57.

Humphrey, W., Dalke, A. & Schulten, K. VMD: visual molecular dynamics. J. Mol. Graph. 14, 33–38 (1996).

58.

He, Y. et al. Enhanced DNA sequencing performance through edge-hydrogenation of graphene electrodes. Adv. Funct. Mater. 21, 2674–2679 (2011).

59.

van Dijk, M. & Bonvin, A. M. J. J. 3D-DART: a DNA structure modelling server. Nucleic Acids Res. 37, W235–W239 (2009).
Acknowledgements
Research reported in this publication was supported by the National Human Genome Research Institute of the National Institutes of Health under award no. R01-HG007406, National Science Foundation under award no. DMR-0955959 and through a cooperative research agreement with Oxford Nanopore Technologies. The authors acknowledge supercomputer time provided through XSEDE Allocation Grant MCA05S028 and the Blue Waters petascale supercomputer system at the University of Illinois at Urbana–Champaign. A.A. thanks G. Schneider, A. Katan and C. Dekker for their help with setting up the AFM measurements, the Department of Bionanosciences at the Delft University of Technology for their hospitality and the Netherlands Organization for Scientific Research (NWO) for financial support.
Ethics declarations
Competing interests
The authors declare no competing interests.
Additional information
Peer review information: Nature Nanotechnology thanks Ralph H. Scheicher and the other, anonymous, reviewer(s) for their contribution to the peer review of this work.
Publisher's note: Springer Nature remains neutral with regard to jurisdictional claims in published maps and institutional affiliations.
Supplementary information
About this article
Cite this article
Shankla, M., Aksimentiev, A. Step-defect guided delivery of DNA to a graphene nanopore. Nat. Nanotechnol. 14, 858–865 (2019). https://doi.org/10.1038/s41565-019-0514-y
Received:

Accepted:

Published:

Issue Date: