Abstract
Argonaute (Ago) proteins are found in all three domains of life. The so-called long Agos are composed of four major domains (N, PAZ, MID and PIWI) and contribute to RNA silencing in eukaryotes (eAgos) or defence against invading mobile genetic elements in prokaryotes (pAgos). The majority (~60%) of pAgos identified bioinformatically are shorter (comprising only MID and PIWI domains) and are typically associated with Sir2, Mrr or TIR domain-containing proteins. The cellular function and mechanism of short pAgos remain enigmatic. Here we show that Geobacter sulfurreducens short pAgo and the NAD+-bound Sir2 protein form a stable heterodimeric complex. The GsSir2/Ago complex presumably recognizes invading plasmid or phage DNA and activates the Sir2 subunit, which triggers endogenous NAD+ depletion and cell death, and prevents the propagation of invading DNA. We reconstituted NAD+ depletion activity in vitro and showed that activated GsSir2/Ago complex functions as a NADase that hydrolyses NAD+ to ADPR. Thus, short Sir2-associated pAgos provide defence against phages and plasmids, underscoring the diversity of mechanisms of prokaryotic Agos.
Access options
Subscribe to Nature+
Get immediate online access to Nature and 55 other Nature journal
Subscribe to Journal
Get full journal access for 1 year
$119.00
only $9.92 per issue
All prices are NET prices.
VAT will be added later in the checkout.
Tax calculation will be finalised during checkout.
Buy article
Get time limited or full article access on ReadCube.
$32.00
All prices are NET prices.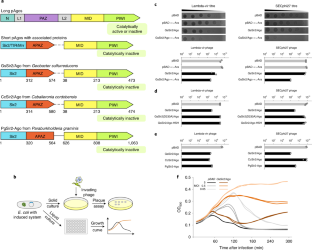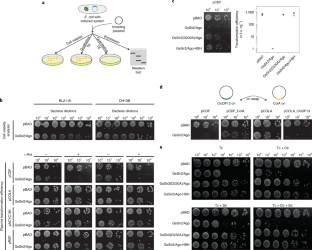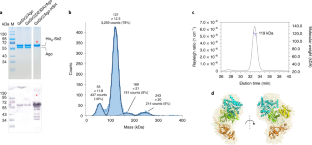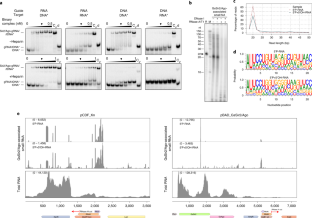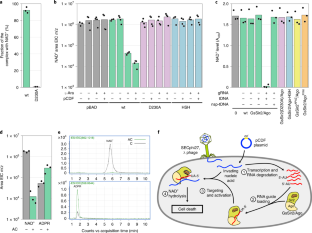 References
Kuhn, C. D. & Joshua-Tor, L. Eukaryotic Argonautes come into focus. Trends Biochem. Sci. 38, 263–271 (2013).

Pratt, A. J. & MacRae, I. J. The RNA-induced silencing complex: a versatile gene-silencing machine. J. Biol. Chem. 284, 17897–17901 (2009).

Sheu-Gruttadauria, J. & MacRae, I. J. Structural foundations of RNA silencing by argonaute. J. Mol. Biol. 429, 2619–2639 (2017).

Olina, A. V., Kulbachinskiy, A. V., Aravin, A. A. & Esyunina, D. M. Argonaute proteins and mechanisms of RNA interference in eukaryotes and prokaryotes. Biochemistry 83, 483–497 (2018).

Hutvagner, G. & Simard, M. J. Argonaute proteins: key players in RNA silencing. Nat. Rev. Mol. Cell Biol. 9, 22–32 (2008).

Swarts, D. C. et al. The evolutionary journey of Argonaute proteins. Nat. Struct. Mol. Biol. 21, 743–753 (2014).

Kwak, P. B. & Tomari, Y. The N domain of Argonaute drives duplex unwinding during RISC assembly. Nat. Struct. Mol. Biol. 19, 145–151 (2012).

Ryazansky, S., Kulbachinskiy, A. & Aravin, A. A. The expanded universe of prokaryotic argonaute proteins. mBio 9, e01935-18 (2018).

Hegge, J. W., Swarts, D. C. & Van Der Oost, J. Prokaryotic argonaute proteins: novel genome-editing tools? Nat. Rev. Microbiol. 16, 5–11 (2018).

Lisitskaya, L., Aravin, A. A. & Kulbachinskiy, A. DNA interference and beyond: structure and functions of prokaryotic Argonaute proteins. Nat. Commun. 9, 5165 (2018).

Willkomm, S., Makarova, K. S. & Grohmann, D. DNA silencing by prokaryotic Argonaute proteins adds a new layer of defense against invading nucleic acids. FEMS Microbiol. Rev. 42, 376–387 (2018).

Kuzmenko, A. et al. DNA targeting and interference by a bacterial Argonaute nuclease. Nature https://doi.org/10.1038/s41586-020-2605-1 (2020).

Swarts, D. C. et al. DNA-guided DNA interference by a prokaryotic Argonaute. Nature 507, 258–261 (2014).

Jolly, S. M. et al. Thermus thermophilus Argonaute functions in the completion of DNA replication. Cell 182, 1545–1559.e18 (2020).

Olovnikov, I., Chan, K., Sachidanandam, R., Newman, D. K. & Aravin, A. A. Bacterial Argonaute samples the transcriptome to identify foreign DNA. Mol. Cell 51, 594–605 (2013).

Liu, Y. et al. A programmable omnipotent Argonaute nuclease from mesophilic bacteria Kurthia massiliensis. Nucleic Acids Res. https://doi.org/10.1093/nar/gkaa1278 (2021).

Kropocheva, E., Kuzmenko, A., Aravin, A. A., Esyunina, D. & Kulbachinskiy, A. A programmable pAgo nuclease with universal guide and target specificity from the mesophilic bacterium Kurthia massiliensis. Nucleic Acids Res. https://doi.org/10.1093/nar/gkab182 (2021).

Makarova, K. S., Wolf, Y. I., van der Oost, J. & Koonin, E. V. Prokaryotic homologs of Argonaute proteins are predicted to function as key components of a novel system of defense against mobile genetic elements. Biol. Direct 4, 29 (2009).

Burroughs, A. M., Ando, Y. & Aravind, L. New perspectives on the diversification of the RNA interference system: insights from comparative genomics and small RNA sequencing. Wiley Interdiscip. Rev. RNA 5, 141–181 (2014).

North, B. J. & Verdin, E. Sirtuins: Sir2-related NAD-dependent protein deacetylases. Genome Biol. 5, 224 (2004).

Gallego-Jara, J. et al. Bacterial sirtuins overview: an open niche to explore. Front. Microbiol. 12, 744416 (2021).

Wang, Y., Sheng, G., Juranek, S., Tuschl, T. & Patel, D. J. Structure of the guide-strand-containing argonaute silencing complex. Nature 456, 209–213 (2008).

Frank, F., Sonenberg, N. & Nagar, B. Structural basis for 5′-nucleotide base-specific recognition of guide RNA by human AGO2. Nature 465, 818–822 (2010).

Ka, D., Oh, H., Park, E., Kim, J. H. & Bae, E. Structural and functional evidence of bacterial antiphage protection by Thoeris defense system via NAD+ degradation. Nat. Commun. 11, 2816 (2020).

Kim, S., Jung, Y. & Lim, D. Argonaute system of Kordia jejudonensis is a heterodimeric nucleic acid-guided nuclease. Biochem. Biophys. Res. Commun. 525, 755–758 (2020).

Dasgupta, S., Masukata, H. & Tomizawa, J. Multiple mechanisms for initiation of ColE1 DNA replication: DNA synthesis in the presence and absence of ribonuclease H. Cell 51, 1113–1122 (1987).

del Solar, G., Giraldo, R., Ruiz-Echevarria, M. J., Espinosa, M. & Diaz-Orejas, R. Replication and control of circular bacterial plasmids. Microbiol. Mol. Biol. Rev. 62, 434–464 (1998).

Selzer, G., Som, T., Itoh, T. & Tomizawa, J. The origin of replication of plasmid p15A and comparative studies on the nucleotide sequences around the origin of related plasmids. Cell 32, 119–129 (1983).

Garb, J. et al. Multiple phage resistance systems inhibit infection via SIR2-dependent NAD+ depletion. Preprint at bioRxiv https://doi.org/10.1101/2021.12.14.472415 (2021).

Tal, N. et al. Cyclic CMP and cyclic UMP mediate bacterial immunity against phages. Cell 184, 5728–5739.e16 (2021).

Ofir, G. et al. Antiviral activity of bacterial TIR domains via immune signalling molecules. Nature 600, 116–120 (2021).

Zheng, L., Baumann, U. & Reymond, J. L. An efficient one-step site-directed and site-saturation mutagenesis protocol. Nucleic Acids Res. 32, e115 (2004).

Ofir, G. et al. DISARM is a widespread bacterial defence system with broad anti-phage activities. Nat. Microbiol. 3, 90–98 (2018).

Doron, S. et al. Systematic discovery of antiphage defense systems in the microbial pangenome. Science 359, eaar4120 (2018).

Mazzocco, A., Waddell, T. E., Lingohr, E. & Johnson, R. P. Enumeration of bacteriophages using the small drop plaque assay system. Methods Mol. Biol. https://doi.org/10.1007/978-1-60327-164-6_9 (2009).

Blanchet, C. E. et al. Versatile sample environments and automation for biological solution X-ray scattering experiments at the P12 beamline (PETRA III, DESY). J. Appl. Crystallogr. 48, 431–443 (2015).

Franke, D., Petoukhov, M. V., Konarev, P. V. & Panjkovich, A. ATSAS 2.8: a comprehensive data analysis suite for small-angle scattering from macromolecular solutions. J. Appl. Crystallogr. https://doi.org/10.1107/S1600576717007786 (2017).

Konarev, P. V., Volkov, V. V., Sokolova, A. V., Koch, M. H. J. & Svergun, D. I. PRIMUS - a Windows-PC based system for small-angle scattering data analysis. J. Appl. Crystallogr. 36, 1277–1282 (2003).

Svergun, D. I. Determination of the regularization parameter in indirect-transform methods using perceptual criteria. J. Appl. Crystallogr. 25, 495–503 (1992).

Durand, D. et al. NADPH oxidase activator p67phox behaves in solution as a multidomain protein with semi-flexible linkers. J. Struct. Biol. 169, 45–53 (2010).

Svergun, D. I., Petoukhov, M. V. & Koch, M. H. J. Determination of domain structure of proteins from x-ray solution scattering. Biophys. J. 80, 2946–2953 (2001).

Fischer, H., de Oliveira Neto, M., Napolitano, H. B., Polikarpov, I. & Craievich, A. F. Determination of the molecular weight of proteins in solution from a single small-angle X-ray scattering measurement on a relative scale. J. Appl. Crystallogr. 43, 101–109 (2010).

Schubert, M., Lindgreen, S. & Orlando, L. AdapterRemoval v2: rapid adapter trimming, identification, and read merging. BMC Res. Notes 9, 88 (2016).

Li, H. & Durbin, R. Fast and accurate short read alignment with Burrows-Wheeler transform. Bioinformatics 25, 1754–1760 (2009).

Andrews, S. et al. FastQC: A Quality Control Tool for High-Throughput Sequence Data (2010); https://www.bioinformatics.babraham.ac.uk/projects/fastqc/

Li, H. et al. The Sequence Alignment/Map format and SAMtools. Bioinformatics 25, 2078–2079 (2009).

Crooks, G. E., Hon, G., Chandonia, J.-M. & Brenner, S. E. WebLogo: a sequence logo generator. Genome Res. 14, 1188–1190 (2004).

Quinlan, A. R. BEDTools: the swiss‐army tool for genome feature analysis. Curr. Protoc. Bioinform. 47, 11.12.1–11.12.34 (2014).

Wang, L., Wang, S. & Li, W. RSeQC: quality control of RNA-seq experiments. Bioinformatics 28, 2184–2185 (2012).

Thorvaldsdottir, H., Robinson, J. T. & Mesirov, J. P. Integrative Genomics Viewer (IGV): high-performance genomics data visualization and exploration. Brief. Bioinform. 14, 178–192 (2013).

Koopal, B. et al. Short prokaryotic Argonaute systems trigger cell death upon detection of invading DNA. Cell 185, 1471–1486.e19 (2022).

Kaya, E. et al. A bacterial Argonaute with noncanonical guide RNA specificity. Proc. Natl Acad. Sci. USA 113, 4057–4062 (2016).
Acknowledgements
We thank the Siksnys Laboratory members for their comments on the manuscript and fruitful discussion, and T. de Garay at Refeyn Ltd. for the mass photometry experiments. This work was supported by the European Social Fund (09.3.3-LMT-K-712-01-0126 to V.S.) under a grant agreement with the Research Council of Lithuania (LMTLT), the Israel Science Foundation (grant ISF 296/21 to R.S.), and the Deutsche Forschungsgemeinschaft (SPP 2330, grant 464312965). Funding for open access was provided by Vilnius University.
Ethics declarations
Competing interests
V.S. is the chairman of CasZyme. R.S. is the scientific founder of BiomX and Ecophage. The remaining authors declare no competing interests.
Peer review
Peer review information
Nature Microbiology thanks Malcolm White and the other, anonymous, reviewer(s) for their contribution to the peer review of this work. Peer reviewer reports are available.
Additional information
Publisher's note Springer Nature remains neutral with regard to jurisdictional claims in published maps and institutional affiliations.
Supplementary information
Rights and permissions
Springer Nature or its licensor holds exclusive rights to this article under a publishing agreement with the author(s) or other rightsholder(s); author self-archiving of the accepted manuscript version of this article is solely governed by the terms of such publishing agreement and applicable law.
About this article
Cite this article
Zaremba, M., Dakineviciene, D., Golovinas, E. et al. Short prokaryotic Argonautes provide defence against incoming mobile genetic elements through NAD+ depletion. Nat Microbiol 7, 1857–1869 (2022). https://doi.org/10.1038/s41564-022-01239-0
Received:

Accepted:

Published:

Issue Date:

DOI: https://doi.org/10.1038/s41564-022-01239-0