Most prokaryotes cannot easily be grown in the laboratory and distributed as pure cultures. Thus, these organisms could not be officially named. A code of nomenclature — the SeqCode — provides paths to name such organisms on the basis of genomic data, aiming to unify field and laboratory studies in microbiology.
Access options
Subscribe to Nature+
Get immediate online access to Nature and 55 other Nature journal
Subscribe to Journal
Get full journal access for 1 year
$119.00
only $9.92 per issue
All prices are NET prices.
VAT will be added later in the checkout.
Tax calculation will be finalised during checkout.
Buy article
Get time limited or full article access on ReadCube.
$32.00
All prices are NET prices.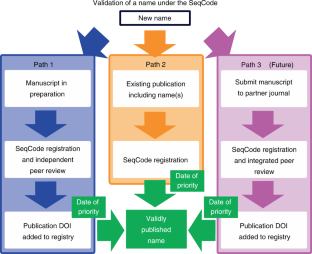 References
Whitman, W. B. Modest proposals to expand the type material for naming of prokaryotes. Int. J. Syst. Evol. Microbiol. 66, 2108–2012 (2016). This paper proposes changes to the International Code of Nomenclature of Prokaryotes (ICNP) that would enable DNA sequence data to serve as nomenclatural types, in addition to strains.

Konstantinidis, K. T., Rossello-Mora, R. & Amann, R. Uncultivated microbes in need of their own taxonomy. ISME J. 11, 2399–2406 (2017). This opinion article discusses the need for a system to name uncultivated prokaryotes to better communicate biodiversity.

Murray, A. E. Roadmap for naming uncultivated archaea and bacteria. Nat. Microbiol. 5, 987–994 (2020). A consensus statement by 121 authors from 22 countries proposing either emendation of the ICNP or development of a new code that enables DNA sequence data to serve as nomenclatural types.

Chaumeil, P.-A. et al. GTDB-Tk: a toolkit to classify genomes with the Genome Taxonomy Database. Bioinformatics 36, 1925–1927 (2019). This manuscript discusses the Genome Taxonomy Database Toolkit (GTDB-Tk), an example of a modern system to classify prokaryotes on the basis of genomic data.

Rodriguez-R, L. M. et al. The Microbial Genomes Atlas (MiGA) webserver: taxonomic and gene diversity analysis of Archaea and Bacteria at the whole genome level. Nucleic Acids Res. 46, W282–W288 (2018). A tool for the taxonomic classification of genome-assembled and metagenome-assembled genome sequences.
Additional information
Publisher's note Springer Nature remains neutral with regard to jurisdictional claims in published maps and institutional affiliations.
This is a summary of: Hedlund, B. P. et al. SeqCode: a nomenclatural code for prokaryotes described from sequence data. Nat. Microbiol. https://doi.org/10.1038/s41564-022-01214-9 (2022).
About this article
Cite this article
Towards a unifying system for the naming of cultured and uncultured prokaryotes. Nat Microbiol 7, 1514–1515 (2022). https://doi.org/10.1038/s41564-022-01220-x
Published:

Issue Date:

DOI: https://doi.org/10.1038/s41564-022-01220-x