Abstract
Chikungunya virus (CHIKV) is a representative alphavirus causing debilitating arthritogenic disease in humans. Alphavirus particles assemble into two icosahedral layers: the glycoprotein spike shell embedded in a lipid envelope and the inner nucleocapsid (NC) core. In contrast to matrix-driven assembly of some enveloped viruses, the assembly/budding process of two-layered icosahedral particles remains poorly understood. Here we used cryogenic electron tomography (cryo-ET) to capture snapshots of the CHIKV assembly in infected human cells. Subvolume classification of the snapshots revealed 12 intermediates representing different stages of assembly at the plasma membrane. Further subtomogram average structures ranging from subnanometre to nanometre resolutions show that immature non-icosahedral NCs function as rough scaffolds to trigger icosahedral assembly of the spike lattice, which in turn progressively transforms the underlying NCs into icosahedral cores during budding. Further, analysis of CHIKV-infected cells treated with budding-inhibiting antibodies revealed wider spaces between spikes than in icosahedral spike lattice, suggesting that spacing spikes apart to prevent their lateral interactions prevents the plasma membrane from bending around the NC, thus blocking virus budding. These findings provide the molecular mechanisms for alphavirus assembly and antibody-mediated budding inhibition that provide valuable insights for the development of broad therapeutics targeting the assembly of icosahedral enveloped viruses.
Your institute does not have access to this article
Access options
Subscribe to Nature+
Get immediate online access to the entire Nature family of 50+ journals
Subscribe to Journal
Get full journal access for 1 year
$119.00
only $9.92 per issue
All prices are NET prices.
VAT will be added later in the checkout.
Tax calculation will be finalised during checkout.
Buy article
Get time limited or full article access on ReadCube.
$32.00
All prices are NET prices.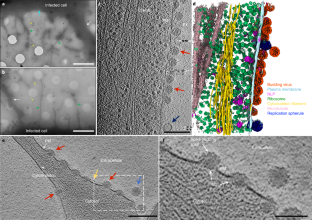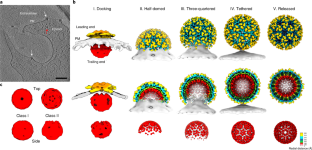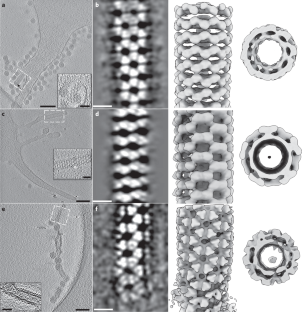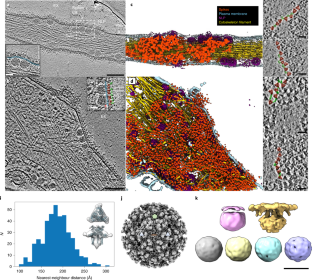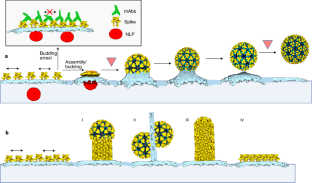 Data availability
Cryo-EM maps reported in this study have been deposited in the Electron Microscopy Data Bank (EMDB) under the following accession codes: EMDB-26446 (released virion), EMDB-26447, −26448, −26449, −26450 (budding intermediates) and EMDB-26451, −26452 (cytosolic NLPs). The publicly deposited atomic model of VEEV TC-83 (PDB:3J0C) was used for comparison to the subtomogram average structure of the CHIKV spike trimer determined in this study. All other data supporting the findings of this study are available within the Article and its supplementary files.
References
Rheinemann, L. & Sundquist, W. I. Virus budding. Encyclopedia of Virology https://doi.org/10.1016/b978-0-12-814515-9.00023-0 (2021).

Brown, R. S., Wan, J. J. & Kielian, M. The alphavirus exit pathway: what we know and what we wish we knew. Viruses 10, 89 (2018).

Silva, L. A. & Dermody, T. S. Chikungunya virus: epidemiology, replication, disease mechanisms, and prospective intervention strategies. J. Clin. Invest. 127, 737–749 (2017).

Sun, S. et al. Structural analyses at pseudo atomic resolution of Chikungunya virus and antibodies show mechanisms of neutralization. eLife 2, e00435 (2013).

Tang, J. et al. Molecular links between the E2 envelope glycoprotein and nucleocapsid core in Sindbis virus. J. Mol. Biol. 414, 442–459 (2011).

Zhang, R. et al. 4.4 Å cryo-EM structure of an enveloped alphavirus Venezuelan equine encephalitis virus. EMBO J. 30, 3854–3863 (2011).

Cheng, R. H. et al. Nucleocapsid and glycoprotein organization in an enveloped virus. Cell 80, 621–630 (1995).

Jin, J. et al. Neutralizing monoclonal antibodies block chikungunya virus entry and release by targeting an epitope critical to viral pathogenesis. Cell Rep. 13, 2553–2564 (2015).

Fox, J. M. et al. Broadly neutralizing alphavirus antibodies bind an epitope on E2 and inhibit entry and egress. Cell 163, 1095–1107 (2015).

Jin, J. et al. Neutralizing antibodies inhibit chikungunya virus budding at the plasma membrane. Cell Host Microbe 24, 417–428.e5 (2018).

Thaa, B. et al. Differential phosphatidylinositol-3-kinase-akt-mTOR activation by semliki forest and chikungunya viruses is dependent on nsP3 and connected to replication complex internalization. J. Virol. 89, 11420–11437 (2015).

Jose, J., Taylor, A. B. & Kuhn, R. J. Spatial and temporal analysis of alphavirus replication and assembly in mammalian and mosquito cells. mBio 8, e02294–16 (2017).

Chen, L. et al. Implication for alphavirus host-cell entry and assembly indicated by a 3.5Å resolution cryo-EM structure. Nat. Commun. 9, 5326 (2018).

Mukhopadhyay, S., Chipman, P. R., Hong, E. M., Kuhn, R. J. & Rossmann, M. G. In vitro-assembled alphavirus core-like particles maintain a structure similar to that of nucleocapsid cores in mature virus. J. Virol. 76, 11128–11132 (2002).

Therkelsen, M. D. et al. Flaviviruses have imperfect icosahedral symmetry. Proc. Natl Acad. Sci. USA 115, 11608–11612 (2018).

Garoff, H., Sjöberg, M. & Cheng, R. H. Budding of alphaviruses. Virus Res. 106, 103–116 (2004).

Soonsawad, P. et al. Structural evidence of glycoprotein assembly in cellular membrane compartments prior to Alphavirus budding. J. Virol. 84, 11145–11151 (2010).

Cogan, D. P. et al. Mapping the catalytic conformations of an assembly-line polyketide synthase module. Science 374, 729–734 (2021).

Bruss, V. & Ganem, D. The role of envelope proteins in hepatitis B virus assembly. Proc. Natl Acad. Sci. USA 88, 1059–1063 (1991).

Ferlenghi, I. et al. Molecular organization of a recombinant subviral particle from tick-borne encephalitis virus. Mol. Cell 7, 593–602 (2001).

de Haan, C. A., Kuo, L., Masters, P. S., Vennema, H. & Rottier, P. J. Coronavirus particle assembly: primary structure requirements of the membrane protein. J. Virol. 72, 6838–6850 (1998).

Allison, S. L. et al. Two distinct size classes of immature and mature subviral particles from tick-borne encephalitis virus. J. Virol. 77, 11357–11366 (2003).

Stange, A., Lüftenegger, D., Reh, J., Weissenhorn, W. & Lindemann, D. Subviral particle release determinants of prototype foamy virus. J. Virol. 82, 9858–9869 (2008).

Wang, P.-G. et al. Efficient assembly and secretion of recombinant subviral particles of the four dengue serotypes using native prM and E proteins. PLoS ONE 4, e8325 (2009).

Heilingloh, C. S. & Krawczyk, A. Role of l-particles during herpes simplex virus infection. Front. Microbiol. 8, 2565 (2017).

Sherer, N. M. & Mothes, W. Cytonemes and tunneling nanotubules in cell–cell communication and viral pathogenesis. Trends Cell Biol. 18, 414–420 (2008).

Nikolic, D. S. et al. HIV-1 activates Cdc42 and induces membrane extensions in immature dendritic cells to facilitate cell-to-cell virus propagation. Blood 118, 4841–4852 (2011).

Sowinski, S. et al. Membrane nanotubes physically connect T cells over long distances presenting a novel route for HIV-1 transmission. Nat. Cell Biol. 10, 211–219 (2008).

Martinez, M. G. & Kielian, M. Intercellular extensions are induced by the alphavirus structural proteins and mediate virus transmission. PLoS Pathog. 12, e1006061 (2016).

Chen, D.-H. et al. Structural basis for scaffolding-mediated assembly and maturation of a dsDNA virus. Proc. Natl Acad. Sci. USA 108, 1355–1360 (2011).

Mukhopadhyay, S., Chipman, P. R., Hong, E. M., Kuhn, R. J. & Rossmann, M. G. In vitro-assembled alphavirus core-like particles maintain a structure similar to that of nucleocapsid cores in mature virus. J. Virol. 76, 11128–11132 (2002).

Snyder, J. E. et al. Rescue of infectious particles from preassembled alphavirus nucleocapsid cores. J. Virol. 85, 5773–5781 (2011).

Forsell, K., Xing, L., Kozlovska, T., Cheng, R. H. & Garoff, H. Membrane proteins organize a symmetrical virus. EMBO J. 19, 5081–5091 (2000).

Skoging, U., Vihinen, M., Nilsson, L. & Liljeström, P. Aromatic interactions define the binding of the alphavirus spike to its nucleocapsid. Structure 4, 519–529 (1996).

Jose, J. et al. Interactions of the cytoplasmic domain of Sindbis virus E2 with nucleocapsid cores promote alphavirus budding. J. Virol. 86, 2585–2599 (2012).

Williamson, L. E. et al. Therapeutic alphavirus cross-reactive E1 human antibodies inhibit viral egress. Cell 184, 4430–4446.e22 (2021).

Kim, A. S. et al. Pan-protective anti-alphavirus human antibodies target a conserved E1 protein epitope. Cell 184, 4414–4429.e19 (2021).

Selvarajah, S. et al. A neutralizing monoclonal antibody targeting the acid-sensitive region in chikungunya virus E2 protects from disease. PLoS Negl. Trop. Dis. 7, e2423 (2013).

Mastronarde, D. N. SerialEM: a program for automated tilt series acquisition on tecnai microscopes using prediction of specimen position. Microsc. Microanal. 9, 1182–1183 (2003).

Mastronarde, D. N. Automated electron microscope tomography using robust prediction of specimen movements. J. Struct. Biol. 152, 36–51 (2005).

Zheng, S. Q. et al. MotionCor2: anisotropic correction of beam-induced motion for improved cryo-electron microscopy. Nat. Methods 14, 331–332 (2017).

Kremer, J. R., Mastronarde, D. N. & McIntosh, J. R. Computer visualization of three-dimensional image data using IMOD. J. Struct. Biol. 116, 71–76 (1996).

Chen, M. et al. A complete data processing workflow for cryo-ET and subtomogram averaging. Nat. Methods 16, 1161–1168 (2019).

Pettersen, E. F., Goddard, T. D. & Huang, C. C. UCSF Chimera—a visualization system for exploratory research and analysis. J. Comput. Chem. (2004).

Pettersen, E. F. et al. UCSF ChimeraX: structure visualization for researchers, educators, and developers. Protein Sci. 30, 70–82 (2021).
Acknowledgements
We thank SLAC National Accelerator Laboratory for access and support of these studies, and all SLAC cryo-EM staff for technical support and assistance. We also thank M. Chen for helpful discussions and providing technical advice on data analysis. This research was supported by NIH grants R01AI148382 and S10OD021600 (to W.C.) and R01AI119056 (to G.S.).
Ethics declarations
Competing interests
The authors declare no competing interests.
Peer review
Peer review information
Nature Microbiology thanks the anonymous reviewers for their contribution to the peer review of this work. Peer reviewer reports are available.
Additional information
Publisher's note Springer Nature remains neutral with regard to jurisdictional claims in published maps and institutional affiliations.
Supplementary information
About this article
Cite this article
Chmielewski, D., Schmid, M.F., Simmons, G. et al. Chikungunya virus assembly and budding visualized in situ using cryogenic electron tomography. Nat Microbiol 7, 1270–1279 (2022). https://doi.org/10.1038/s41564-022-01164-2
Received:

Accepted:

Published:

Issue Date:

DOI: https://doi.org/10.1038/s41564-022-01164-2
Further reading
Julie M. Fox
Theodore C. Pierson

Nature Microbiology (2022)

Nature (2022)