Abstract
Anthropogenic climate change threatens ecosystem functioning. Soil biodiversity is essential for maintaining the health of terrestrial systems, but how climate change affects the richness and abundance of soil microbial communities remains unresolved. We examined the effects of warming, altered precipitation and annual biomass removal on grassland soil bacterial, fungal and protistan communities over 7 years to determine how these representative climate changes impact microbial biodiversity and ecosystem functioning. We show that experimental warming and the concomitant reductions in soil moisture play a predominant role in shaping microbial biodiversity by decreasing the richness of bacteria (9.6%), fungi (14.5%) and protists (7.5%). Our results also show positive associations between microbial biodiversity and ecosystem functional processes, such as gross primary productivity and microbial biomass. We conclude that the detrimental effects of biodiversity loss might be more severe in a warmer world.
Relevant articles
Open Access articles citing this article.
Siobhán O'Brien

,

Christopher T. Culbert

&

Timothy G. Barraclough

BMC Ecology and Evolution Open Access 01 September 2023

Ernest D. Osburn

,

Gaowen Yang

…

Michael S. Strickland

ISME Communications Open Access 03 July 2023

Sainan Zhang

,

Shengcai Han

…

Shuping Hu

Applied Microbiology and Biotechnology Open Access 01 July 2023
Access options
Access Nature and 54 other Nature Portfolio journals
Get Nature+, our best-value online-access subscription
$29.99 / 30 days
cancel any time
Subscribe to this journal
Receive 12 digital issues and online access to articles
$119.00 per year
only $9.92 per issue
Rent or buy this article
Prices vary by article type
from$1.95
to$39.95
Prices may be subject to local taxes which are calculated during checkout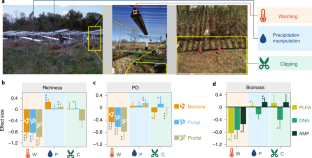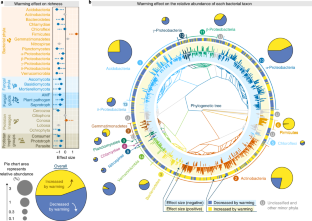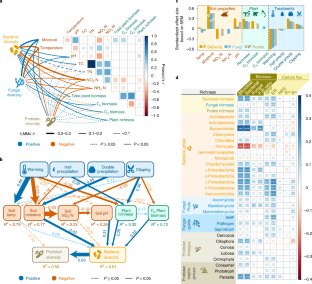 References
Rands, M. R. et al. Biodiversity conservation: challenges beyond 2010. Science 329, 1298–1303 (2010).

Diaz, S., Fargione, J., Chapin, F. S. III & Tilman, D. Biodiversity loss threatens human well-being. PLoS Biol. 4, e277 (2006).

Barnosky, A. D. et al. Has the Earth's sixth mass extinction already arrived? Nature 471, 51–57 (2011).

Pecl, G. T. et al. Biodiversity redistribution under climate change: impacts on ecosystems and human well-being. Science https://doi.org/10.1126/science.aai9214 (2017).

IPCC Climate Change 2013: The Physical Science Basis (eds Stocker, T. F. et al.) (Cambridge Univ. Press, 2013).

Cardinale, B. J. et al. Biodiversity loss and its impact on humanity. Nature 486, 59–67 (2012).

Hautier, Y. et al. Eutrophication weakens stabilizing effects of diversity in natural grasslands. Nature 508, 521–525 (2014).

Bascompte, J., García, M. B., Ortega, R., Rezende, E. L. & Pironon, S. Mutualistic interactions reshuffle the effects of climate change on plants across the tree of life. Sci. Adv. 5, eaav2539 (2019).

Blois, J. L., Zarnetske, P. L., Fitzpatrick, M. C. & Finnegan, S. Climate change and the past, present, and future of biotic interactions. Science 341, 499–504 (2013).

Tylianakis, J. M., Didham, R. K., Bascompte, J. & Wardle, D. A. Global change and species interactions in terrestrial ecosystems. Ecol. Lett. 11, 1351–1363 (2008).

Fei, S. et al. Divergence of species responses to climate change. Sci. Adv. 3, e1603055 (2017).

Li, D., Miller, J. E. D. & Harrison, S. Climate drives loss of phylogenetic diversity in a grassland community. Proc. Natl Acad. Sci. USA 116, 19989–19994 (2019).

Bay, R. A. et al. Genomic signals of selection predict climate-driven population declines in a migratory bird. Science 359, 83–86 (2018).

Xue, K. et al. Annual removal of aboveground plant biomass alters soil microbial responses to warming. mBio https://doi.org/10.1128/mBio.00976-16 (2016).

Zhou, J. et al. Microbial mediation of carbon-cycle feedbacks to climate warming. Nat. Clim. Change 2, 106–110 (2012).

Steidinger, B. S. et al. Climatic controls of decomposition drive the global biogeography of forest-tree symbioses. Nature 569, 404–408 (2019).

Blankinship, J. C., Niklaus, P. A. & Hungate, B. A. A meta-analysis of responses of soil biota to global change. Oecologia 165, 553–565 (2011).

Guo, X. et al. Climate warming leads to divergent succession of grassland microbial communities. Nat. Clim. Change 8, 813–818 (2018).

Guo, X. et al. Climate warming accelerates temporal scaling of grassland soil microbial biodiversity. Nat. Ecol. Evol. 3, 612–619 (2019).

Yuan, M. M. et al. Climate warming enhances microbial network complexity and stability. Nat. Clim. Change 11, 343–348 (2021).

Thakur, M. P. et al. Climate warming promotes species diversity, but with greater taxonomic redundancy, in complex environments. Sci. Adv. 3, e1700866 (2017).

Xu, X., Sherry, R. A., Niu, S., Li, D. & Luo, Y. Net primary productivity and rain‐use efficiency as affected by warming, altered precipitation, and clipping in a mixed‐grass prairie. Glob. Change Biol. 19, 2753–2764 (2013).

Luo, Y., Sherry, R., Zhou, X. & Wan, S. Terrestrial carbon‐cycle feedback to climate warming: experimental evidence on plant regulation and impacts of biofuel feedstock harvest. Glob. Change Biol. Bioenergy 1, 62–74 (2009).

Chen, M.-M. et al. Effects of soil moisture and plant interactions on the soil microbial community structure. Eur. J. Soil Biol. 43, 31–38 (2007).

Zhou, J. et al. Temperature mediates continental-scale diversity of microbes in forest soils. Nat. Commun. 7, 12083 (2016).

Rousk, J. et al. Soil bacterial and fungal communities across a pH gradient in an arable soil. ISME J. 4, 1340–1351 (2010).

DeBruyn, J. M., Nixon, L. T., Fawaz, M. N., Johnson, A. M. & Radosevich, M. Global biogeography and quantitative seasonal dynamics of Gemmatimonadetes in soil. Appl. Environ. Microbiol. 77, 6295–6300 (2011).

Van Horn, D. J. et al. Soil microbial responses to increased moisture and organic resources along a salinity gradient in a polar desert. Appl. Environ. Microbiol. 80, 3034–3043 (2014).

Van Nuland, M. E. et al. Warming and disturbance alter soil microbiome diversity and function in a northern forest ecotone. FEMS Microbiol. Ecol. 96, fiaa108 (2020).

Reimer, L. C. et al. Bac Dive in 2022: the knowledge base for standardized bacterial and archaeal data. Nucleic Acids Res. 50, D741–D746 (2022).

Nguyen, N. H. et al. FUNGuild: an open annotation tool for parsing fungal community datasets by ecological guild. Fungal Ecol. 20, 241–248 (2016).

Delgado-Baquerizo, M. et al. Microbial diversity drives multifunctionality in terrestrial ecosystems. Nat. Commun. 7, 10541 (2016).

Banerjee, S. et al. Agricultural intensification reduces microbial network complexity and the abundance of keystone taxa in roots. ISME J. 13, 1722–1736 (2019).

Ning, D. et al. A quantitative framework reveals ecological drivers of grassland microbial community assembly in respoÿnse to warming. Nat. Commun. 11, 4717 (2020).

Tiedje, J. M. et al. Microbes and climate change: a research prospectus for the future. MBio, e00800-22 (2022). doi:10.1128/mbio.00800-22 (2022).

Maestre, F. T. et al. Increasing aridity reduces soil microbial diversity and abundance in global drylands. Proc. Natl Acad. Sci. USA 112, 15684–15689 (2015).

Li, D., Zhou, X., Wu, L., Zhou, J. & Luo, Y. Contrasting responses of heterotrophic and autotrophic respiration to experimental warming in a winter annual‐dominated prairie. Glob. Change Biol. 19, 3553–3564 (2013).

Sherry, R. A. et al. Lagged effects of experimental warming and doubled precipitation on annual and seasonal aboveground biomass production in a tallgrass prairie. Glob. Change Biol. 14, 2923–2936 (2008).

Catchpole, W. & Wheeler, C. Estimating plant biomass: a review of techniques. Aust. J. Ecol. 17, 121–131 (1992).

McLean, E. in Methods of Soil Analysis. Part 2. Chemical and Microbiological Properties (ed Page, A. L.) 199–224 (1982).

Buyer, J. S. & Sasser, M. High throughput phospholipid fatty acid analysis of soils. Appl. Soil Ecol. 61, 127–130 (2012).

Zhou, J., Bruns, M. A. & Tiedje, J. M. DNA recovery from soils of diverse composition. Appl. Environ. Microbiol. 62, 316–322 (1996).

Wu, L. et al. Phasing amplicon sequencing on Illumina Miseq for robust environmental microbial community analysis. BMC Microbiol. 15, 125 (2015).

Zhou, J. et al. Reproducibility and quantitation of amplicon sequencing-based detection. ISME J. 5, 1303–1313 (2011).

Magoč, T. & Salzberg, S. L. FLASH: fast length adjustment of short reads to improve genome assemblies. Bioinformatics 27, 2957–2963 (2011).

Edgar, R. C. Updating the 97% identity threshold for 16S ribosomal RNA OTUs. Bioinformatics 34, 2371–2375 (2018).

Sievers, F. et al. Fast, scalable generation of high-quality protein multiple sequence alignments using Clustal Omega. Mol. Syst. Biol. 7, 539 (2011).

Price, M. N., Dehal, P. S. & Arkin, A. P. FastTree 2 – approximately maximum-likelihood trees for large alignments. PLoS ONE 5, e9490 (2010).

Munoz, R. et al. Release LTPs104 of the all-species living tree. Syst. Appl. Microbiol. 34, 169–170 (2011).

Nuccio, E. E. et al. Climate and edaphic controllers influence rhizosphere community assembly for a wild annual grass. Ecology 97, 1307–1318 (2016).

Wang, Q., Garrity, G. M., Tiedje, J. M. & Cole, J. R. Naive Bayesian classifier for rapid assignment of rRNA sequences into the new bacterial taxonomy. Appl. Environ. Microbiol. 73, 5261–5267 (2007).

Nilsson, R. H. et al. The UNITE database for molecular identification of fungi: handling dark taxa and parallel taxonomic classifications. Nucleic Acids Res. 47, D259–D264 (2018).

Guillou, L. et al. The Protist Ribosomal Reference database (PR2): a catalog of unicellular eukaryote small sub-unit rRNA sequences with curated taxonomy. Nucleic Acids Res. 41, D597–D604 (2013).

Oliverio, A. M. et al. The global-scale distributions of soil protists and their contributions to belowground systems. Sci. Adv. 6, eaax8787 (2020).

Andrews, S. FastQC: A Quality Control Tool For High Throughput Sequence Data (Babraham Bioinformatics, 2010).

Li, W. & Godzik, A. Cd-hit: a fast program for clustering and comparing large sets of protein or nucleotide sequences. Bioinformatics 22, 1658–1659 (2006).

Patel, R. K. & Jain, M. NGS QC Toolkit: a toolkit for quality control of next generation sequencing data. PLoS ONE 7, e30619 (2012).

Buchfink, B., Xie, C. & Huson, D. H. Fast and sensitive protein alignment using DIAMOND. Nat. Methods 12, 59–60 (2015).

Huson, D. H., Auch, A. F., Qi, J. & Schuster, S. C. MEGAN analysis of metagenomic data. Genome Res. 17, 377–386 (2007).

Kembel, S. W. et al. Picante: R tools for integrating phylogenies and ecology. Bioinformatics 26, 1463–1464 (2010).

R Core Team. R: A Language And Environment For Statistical Computing (R Foundation for Statistical Computing, 2014).

Oksanen, J. et al. Package 'vegan'. Community Ecology Package v.2 (2013).

Bates, D., Mächler, M., Bolker, B. & Walker, S. Fitting linear mixed-effects models using lme4. J. Stat. Softw. 67, 1–48 (2015).

Fox, J. & Weisberg, S. An R Companion to Applied Regression (Sage Publications, 2018).

Barton, K. & Barton, M. K. Package 'MuMIn' v.1.18 (2015).

Carver, R. Practical Data Analysis with JMP (SAS Institute, 2019).

Kuhn, M. Building predictive models in R using the caret package. J. Stat. Softw. 28, 1–26 (2008).

Rosseel, Y. lavaan: An R Package for Structural Equation Modeling and More v.0.4-9 (BETA) (Ghent University, 2011).
Acknowledgements
We thank the acting director of the KAEFS field site, M. Bomgraars, and the numerous former and current members of the Institute for Environmental Genomics for their help in maintaining the long-term field experiment. This work was supported by the US Department of Energy, Office of Science, Genomic Science Program under Award Number DE-SC0004601 and DE-SC0010715, and the Office of the Vice President for Research at the University of Oklahoma to J.Z. X.G. and X.Z. were generously supported by the China Scholarship Council (CSC) to visit the University of Oklahoma. The data analyses performed by X.G. were also supported by the China Postdoctoral Science Foundation (2018M641327 and 2019T120101).
Ethics declarations
Competing interests
The authors declare no competing interests.
Peer review
Peer review information
Nature Microbiology thanks Pankaj Trivedi, Kirsten Hofmockel and Noah Fierer for their contribution to the peer review of this work.
Additional information
Publisher's note Springer Nature remains neutral with regard to jurisdictional claims in published maps and institutional affiliations.
Supplementary information
Supplementary Fig. 1, Tables 1–7 and Notes A–F.
About this article
Cite this article
Wu, L., Zhang, Y., Guo, X. et al. Reduction of microbial diversity in grassland soil is driven by long-term climate warming. Nat Microbiol 7, 1054–1062 (2022). https://doi.org/10.1038/s41564-022-01147-3
Received:

Accepted:

Published:

Issue Date:

DOI: https://doi.org/10.1038/s41564-022-01147-3