Abstract
Animals and microorganisms often establish close ecological relationships. However, much of our knowledge about animal microbiomes comes from two deeply studied groups: vertebrates and arthropods. To understand interactions on a broader scale of diversity, we characterized the bacterial microbiomes of close to 1,000 microscopic marine invertebrates from 21 phyla, spanning most of the remaining tree of metazoans. Samples were collected from five temperate and tropical locations covering three marine habitats (sediment, water column and intertidal macroalgae) and bacterial microbiomes were characterized using 16S ribosomal RNA gene sequencing. Our data show that, despite their size, these animals harbour bacterial communities that differ from those in the surrounding environment. Distantly related but coexisting invertebrates tend to share many of the same bacteria, suggesting that guilds of microorganisms preferentially associated with animals, but not tied to any specific host lineage, are the main drivers of the ecological relationship. Host identity is a minor factor shaping these microbiomes, which do not show the same correlation with host phylogeny, or 'phylosymbiosis', observed in many large animals. Hence, the current debate on the varying strength of phylosymbiosis within selected lineages should be reframed to account for the possibility that such a pattern might be the exception rather than the rule.
This is a preview of subscription content
Access options
Subscribe to Nature+
Get immediate online access to the entire Nature family of 50+ journals
Subscribe to Journal
Get full journal access for 1 year
$119.00
only $9.92 per issue
All prices are NET prices.
VAT will be added later in the checkout.
Tax calculation will be finalised during checkout.
Buy article
Get time limited or full article access on ReadCube.
$32.00
All prices are NET prices.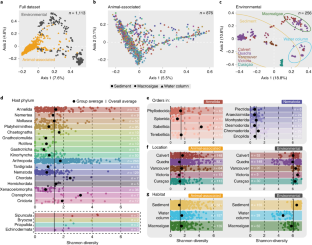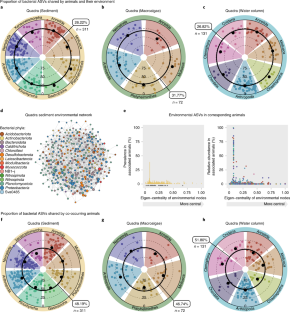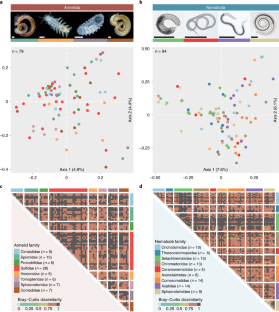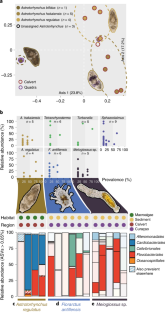 Code availability
No custom code has been used during this work. All analyses were conducted with publicly accessible packages in R and have been cited in the Methods.
References
Gilbert, S. F., Sapp, J. & Tauber, A. I. A symbiotic view of life: we have never been individuals. Q. Rev. Biol. 87, 325–341 (2012).

Bass, D., Stentiford, G. D., Wang, H.-C., Koskella, B. & Tyler, C. R. The pathobiome in animal and plant diseases. Trends Ecol. Evol. 34, 996–1008 (2019).

Husnik, F. & Keeling, P. J. The fate of obligate endosymbionts: reduction, integration, or extinction. Curr. Opin. Genet. Dev. 58-59, 1–8 (2019).

Berg, G. et al. Microbiome definition re-visited: old concepts and new challenges. Microbiome 8, 103 (2020).

Kwong, W. K. & Moran, N. A. Gut microbial communities of social bees. Nat. Rev. Microbiol. 14, 374–384 (2016).

Hammer, T. J., Janzen, D. H., Hallwachs, W., Jaffe, S. P. & Fierer, N. Caterpillars lack a resident gut microbiome. Proc. Nat Acad. Sci. USA 114, 9641–9646 (2017).

Holt, C. C., van der Giezen, M., Daniels, C. L., Stentiford, G. D. & Bass, D. Spatial and temporal axes impact ecology of the gut microbiome in juvenile European lobster (Homarus gammarus). ISME J. 14, 531–543 (2020).

Pollock, F. J. et al. Coral-associated bacteria demonstrate phylosymbiosis and cophylogeny. Nat. Commun. 9, 4921 (2018).

Thomas, T. et al. Diversity, structure and convergent evolution of the global sponge microbiome. Nat. Commun. 7, 11870 (2016).

Engelberts, J. P. et al. Characterization of a sponge microbiome using an integrative genome-centric approach. ISME J. 14, 1100–1110 (2020).

Ley, R. E. et al. Evolution of mammals and their gut microbes. Science 320, 1647–1651 (2008).

Mallot, E. K. & Amato, K. R. Host specificity of the gut microbiome. Nat. Rev. Microbiol. 19, 639–653 (2021).

Colston, T. J. & Jackson, C. R. Microbiome evolution along divergent branches of the vertebrate tree of life: what is known and unknown. Mol. Ecol. 25, 3776–3800 (2016).

Levin, D. et al. Diversity and functional landscapes in the microbiota of animals in the wild. Science 372, eabb5352 (2021).

Nishida, A. H. & Ochman, H. Rates of gut microbiome divergence in mammals. Mol. Ecol. 27, 1884–1897 (2013).

Brooks, A. W., Kohl, K. D., Brucker, R. M., van Opstal, E. J. & Bordenstein, S. R. Phylosymbiosis: relationships and functional effects of microbial communities across host evolutionary history. PLoS Biol. 14, e2000225 (2016).

Mazel, F. et al. Is host filtering the main driver of phylosymbiosis across the tree of life? mSystems 3, https://doi.org/10.1128/mSystems.00097-18 (2018).

Lutz, H. L. et al. Ecology and host identity outweigh evolutionary history in shaping the bat microbiome. mBio 4, 6 (2019).

Grond, K. et al. No evidence for phylosymbiosis in Western chipmunk species. FEMS Microbiol. Ecol. 96, fiz182 (2020).

Song, S. J. et al. Comparative analyses of vertebrate gut microbiomes reveal convergence between birds and bats. mBio 11, 1 (2020).

Trevelline, B. K., Sosa, J., Hartup, B. K. & Kohl, K. D. A bird's-eye view of phylosymbiosis: weak signatures of phylosymbiosis among all 15 species of cranes. Proc. R. Soc. B 287, 20192988 (2020).

Muegge, B. D. et al. Diet drives convergence in gut microbiome functions across mammalian phylogeny and within humans. Science 332, 970–974 (2011).

Youngblut, N. D. et al. Host diet and evolutionary history explain different aspects of gut microbiome diversity among vertebrate clades. Nat. Commun. 10, 2200 (2019).

Amato, K. R. et al. Evolutionary trends in host physiology outweigh dietary niche in structuring primate gut microbiomes. ISME J. 13, 576–587 (2019).

Moeller, A. H. et al. Social behavior shapes the chimpanzee pan-microbiome. Sci. Adv. 2, e1500997 (2016).

Eckert, E. M., Anicic, N. & Fontaneto, D. Freshwater zooplankton microbiome composition is highly flexible and strongly influenced by the environment. Mol. Ecol. 30, 1545–1558 (2021).

Yatsunenko, T. et al. Human gut microbiome viewed across age and geography. Nature 486, 222–228 (2012).

Bik, H. M. Microbial metazoa are microbes too. mSystems 4, e00109–e00119 (2019).

Schuelke, T., Pereira, T. J., Hardy, S. M. & Bik, H. M. Nematode-associated microbial taxa do not correlate with host phylogeny, geographic region or feeding morphology in marine sediment habitats. Mol. Ecol. 27, 1930–1951 (2018).

Guidetti, R. et al. Further insights in the Tardigrada microbiome: phylogenetic position and prevalence of infection of four new Alphaproteobacteria putative endosymbionts. Zool. J. Linn. Soc. 188, 925–937 (2020).

Giere, O. Meiobenthology (Springer-Verlag, 2009).

Laumer, C. E. et al. Revisiting metazoan phylogeny with genomic sampling of all phyla. Proc. R. Soc. B 286, 20190831 (2019).

Hammer, T. J., Sanders, J. G. & Fierer, N. Not all animals need a microbiome. FEMS Microbiol. Lett. 366, fnz117 (2019).

Alejandre-Colomo, C. et al. Cultivable Winogradskyella species are genomically distinct from the sympatric abundant candidate species. ISME Commun. 1, 51 (2021).

Husnik, F. et al. Bacterial and archaeal symbioses with protists. Curr. Biol. 31, R862–R877 (2021).

Salje, J. Cells within cells: Rickettsiales and the obligate intracellular bacterial lifestyle. Nat. Rev. Microbiol. 19, 375–390 (2021).

Neave, M. J., Apprill, A., Ferrier-Pagès, C. & Voolstra, C. R. Diversity and function of prevalent symbiotic marine bacteria in the genus Endozoicomonas. Appl. Microbiol. Biotechnol. 100, 8315–8324 (2016).

Weiland-Bräuer, N. et al. Composition of bacterial communities associated with Aurelia aurita changes with compartment, life stage, and population. Appl. Environ. Microbiol. 81, 6038–6052 (2015).

Bik, E. M. et al. Marine mammals harbor unique microbiotas shaped by and yet distinct from the sea. Nat. Commun. 7, 10516 (2016).

Burns, A. R. et al. Contribution of neutral processes to the assembly of gut microbial communities in the zebrafish over host development. ISME J. 10, 655–664 (2016).

McFall-Ngai, M. Adaptive immunity: care for the community. Nature 445, 153 (2007).

Ruehland, C. & Dubilier, N. Gamma- and epsilonproteobacterial ectosymbionts of a shallow-water marine worm are related to deep-sea hydrothermal vent ectosymbionts. Environ. Microbiol. 12, 2312–2326 (2010).

Gruber-Vodicka, H. R. et al. Two intracellular and cell-type specific bacterial symbionts in the placozoan Trichoplax H2. Nat. Microbiol. 4, 1465–1474 (2019).

Schockaert, E. R. in Methods for the Examination of Organismal Diversity in Soils and Sediments (ed. Hall, G. S.) 211–225 (CABI, 1996).

Higgins, R. P. in Introduction to the Study of Meiofauna (eds. Higgins, R. P. and Thiel, H.) 328–331 (SIP, 1988).

Schram, M. D. & Davison, P. G. Irwin Loops—a history and method of constructing homemade loops. Trans. Kans. Acad. Sci. 115, 35–40 (1903).

Medlin, L., Elwood, H. J., Stickel, S. & Sogin, M. L. The characterization of enzymatically amplified eukaryotic 16S-like rRNA-coding regions. Gene 71, 491–499 (1988).

Bower, S. M. et al. Preferential PCR amplification of parasitic protistan small subunit rDNA from metazoan tissues. J. Eukaryot. Microbiol. 51, 325–332 (2004).

Comeau, A. M., Li, W. K. W., Tremblay, J.-E., Carmack, E. C. & Lovejoy, C. Arctic ocean microbial community structure before and after the 2007 record sea ice minimum. PLoS ONE 6, e27492 (2011).

Zhang, R.-Y. et al. Design of targeted primers based on 16S rRNA sequences in meta-transcriptomic datasets and identification of a novel taxonomic group in the Asgard archaea. BMC Microbiol. 20, 25 (2020).

Lane, D. J. in Nucleic Acid Techniques in Bacterial Systematics (eds Stackebrandt, E. & Goodfellow, M) 115–175 (Wiley, 1991).

Parada, A. E., Needham, D. M. & Fuhrman, J. A. Every base matters: assessing small subunit rRNA primers for marine microbiomes with mock communities, time series and global field samples. Environ. Microbiol. 18, 1403–1414 (2016).

Marcel, M. Cutadapt removes adapter sequences from high-throughput sequencing reads. EMBnet J. 17, 10 (2011).

R Core Team. R: A Language and Environment for Statistical Computing (R Foundation for Statistical Computing, 2020).

Callahan, B. J. DADA2: high-resolution sample inference from Illumina amplicon data. Nat. Methods 13, 581–583 (2016).

Wang, Q., Garrity, G. M., Tiedje, J. M. & Cole, J. R. Naïve Bayesian classifier for rapid assignment of rRNA sequences into the new bacterial taxonomy. Appl. Environ. Microbiol. 73, 5261–5267 (2007).

McMurdie, P. J. & Holmes, S. phyloseq: an R package for reproducible interactive analysis and graphics of microbiome census data. PLoS ONE 8, e61217 (2013).

Davis, N. M., Proctor, D. M., Holmes, S. P., Relman, D. A. & Callahan, B. J. Simple statistical identification and removal of contaminant sequences in marker-gene and metagenomics data. Microbiome 6, 226 (2018).

Wickham, H. ggplot2: Elegant Graphics for Data Analysis (Springer-Verlag, 2016).

Love, M. I., Huber, W. & Anders, S. Moderate estimation of fold change and dispersion for RNA-seq data with DESeq2. Genome Biol. 15, 550 (2014).

Kurtz, Z. D. Sparse and compositionally robust inference of microbial ecological networks. PLoS Comput. Biol. 11, e1004226 (2015).

Csardi, G. & Nepusz, T. The igraph Software Package for Complex Network Research (InterJournal, 2006).

Breiman, L. Random forests. Mach. Learn. 45, 5–32 (2001).

Kolde, R. pheatmap: pretty heatmaps. R package version 1.0.12 https://CRAN.R-project.org/package=pheatmap (2015).

Lin, H. & Das Peddada, S. Analysis of composition of microbiomes with bias correction. Nat. Commun. 11, 3514 (2020).

Oksanen, J. vegan: Community Ecology Package. R package version 2.5.7 https://CRAN.R-project.org/package=vegan (2020).

Rouse, G., Pleijel, F. & Tilic, E. Annelida (Oxford Univ. Press, 2022).

Ahmed, M. & Holovachov, O. Twenty years after De Ley and Blaxter—How far did we progress in understanding the phylogeny of the phylum Nematoda? Animals 11, 3479 (2021).

Van Steenkiste, N. W. L., Herbert, E. R. & Leander, B. S. Species diversity in the marine microturbellarian Astrotorhynchus bifidus sensu lato (Platyhelminthes: Rhabdocoela) from the Northeast Pacific Ocean. Mol. Phylogenet. Evol. 120, 259–273 (2018).
Acknowledgements
We wish to thank F. Bergmeier, B. Brenzinger, S. Fujimoto, U. Jondelius, M. Kolicka, C. Nielsen, A. Schmidt-Rhaesa, M. Sørensen and W. Sterrer for additional taxonomic expertise, the Hakai Institute and CARMABI and their helpful staff (in particular, N. Acharya-Patel, C. Janusson and C. Prentice from Hakai for assistance with DNA extractions) and C. Wall and G. Buckholtz for laboratory procedures at the University of British Columbia. This project was funded by the Tula Foundation's Hakai Institute (P.J.K. and B.S.L.), the Natural Sciences and Engineering Research Council (NSERC 2019-03896 to B.S.L. and NSERC 2019-03994 to P.J.K.), the Gordon and Betty Moore Foundation (https://doi.org/10.37807/GBMF9201, P.J.K.) and the Canadian Graduate Scholarship programme (N.A.T.I.).
Ethics declarations
Competing interests
The authors declare no competing interests.
Peer review
Peer review information
Nature Microbiology thanks Diego Fontaneto, Holly Lutz, Owen Wangensteen and the other, anonymous, reviewer(s) for their contribution to the peer review of this work.
Additional information
Publisher's note Springer Nature remains neutral with regard to jurisdictional claims in published maps and institutional affiliations.
Supplementary information
Supplementary Notes 1–3 and Figs. 1–3.
Supplementary Table 1: Metadata on the 46 samples processed during the survey. Each sample corresponds to 15–29 individual animal specimens and 5–9 environmental aliquots. Supplementary Table 2: Metadata on the 1,000+ invertebrates and 250+ environmental aliquots investigated. Morphology-based taxonomy is only reported for annelids, platyhelminths, gnathostomulids, rotifers, gastrotrichs, bryozoans, kinorhynchs, priapulids, tardigrades, nematodes and hemichordates. Partial 18S ribosomal gene sequences for 232 specimens are also reported. Supplementary Table 3: Analysis of compositions of microbiomes with bias correction (ANCOMBC) estimated separately for each habitat. Log-fold changes with respect to specimens are reported. Standard error, test statistic (standardized effect size), P value (two-way Z-test) and P value adjusted for multiple tests (Holm–Bonferroni method) are also shown for each comparison. Supplementary Table 4: Dataframe listing the prevalence and identity of potential symbionts described in the manuscript. Taxonomic identification indicated by best BLAST hit and DADA2 assignment using the RDP classifier and the SILVA database (v.138). Bootstrap support for taxonomic assignment is also included. Supplementary Table 5: Dataframe listing ASVs assigned to Rickettsiales, Holosporales, Chlamydiae and Endozoicomonas by DADA2 and the RDP classifier using the SILVA database (v.138). Bootstrap support for taxonomic assignment is also included. Best BLAST hit against the full nt database is also reported. Host phylum, location and habitat columns include all occurrences of each ASV.
About this article
Cite this article
Boscaro, V., Holt, C.C., Van Steenkiste, N.W.L. et al. Microbiomes of microscopic marine invertebrates do not reveal signatures of phylosymbiosis. Nat Microbiol 7, 810–819 (2022). https://doi.org/10.1038/s41564-022-01125-9
Received:

Accepted:

Published:

Issue Date:

DOI: https://doi.org/10.1038/s41564-022-01125-9