Abstract
Apicomplexan parasites, such as Toxoplasma gondii, have specific adaptations that enable invasion and exit from the host cell. Owing to the phylogenetic distance between apicomplexan parasites and model organisms, comparative genomics has limited capacity to infer gene functions. Further, although CRISPR/Cas9-based screens have assigned roles to some Toxoplasma genes, the functions of encoded proteins have proven difficult to assign. To overcome this problem, we devised a conditional Cas9-system in T. gondii that enables phenotypic screens. Using an indicator strain for F-actin dynamics and apicoplast segregation, we screened 320 genes to identify those required for defined steps in the asexual life cycle. The detailed characterization of two genes identified in our screen, through the generation of conditional knockout parasites using the DiCre-system, revealed that signalling linking factor (SLF) is an integral part of a signalling complex required for early induction of egress, and a novel conoid protein (conoid gliding protein, CGP) functions late during egress and is required for the activation of gliding motility. Establishing different indicator lines and applying our conditional Cas9 screen could enable the identification of genes involved in organellar biogenesis, parasite replication or maintenance of the endosymbiotic organelles in the future.
Access options
Access Nature and 54 other Nature Portfolio journals
Get Nature+, our best-value online-access subscription
$29.99 per month
cancel any time
Subscribe to this journal
Receive 12 digital issues and online access to articles
$119.00 per year
only $9.92 per issue
Rent or buy this article
Get just this article for as long as you need it
$39.95
Prices may be subject to local taxes which are calculated during checkout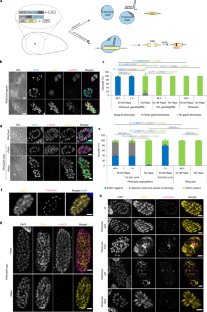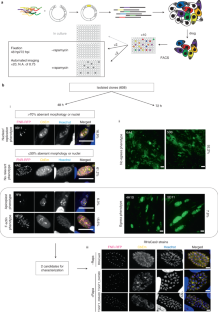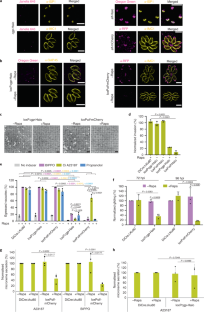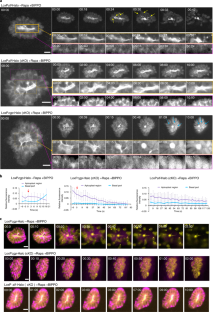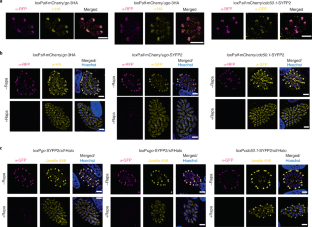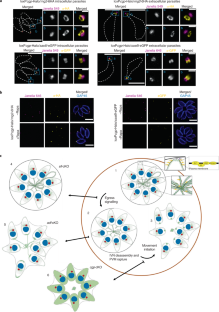 Data availability
All imaging data generated and used for this paper are available from the authors on reasonable request. Expression constructs and parasite strains have been deposited in Addgene (https://www.addgene.org/). Information on T. gondii genes and proteins were obtained in ToxoDB (release 30 to 56). Data obtained from sequencing have been deposited in SRA (https://www.ncbi.nlm.nih.gov/sra) Bioproject ID: PRJNA821386.Source data are provided with this paper.
References
Sidik, S. M. et al. A genome-wide CRISPR screen in Toxoplasma identifies essential apicomplexan genes. Cell 166, 1423–1435.e12 (2016).

Serpeloni, M. et al. UAP56 is a conserved crucial component of a divergent mRNA export pathway in Toxoplasma gondii. Mol. Microbiol. 102, 672–689 (2016).

Zetsche, B., Volz, S. E. & Zhang, F. A split-Cas9 architecture for inducible genome editing and transcription modulation. Nat. Biotechnol. 33, 139–142 (2015).

Periz, J. et al. Toxoplasma gondii F-actin forms an extensive filamentous network required for material exchange and parasite maturation. eLife https://doi.org/10.7554/eLife.24119 (2017).

Kim, K., Soldati, D. & Boothroyd, J. C. Gene replacement in Toxoplasma gondii with chloramphenicol acetyltransferase as selectable marker. Science 262, 911–914 (1993).

Harding, C. R. et al. Gliding associated proteins play essential roles during the formation of the inner membrane complex of Toxoplasma gondii. PLoS Pathog. 12, e1005403 (2016).

Striepen, B. et al. The plastid of Toxoplasma gondii is divided by association with the centrosomes. J. Cell Biol. 151, 1423–1434 (2000).

van Dooren, G. G. et al. A novel dynamin-related protein has been recruited for apicoplast fission in Toxoplasma gondii. Curr. Biol. 19, 267–276 (2009).

Andenmatten, N. et al. Conditional genome engineering in Toxoplasma gondii uncovers alternative invasion mechanisms. Nat. Methods 10, 125–127 (2013).

Del Rosario, M. et al. Apicomplexan F-actin is required for efficient nuclear entry during host cell invasion. EMBO Rep. https://doi.org/10.15252/embr.201948896 (2019).

Stortz, J. F. et al. Formin-2 drives polymerisation of actin filaments enabling segregation of apicoplasts and cytokinesis in Plasmodium falciparum. eLife https://doi.org/10.7554/eLife.49030 (2019).

Mehta, S. & Sibley, L. D. Actin depolymerizing factor controls actin turnover and gliding motility in Toxoplasma gondii. Mol. Biol. Cell 22, 1290–1299 (2011).

Plattner, F. et al. Toxoplasma profilin is essential for host cell invasion and TLR11-dependent induction of an interleukin-12 response. Cell Host Microbe 3, 77–87 (2008).

Sidik, S. M., Huet, D. & Lourido, S. CRISPR-Cas9-based genome-wide screening of Toxoplasma gondii. Nat. Protoc. 13, 307–323 (2018).

Aquilini, E. et al. An Alveolata secretory machinery adapted to parasite host cell invasion. Nat. Microbiol. 6, 425–434 (2021).

Bisio, H., Lunghi, M., Brochet, M. & Soldati-Favre, D. Phosphatidic acid governs natural egress in Toxoplasma gondii via a guanylate cyclase receptor platform. Nat. Microbiol. 4, 420–428 (2019).

Barylyuk, K. et al. A comprehensive subcellular atlas of the Toxoplasma proteome via hyperLOPIT provides spatial context for protein functions. Cell Host Microbe 28, 752–766.e9 (2020).

Beck, J. R. et al. A novel family of Toxoplasma IMC proteins displays a hierarchical organization and functions in coordinating parasite division. PLoS Pathog. 6, e1001094 (2010).

Bullen, H. E., Bisio, H. & Soldati-Favre, D. The triumvirate of signaling molecules controlling Toxoplasma microneme exocytosis: cyclic GMP, calcium, and phosphatidic acid. PLoS Pathog. 15, e1007670 (2019).

MacRae, J. I. et al. Mitochondrial metabolism of glucose and glutamine is required for intracellular growth of Toxoplasma gondii. Cell Host Microbe 12, 682–692 (2012).

Fuks, J. M. et al. GABAergic signaling is linked to a hypermigratory phenotype in dendritic cells infected by Toxoplasma gondii. PLoS Pathog. 8, e1003051 (2012).

Koreny, L. et al. Molecular characterization of the conoid complex in Toxoplasma reveals its conservation in all apicomplexans, including Plasmodium species. PLoS Biol. 19, e3001081 (2021).

Fisch, D. et al. Defining host–pathogen interactions employing an artificial intelligence workflow. eLife https://doi.org/10.7554/eLife.40560 (2019).

Moen, E. et al. Deep learning for cellular image analysis. Nat. Methods 16, 1233–1246 (2019).

Smith, T. A., Lopez-Perez, G. S., Shortt, E. & Lourido, S. High-throughput functionalization of the Toxoplasma kinome uncovers a novel regulator of invasion and egress. Preprint at bioRxiv https://doi.org/10.1101/2021.09.23.461611 (2021).

Jimenez-Ruiz, E., Wong, E. H., Pall, G. S. & Meissner, M. Advantages and disadvantages of conditional systems for characterization of essential genes in Toxoplasma gondii. Parasitology 141, 1390–1398 (2014).

Meissner, M., Schluter, D. & Soldati, D. Role of Toxoplasma gondii myosin A in powering parasite gliding and host cell invasion. Science 298, 837–840 (2002).

Sidik, S. M., Hackett, C. G., Tran, F., Westwood, N. J. & Lourido, S. Efficient genome engineering of Toxoplasma gondii using CRISPR/Cas9. PLoS ONE 9, e100450 (2014).

Donald, R. G., Carter, D., Ullman, B. & Roos, D. S. Insertional tagging, cloning, and expression of the Toxoplasma gondii hypoxanthine-xanthine-guanine phosphoribosyltransferase gene. Use as a selectable marker for stable transformation. J. Biol. Chem. 271, 14010–14019 (1996).

Donald, R. G. & Roos, D. S. Stable molecular transformation of Toxoplasma gondii: a selectable dihydrofolate reductase-thymidylate synthase marker based on drug-resistance mutations in malaria. Proc. Natl. Acad. Sci. USA 90, 11703–11707 (1993).

Peng, D. & Tarleton, R. EuPaGDT: a web tool tailored to design CRISPR guide RNAs for eukaryotic pathogens. Microb. Genom. 1, e000033 (2015).

Curt-Varesano, A., Braun, L., Ranquet, C., Hakimi, M. A. & Bougdour, A. The aspartyl protease TgASP5 mediates the export of the Toxoplasma GRA16 and GRA24 effectors into host cells. Cell. Microbiol. 18, 151–167 (2016).

Hunt, A. et al. Differential requirements for cyclase-associated protein (CAP) in actin-dependent processes of Toxoplasma gondii. eLife https://doi.org/10.7554/eLife.50598 (2019).

Egarter, S. et al. The Toxoplasma Acto-MyoA motor complex is important but not essential for gliding motility and host cell invasion. PLoS ONE 9, e91819 (2014).

Periz, J. et al. A highly dynamic F-actin network regulates transport and recycling of micronemes in Toxoplasma gondii vacuoles. Nat. Commun. 10, 4183 (2019).
Acknowledgements
We thank all colleagues who contributed antibodies and reagents for this study. In particular, we thank the Lourido lab (Whitehead Institute for Biomedical Research) for assisting with the design of the sgRNA library and many useful discussions. W.L. was funded by a CSC fellowship (201806910075). This project was funded within the DFG Priority Programme SPP2225, Project ME 2675/7-1.
Ethics declarations
Competing interests
The authors declare no competing interests.
Peer review
Peer review information
Nature Microbiology thanks Mohamed-Ali Hakimi, Christopher Tonkin and the other, anonymous, reviewer(s) for their contribution to the peer review of this work. Peer reviewer reports are available.
Additional information
Publisher's note Springer Nature remains neutral with regard to jurisdictional claims in published maps and institutional affiliations.
Supplementary information
About this article
Cite this article
Li, W., Grech, J., Stortz, J.F. et al. A splitCas9 phenotypic screen in Toxoplasma gondii identifies proteins involved in host cell egress and invasion. Nat Microbiol 7, 882–895 (2022). https://doi.org/10.1038/s41564-022-01114-y
Received:

Accepted:

Published:

Issue Date:

DOI: https://doi.org/10.1038/s41564-022-01114-y
This article is cited by
Tyler A. Smith
Gabriella S. Lopez-Perez
Sebastian Lourido

Nature Microbiology (2022)